exhibit a. [brown butter toffee cookies w. flaky sea salt]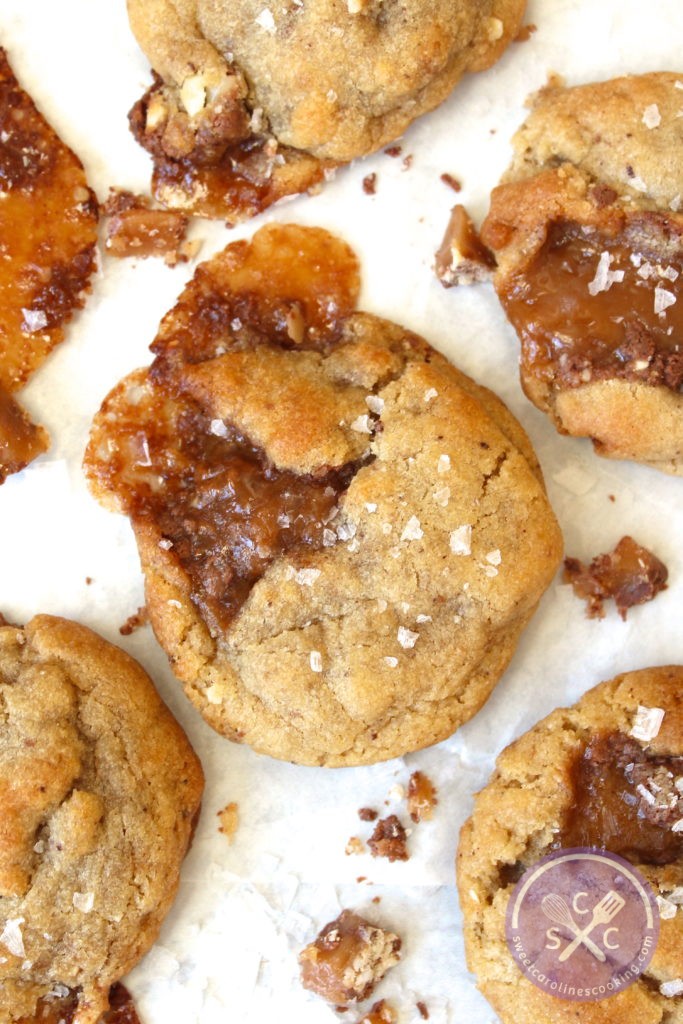 In my opinion, you can't beat the sweet and salty flavor combo. There's just something about it. Exhibit A: these brown butter toffee cookies with flaky sea salt. They're out-of-this-world delicious and even better (if that's possible) straight out of the oven on top of vanilla ice cream. Now we're talking!
brown butter toffee cookies w. flaky sea salt
Prep time:
Cook time:
Total time:
Ingredients
1 cup (2 sticks) unsalted butter, cut into tablespoon-sized pieces
1 cup light brown sugar
⅔ cup white sugar
2 eggs, at room temperature
1 ½ tsp. vanilla extract
2 ¾ cups all-purpose flour
1 tsp. cornstarch
1 tsp. baking powder
1 tsp. baking soda
¾ tsp. salt
2 cups homemade English toffee or store-bought toffee, cut into bite-size chunks (like these See's Candies Toffee-ettes)
Flaky sea salt, to sprinkle on top of cookies
Instructions
Preheat oven to 350 degrees. Line a cookie sheet with parchment paper, then set aside.
For the brown butter:
Place butter slices in a medium-sized saucepan and melt over medium-low heat. Once butter has melted, increase heat to just above medium heat.
Swirl and scrape the sides of the pan frequently with a wooden spoon or spatula - the butter will bubble and pop. Once the bubbling/popping slows, the butter will begin to turn brown.
Watch the butter very carefully at this point, and once it begins to brown and you smell the nutty aroma, remove from heat quickly and pour into a large, heatproof bowl.
Allow butter to cool for 25-30 minutes before proceeding with the recipe.
For the cookie dough:
Add sugars into cooled browned butter, stir well.
Stir in room temperature eggs, one at a time, stirring well after each addition. Add vanilla extract and stir just to combine.
In a separate medium-sized bowl, whisk together the flour, cornstarch, baking powder, baking soda and salt.
Gradually add flour mixture to butter mixture, stirring by hand until ingredients are just combined, making sure not to over-mix.
Add English toffee chunks and stir until ingredients are just incorporated. Use your hands to bring the dough together, if needed.
Drop by heaping, rounded 1 ½ tablespoon scoops onto prepared cookie sheet, placing at least 2" apart.
Bake 9 minutes or until edges are just beginning to turn golden brown. Sprinkle cookies with flaky sea salt.
Allow cookies to cool on baking sheet for a few minutes then use a spatula to gently transfer to a cooling rack topped with parchment paper. Let cookies cool another 5-10 minutes then serve.