trust me. [whipped goat cheese & cranberry sauce crostini w. homemade candied orange zest]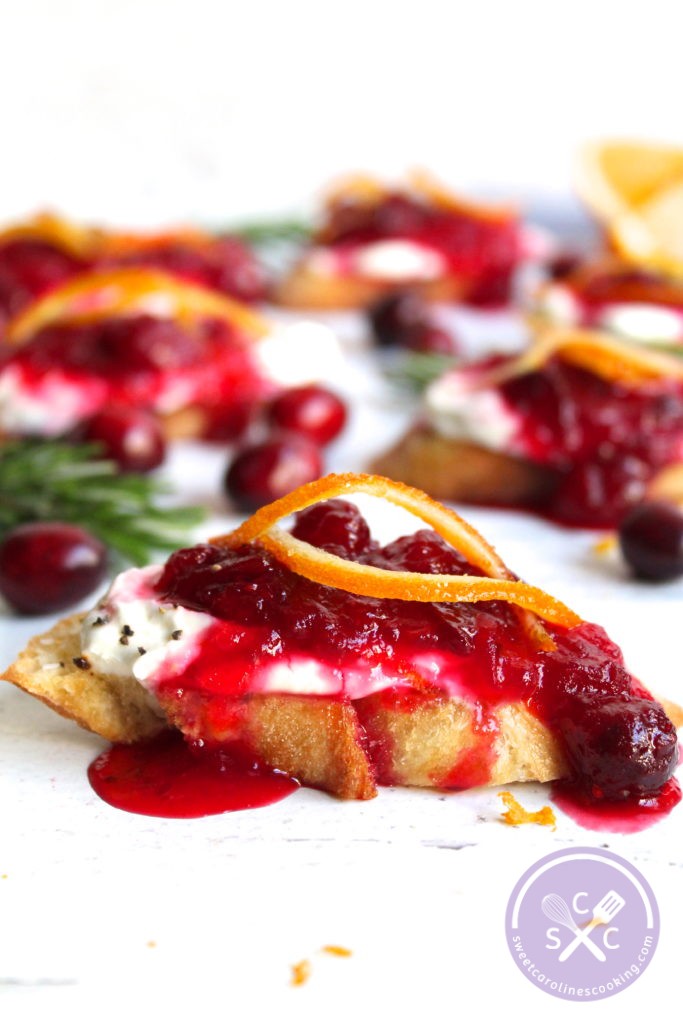 Not sure what to do with that leftover cranberry sauce? I highly recommend making these sweet and savory crostini. Even if you don't have leftover cranberry sauce, you can make these as an appetizer then serve any of the leftover cranberry sauce as a side dish. Done and done! These crostini would be the perfect appetizer for Thanksgiving or any upcoming holiday gathering. They're somewhat a labor of love because of the homemade candied orange zest, but trust me – it's worth it. As an alternative, you could also buy store-bought candied orange zest and call it a day.
whipped goat cheese & cranberry sauce crostini w. homemade candied orange zest
Prep time:
Cook time:
Total time:
Ingredients
Candied orange zest recipe:
1 medium firm, bright orange
½ cup sugar, plus more to coat candied orange zest
Cranberry sauce recipe:
½ cup fresh orange juice, from two oranges
½ cup water
¾ cup plus 2 Tbsp. sugar
1 (12 oz.) bag fresh cranberries
Zest of one orange, about 2 tsp.
Pinch salt
Whipped goat cheese recipe:
5 oz. goat cheese
3 oz. cream cheese
Salt, for seasoning
Crostini recipe:
14-15 slices French baguette (approx. ½ of an 11.5 oz. baguette)
3 Tbsp. olive oil
1 large garlic clove, crushed
Salt
Black pepper
Instructions
For the candied orange zest:
Start by slicing a very thin ring from the orange. Next, slice through one side of the peel and the pulp, all the way up to the rind on the other side.
Carefully working with a pairing knife, cut the pulp off of the peel so that you have one long thin strip of peel. Twist the peel, set aside and repeat steps until orange is fully sliced.
Bring a small saucepan of water to boil, then cook orange zest 5 minutes. Drain, then set aside blanched zest.
Dump the water out of the small saucepan, then in the same saucepan, add ½ cup sugar and ¼ cup water. Bring mixture to a simmer over medium heat, stirring until sugar dissolves.
Add the blanched orange zest, cover, and simmer 3 minutes.
Transfer orange zest and syrup to a small mason jar, let cool, then chill at least 4-5 hours or ideally overnight.
Once ready to use, drain orange zest on paper towels and sprinkle with desired amount of sugar.
For the cranberry sauce:
In a medium saucepan over high heat, bring the orange juice, water and sugar to a boil. Add the cranberries, orange zest, and salt and return to a boil. Reduce the heat to medium and boil gently for 10 to 12 minutes, until most of cranberries have burst open. (You may need to mash them a bit with a spoon.)
Transfer cranberry sauce to a serving bowl, then cover and chill until ready to build crostini.
For the whipped goat cheese:
Add the goat cheese and cream cheese to a small food processor and pulse until smooth and completely combined. Season with salt, to taste. Set aside.
For the crostini:
Preheat oven to 375 degrees.
Place baguette slices in a single layer on a cookie sheet.
In a small bowl, whisk together the olive oil and garlic. Brush garlic olive oil on each crostini, then sprinkle with a little salt and black pepper.
Bake the crostini for 7-9 minutes or until golden brown and toasted. Keep an eye on the crostini throughout the cooking process, as some ovens are hotter than others.
Once toasted, remove the crostini from the oven.
For assembly:
Top each crostini piece with a heaping spoonful of whipped goat cheese, then spoon over desired amount of the cranberry sauce sauce. Garnish with candied orange zest. Serve.