loss for words. [apple cider bread w. cinnamon sugar topping]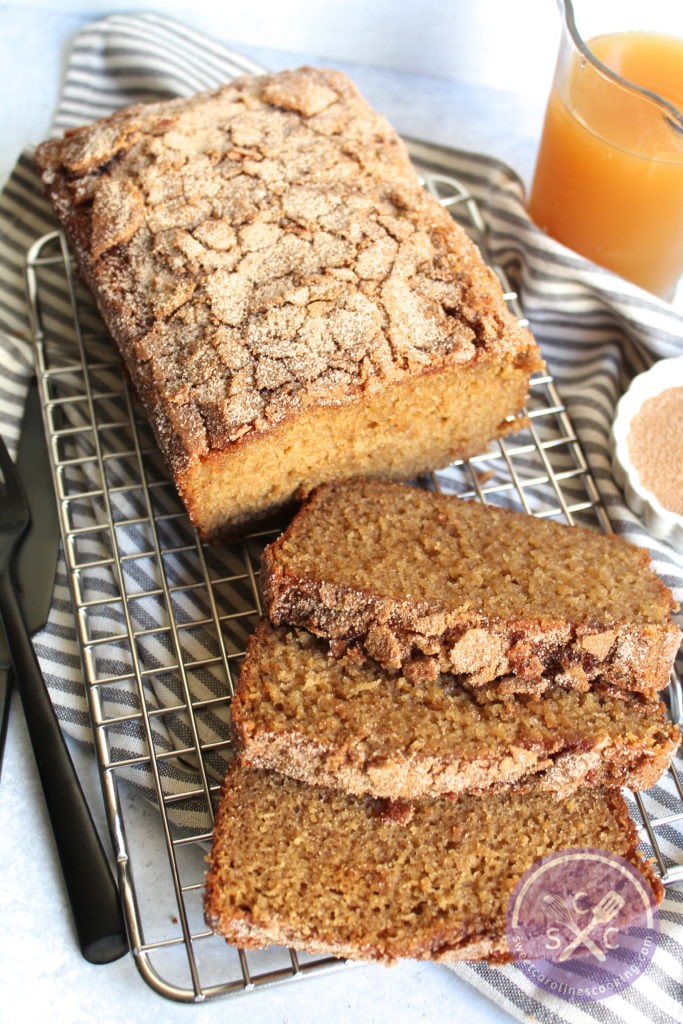 I'm at a loss for words trying to describe this apple cider bread. It was INCREDIBLE. My husband and I finished it off in two days between the two of us and I'm honestly considering baking another loaf. The bread is delicious at any time of the day, but I'd recommend eating it for breakfast with a hot cup of coffee or warming it up and slathering with a little butter for dessert.
apple cider bread w. cinnamon sugar topping
Prep time:
Cook time:
Total time:
Ingredients
Apple cider bread recipe:
2 cups apple cider
½ cup (1 stick) unsalted butter, at room temperature
1 cup brown sugar
2 large eggs, at room temperature
½ cup sour cream, at room temperature
½ cup 2% yogurt, at room temperature
1 ½ tsp. vanilla extract
1 ¾ cups flour
1 tsp. baking powder
1 tsp. baking soda
½ tsp. salt
2½ tsp. cinnamon
Cinnamon sugar topping recipe:
1 tsp. cinnamon
¼ cup sugar
Instructions
Preheat oven to 350 degrees and grease a 9" x 5" loaf pan.
Pour apple cider into a small saucepan and heat over medium-low heat until reduced by about half, to ¾ cup. This will take 15-20 minutes, depending on your stove. Once apple cider is reduced, place in the freezer or refrigerator to fully cool.
While apple cider is cooling, add the butter and brown sugar to the bowl of a stand mixer and mix together until light and fluffy, about 4-5 minutes.
Next, add the eggs, one at a time, and mix until just incorporated.
Once the apple cider is cooled, combine the cider, sour cream, yogurt and vanilla extract in a medium bowl, Gently whisk together.
In a separate medium bowl, sift together the flour, baking powder, baking soda, salt, and cinnamon.
In three installments, alternate between adding the dry ingredients, then the wet ingredients to the butter mixture, mixing together until just combined. Be sure to not overmix.
Pour the batter in the prepared 9" x 5" loaf pan, about ⅔ up the sides of the pan.
Mix together the cinnamon and sugar for the topping. Sprinkle on top of the prepared loaf batter.
Bake the loaf for 43-45 minutes, or until a toothpick comes out clean. Remove the loaf from the oven and let fully cool before removing from the pan, about 45 minutes to 1 hour. (I know your kitchen is probably smelling incredible at this point, but resist the temptation of removing the bread from the pan too early, or it will break apart and crumble!).
Once the bread has cooled to room temperature, use a butter knife to separate the bread from the loaf pan, then turn out onto a wire rack. You will likely lose some of the cinnamon sugar topping when you flip the bread, so just re-add whatever fell off back to the top of the bread. Enjoy!