getting into the fall spirit. [apple cider cupcakes w. cinnamon cream cheese frosting & salted caramel]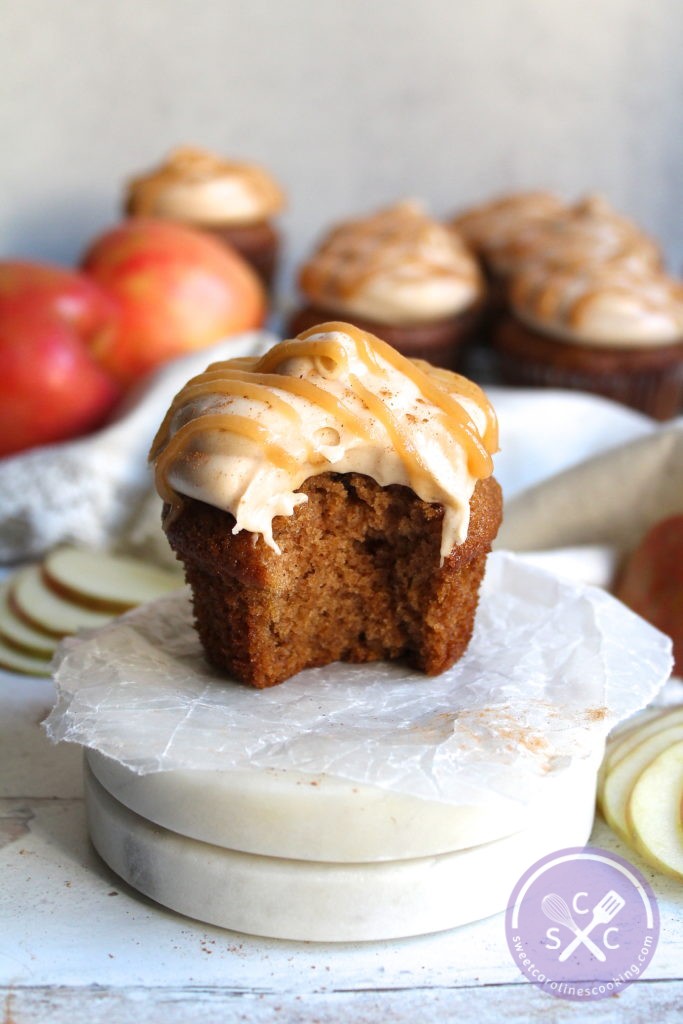 If you want to get in the fall spirit, I highly recommend making these delicious apple cider cupcakes. They're incredibly moist, full of flavor and easy on the eyes, too! They'd be the perfect addition to your Thanksgiving spread.
apple cider cupcakes w. cinnamon cream cheese frosting & salted caramel
Prep time:
Cook time:
Total time:
Makes 12 cupcakes.
Ingredients
Cupcake recipe:
⅔ cup brown sugar, packed
⅓ cup granulated sugar
½ tsp. salt
½ cup olive oil
1 tsp. vanilla extract
2 large eggs, at room temperature
1 tsp. baking soda
2 tsp. ground cinnamon
1 ½ cups all-purpose flour
¾ cup apple cider
Salted caramel recipe:
1 cup granulated sugar
½ cup water
½ cup (1 stick) butter
½ cup heavy cream
½ Tbsp. vanilla extract
1 tsp. flaky sea salt
*You can also use store-bought salted caramel.
Cinnamon cream cheese frosting recipe:
½ cup (1 stick) unsalted butter, at room temperature
8 oz. cream cheese, at room temperature
3½ cups powdered sugar, sifted
1 tsp. cinnamon, plus more for topping
2 Tbsp. apple cider
2 tsp. vanilla extract
Instructions
For the cupcakes:
Preheat oven to 350 degrees.
In a large bowl, whisk together the brown sugar, granulated sugar, salt, olive oil, and vanilla.
Whisk in the eggs, 1 at a time, until fully incorporated.
Add the baking soda, cinnamon, half of the flour, and half of the cider and whisk to combine.
Add the remaining flour and the rest of the cider and whisk until completely combined.
Line a 12-cup muffin tin with paper liners. Pour the batter into the muffin tin, filling each cup about ⅔ full.
Bake for 20 minutes, or until a toothpick inserted in the center of a cupcake comes out clean. Let cool.
For the salted caramel:
Whisk together granulated sugar and water in a medium-sized saucepan with tall sides.
Cook over medium-low heat until the sugar is completely dissolved, about 3 to 5 minutes.
Next, add the butter and bring the mixture to slow boil over medium-heat. Continue cooking until the mixture turns a deep golden brown/copper color, about 9 to 10 minutes, or longer depending on your stove. Do not stir during this process!
Once the caramel reaches a dep golden brown/copper color, remove from heat and immediately and vigorously whisk in the heavy cream. Be careful during this step, as the caramel will hiss and bubble up aggressively.
Finally, stir in the vanilla and sea salt. Vigorously whisk the mixture smooth and set aside to cool. Store the extra caramel in the fridge once done.
For the cinnamon cream cheese frosting:
In a large bowl, cream the butter and cream cheese together with an electric hand mixer until light and fluffy, about 5 minutes.
Add the powdered sugar in 3 to 4 additions, mixing in between each until incorporated.
Add the cinnamon, apple cider, and vanilla and mix to combine.
Chill the frosting in the refrigerator for 45 minutes to 1 hour to firm up the frosting.
Once chilled and firm, transfer the frosting to a piping bag and pipe frosting onto the cupcakes. Sprinkle with cinnamon and drizzle with salted caramel. Serve.
Notes
Apple cider cupcake and frosting recipe adapted from
Tasty
.
Salted caramel recipe from
Baker by Nature
.