soup szn. [chicken & white bean southwestern soup]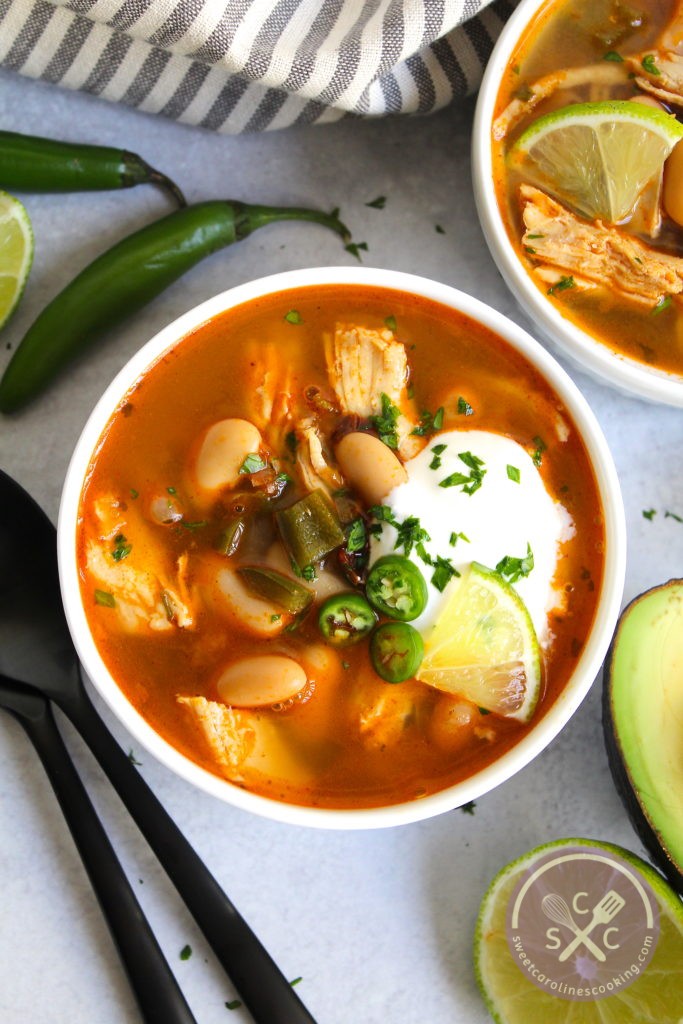 Soup season is officially here and I've decided I'm ok with it, as long as it's soup like this chicken and white bean southwestern soup that I can garnish with ALL the toppings – cheese, sour cream, avocado, you name it. I'm sure you'll be seeing more soup (and chili!) on here now that it's finally starting to cool down in LA. But now that I say that, I'm sure it'll be 90 degrees one day next week…
chicken & white bean southwestern soup
Prep time:
Cook time:
Total time:
Ingredients
2 Tbsp. olive oil
½ medium yellow onion
1 jalapeno, ribs and seeds removed, largely diced
2 tsp. garlic, crushed
1 small chipotle in adobo sauce, finely chopped
½ Tbsp. chili powder
1 tsp. cumin
4 cups chicken broth
1 large chicken breast
2 cans (15.5 oz. each) cannellini beans, strained and rinsed; divided
¼ cup cilantro (stems included), finely chopped
1 lime, freshly squeezed
1½ tsp. kosher salt, plus more or less to taste
¼ tsp. black pepper
Instructions
Heat olive oil in a pot over medium-high heat. Add diced onion, jalapeno, garlic, chipotle, chili powder and cumin. Cook until onion and jalapeno soften, 2-3 minutes.
Next, stir in chicken broth and add chicken breast. Poach until cooked through, roughly 15-20 minutes or internal temperature reaches 165 degrees.
Once cooked, remove the chicken from the broth and set aside. Reduce heat on the broth to medium low.
Once chicken is cool enough to handle, shred . (You'll have roughly 2 heaping cups of shredded chicken).
Return the chicken to the broth then add 1½ cans cannellini beans. Coarsely mash remaining ½ cup of beans and stir into the soup.
Bring soup to a boil, then reduce heat to low and simmer, stirring occasionally, 15 minutes.
Stir in cilantro, lime juice and season with salt and pepper.
Serve soup hot and garnish with desired toppings - i.e. sour cream, shredded cheese, jalapeno, avocado, etc.