dreamy combo. [butternut squash fettuccine w. fried sage & toasted hazelnuts in brown butter]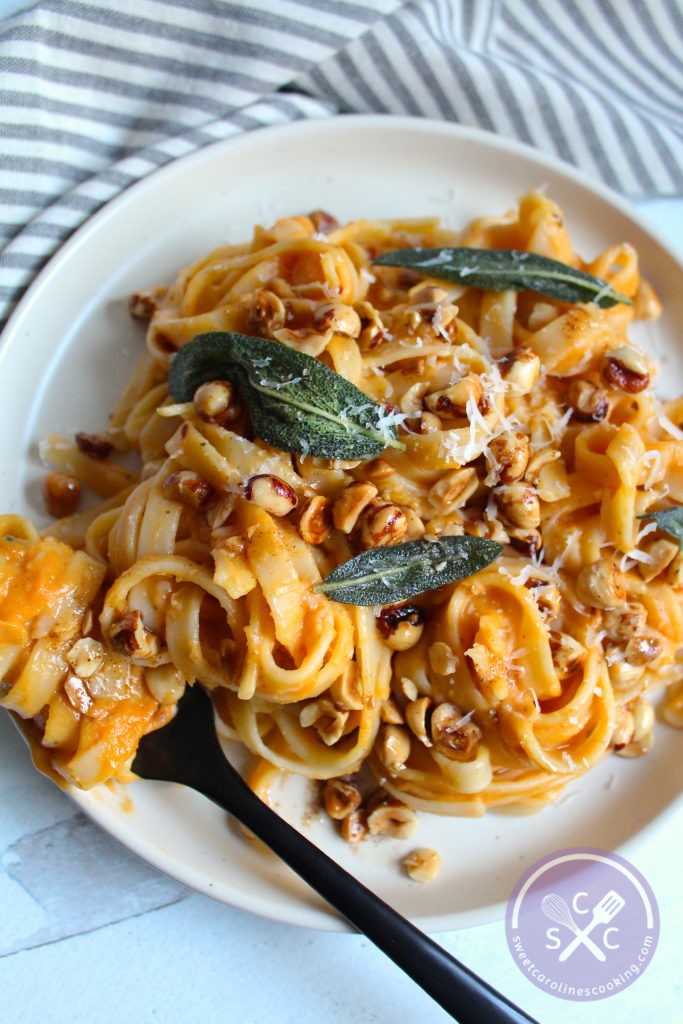 This pasta is basically fall on a plate and I am here.for.it. The sweetness of the butternut squash paired with the nuttiness of the brown butter fried sage and toasted hazelnuts make for a pretty dreamy combo. This dish would be perfect for Friendsgiving, Thanksgiving or really any gathering. You can't go wrong!
butternut squash fettuccine w. fried sage & toasted hazelnuts in brown butter
Prep time:
Cook time:
Total time:
Ingredients
Butternut squash sauce recipe:
1 medium butternut squash (3 cups roasted butternut squash flesh)
Olive oil
Salt and pepper
1 shallot (1/4 cup), finely diced
2 cloves garlic, crushed
½ cup chicken broth
2 Tbsp. tomato paste
¾ cup 2% milk
½ cup grated pecorino romano or parmesan, plus more for garnish
16 oz. dried fettuccine, plus 1 cup reserved pasta water
Brown butter sage and hazelnuts recipe:
5 Tbsp. unsalted butter
8-10 fresh sage leaves
¾ cup dry roasted hazelnuts (or you can buy peeled hazelnuts)
Instructions
For the butternut squash sauce:
Preheat oven to 400 degrees.
Using a large knife, cut the butternut squash in half lengthwise. Scoop out the seeds and stringy bits with a spoon and discard.
Transfer the butternut squash, cut-side-up to a foil-lined baking sheet. Brush the tops of both squash halves with olive oil, then season with salt and pepper.
Roast the butternut squash for 40-45 minutes or until soft and fork-tender.
Remove from the oven and allow to cool. Once cool, scoop out the butternut squash flesh until you have roughly 3 cups. Set aside.
To a medium skillet over medium heat, add 1 Tbsp. olive oil. Once hot, add diced shallot and garlic and sauté 2-3 minutes, stirring often, until translucent and aromatic but not browned. Remove from heat and set aside.
To a blender, add the 3 cups butternut squash and sautéed shallots and garlic; pulse until combined. Add ¼ cup of the chicken broth and season with salt and pepper, then pulse together until combined and mixture is smooth.
To the same skillet you used to sauté the shallots and garlic, heat 1 Tbsp. olive oil over medium heat. Once warm, add the pureed butternut squash mixture, followed by the remaining ¼ cup chicken broth, ¾ cup milk and 2 Tbsp. tomato paste. Whisk everything together and reduce heat to medium-low, cooking 8-10 minutes, stirring occasionally. If the mixture begins to bubble too much, reduce heat to low.
For the fried sage and toasted hazelnuts:
While the butternut squash sauce is cooking, heat a medium skillet over medium-low heat. Add the hazelnuts and toast until golden brown and fragrant, about 7-10 minutes, stirring the nuts occasionally.
Remove the hazelnuts from the heat then place on a clean kitchen towel and cover with the towel. Let steam for approximately 1 minute.
Using the towel, gently rub the hazelnuts to release their skins. If you aren't able to remove all of the skin, that's ok, but the skin will give a bitterness to the nut. If you purchase peeled hazelnuts, you can skip this process entirely. Set toasted and peeled hazelnuts aside.
Prepare to make the brown butter. Warm a small skillet over medium heat, then add butter. Melt the butter, swirling the pan occasionally to make sure the butter is cooking evenly. Once the butter begins to foam, continue cooking until brown specs appear and the butter gives off a nutty aroma.
Add the sage leaves to the pan in a single layer and cook until crisped, approximately 15 seconds.
Remove the butter from the heat, then using a slotted spoon, transfer the fried sage leaves to a paper towel-lined plate. Sprinkle, with salt, if desired.
Next, add the toasted hazelnuts to the brown butter and toss to coat. Set aside.
For the butternut squash pasta:
Bring a large pot of salted water to a boil. Cook the fettuccine according to package instructions until al dente. Just before draining, remove 1 cup of the pasta cooking water. Drain the pasta.
Add the cooked fettuccine to the butternut squash sauce and mix together with tongs.
Remove pasta from the heat, then add ½ cup grated pecorino romano or parmesan and a couple tablespoons of pasta water. Add additional pasta water until desired consistency is reached. Season with additional salt and pepper, if needed.
Serve pasta immediately. Garnish with a couple fried sage leaves, desired amount of toasted hazelnuts and a drizzle of the brown butter.