just like I remember. [homemade ragù di carne]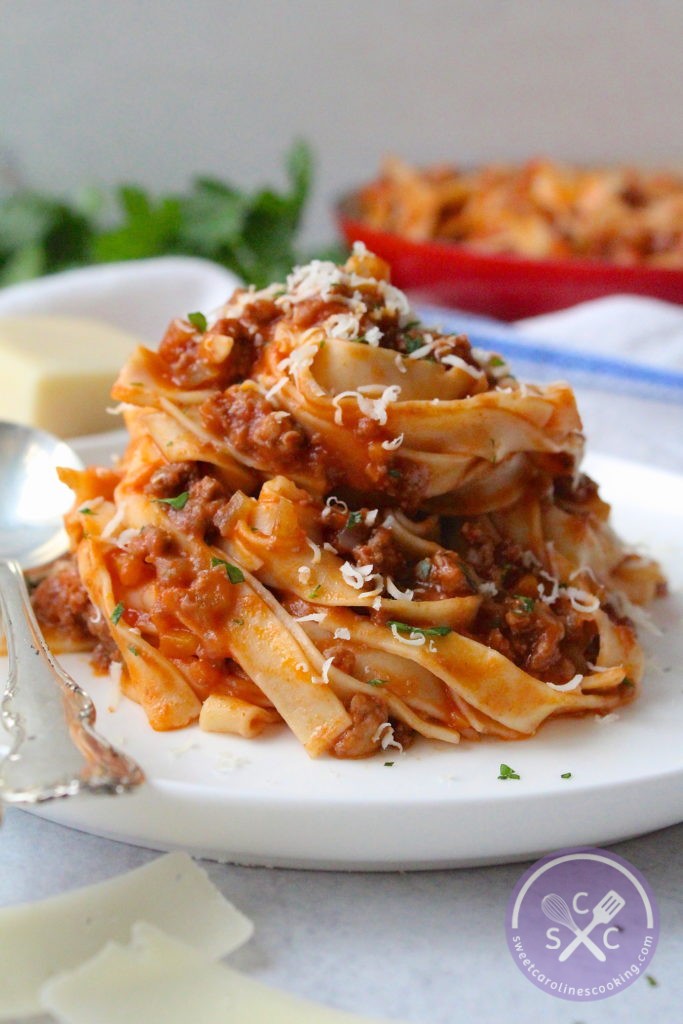 My husband and I took a cooking class in San Gimignano on our honeymoon a few years ago and still talk about the class to this day. All of the food we made was incredible, but the ragù was the standout dish. I've been making my slightly revised version of the ragù for years and it tastes just like I remember in Italy. The recipe has minimal ingredients, but is packed with flavor. I decided to make homemade fettuccine for this post, but by all means, use store-bought pasta if you're in a pinch! Although I will say, the thin and silky smooth homemade noodles do make a difference in this dish and are worth making if you have the time.
homemade ragù di carne
Prep time:
Cook time:
Total time:
Ingredients
Ragù recipe:
¼ cup extra-virgin olive oil
1 medium yellow onion, very finely diced (about 1½ cups)
1-2 celery ribs/sticks, very finely diced (about 1 cup)
2 carrots, peeled and very finely diced (about ¾ cup)
½ - ¾ lb. ground beef
¼ lb. ground pork
½ cup red wine
1 Tbsp. tomato paste
1 jar (24.5 oz.) Mutti tomato puree
Salt and pepper, to taste
Pecorino romano, for garnish
Pasta recipe:
3 large eggs
2½ cups all-purpose flour, plus extra for dusting and rolling out
1 Tbsp. olive oil
1 tsp. salt
1 Tbsp. water, plus more as needed
Instructions
For the ragù:
Heat a large pot over medium heat, then add olive oil - this might seem like a lot of olive oil, but you want the vegetables to soak it all up!
Add finely diced onion, celery and carrot and cook until softened and onions are translucent, around 5-7 minutes, stirring frequently. Add the ground beef and ground pork, breaking up the meat into very fine pieces as it cooks. Add the red wine, then increase the heat to high to allow the alcohol to vaporize, around 3-4 minutes.
Next, add the tomato puree and the tomato paste and stir everything together. Season with salt and pepper.
Cover the pot, reduce the heat to low and simmer for 2½ - 3 hours, until ragù is thick, flavorful and most of the liquid has evaporated. Check the ragù every once in a while to stir and make sure it's not burning or sticking to the bottom of the pot.
For the pasta dough:
In the bowl of your stand mixer with the paddle attachment, add the eggs, flour, olive oil, salt and water. Mix on low speed for 2-3 minutes, or until the dough starts to come together. Switch to the dough hook attachment and knead the dough for 2-4 minutes or until soft to the touch and pliable. If the dough is too sticky, add flour in small increments. If the dough cracks or seems too dry, add water in small increments until you reach the right consistency.
Once your dough reaches the right consistency, form it into a disk or ball and wrap tightly in a piece of plastic wrap. Set aside for at least 30 minutes or up to 2 hours.
Unwrap your dough and place on a generously floured surface. Cut the dough into 4 equal size pieces. Flatten them out with your finger tips prior to running through the pasta roller.
With the roller attachment fixed to your stand mixer and set to the lowest setting (1 for KitchenAid), insert the dough through the top. Once it goes through, fold the dough in half. Flour your dough and run it through a second time. Repeat this step, if necessary, flouring when needed, until the sheet is smooth and elastic. Increasing the setting by one step (2 for KitchenAid), insert the sheet again, but don't fold it over this time. Increasing the setting another step (go to 4 for KitchenAid), insert the sheet once again. Increasing the setting again (6 for KitchenAid), insert the sheet once again. For the last time, increasing the setting (7 for KitchenAid), insert the sheet once again - making sure to be very careful and gentle with the dough, as it will be very thin and delicate at this point. Repeat the above steps for the remaining dough, laying each sheet on a generously floured surface. Cut each sheet in half, as they will be pretty long.
Switch the KitchenAid attachment to the fettuccine attachment and working one sheet at a time, run through the attachment on low speed to create fettuccine. Twirl pasta into a nest and place on lightly floured surface, then sprinkle the pasta nests lightly with flour. Cover noodles with a light kitchen towel. Repeat process with remaining sheets of pasta until all are cut into fettuccine noodles.
Working in batches, cook desired amount of fresh fettuccine in a large pot of boiling salted water until al dente, about 4-5 minutes. Reserve 1-2 cups of pasta water.
For the ragù di carne fettuccine:
To a large skillet over medium-low heat, add desired amount of ragù and bit of pasta water to thin out the meat sauce. Transfer cooked fettuccine straight from the pot of water to the skillet and gently toss with the ragù until thoroughly coated. Add additional pasta water, if needed. Serve hot and garnish with freshly grated pecorino romano.
Notes
For step-by-step instructions on how to make the pasta dough, visit
Cooking and Beer
.