pasta la vista, baby. [sun-dried tomato pasta w. sausage & asparagus]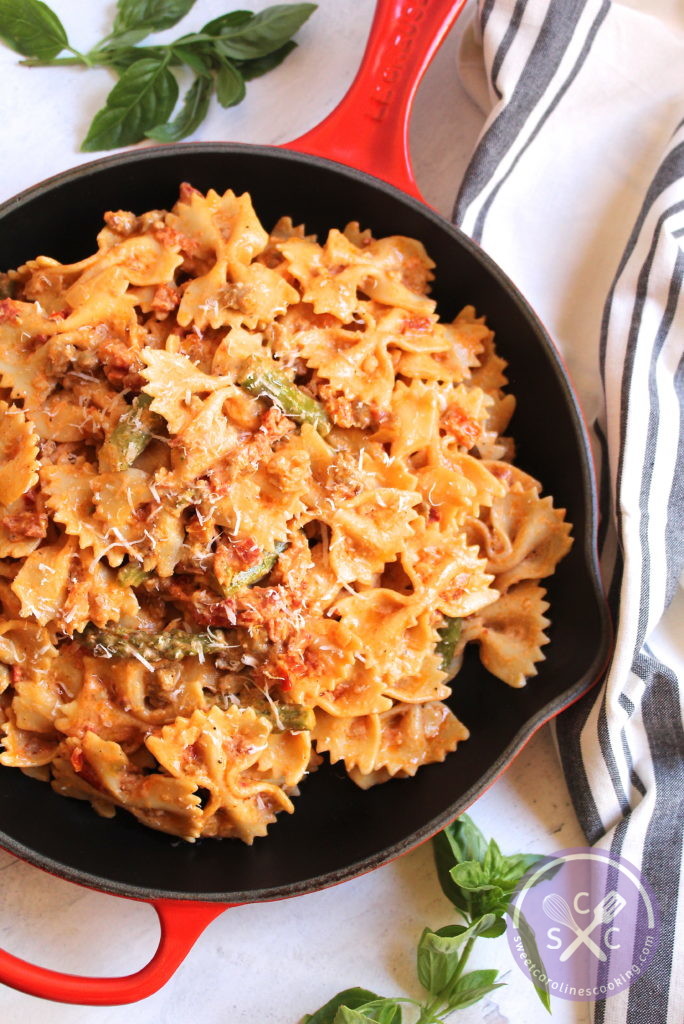 When I've had a really long work day, there's nothing I want more than a quick, easy and delicious dinner. And if carbs are involved, that's a bonus. This creamy sun-dried tomato pasta his all the marks and makes enough for a whole family. Even though I was only cooking this dish for me and my husband, I wasn't complaining because I was able to devour the leftovers for a couple days. :-)
sun-dried tomato pasta w. sausage & asparagus
Prep time:
Cook time:
Total time:
Ingredients
12 oz. bow tie pasta
8 oz. pork sausage links
4 Tbsp. sun-dried tomato oil
½ cup yellow onion, finely diced
2-3 cloves garlic, crushed
2 Tbsp. tomato paste
1 cup heavy whipping cream
1 tsp. salt, plus more to taste
½ tsp. black pepper, plus more to taste
½ tsp. crushed red pepper flakes, plus more to taste
1 cup (8 oz.) sun-dried tomatoes, julienne style, roughly chopped
2½ cups asparagus, woody ends removed, cut into 2-inch pieces
Parmesan cheese, for garnish
Instructions
Heat a large pot of salted water over high heat and bring to a boil.
While waiting for the pasta water to boil, heat a large skillet over medium heat, then add the sausage links. Cook the sausage, breaking up into small pieces, until done. Once cooked through, using a slotted spoon, transfer the crumbled sausage to a paper towel-lined plate and set aside. Pour out any remaining oil in the skillet.
Pour the pasta into the boiling water and cook until al dente or desired doneness. Reserve 1½ cups pasta water, then strain the pasta and set aside.
Using the same skillet as the sausage, heat over medium heat then add the sun-dried tomato oil. Add the onion and saute until translucent and aromatic, 3-5 minutes. Add the garlic and cook an additional 30 seconds, stirring everything together.
Next, add the tomato paste and cook, stirring occasionally, until the paste is brick red and starts to caramelize, about 5 minutes.
Reduce heat to low, then add the heavy whipping cream and mix everything together. Season with salt, pepper and crushed red pepper flakes. Simmer sauce 3-5 minutes, stirring occasionally, and season with additional salt and pepper if needed.
While the sauce is simmering, bring 1-inch of water to a boil in a small skillet, then add asparagus pieces. Cook, stirring occasionally, until vibrant and just beginning to get tender, 3-5 minutes. Strain asparagus and set aside.
To the pasta sauce, gradually add reserved pasta water until you reach desired consistency. Add chopped sun-dried tomatoes, asparagus and crumbled sausage. Mix everything together and simmer another few minutes. If pasta sauce is too thick, add additional pasta water.
Add the pasta noodles to the sauce mixture and stir everything together. Serve hot and garnish with Parmesan cheese, if desired.