pieces of the past. [shrimp & squash pilaf]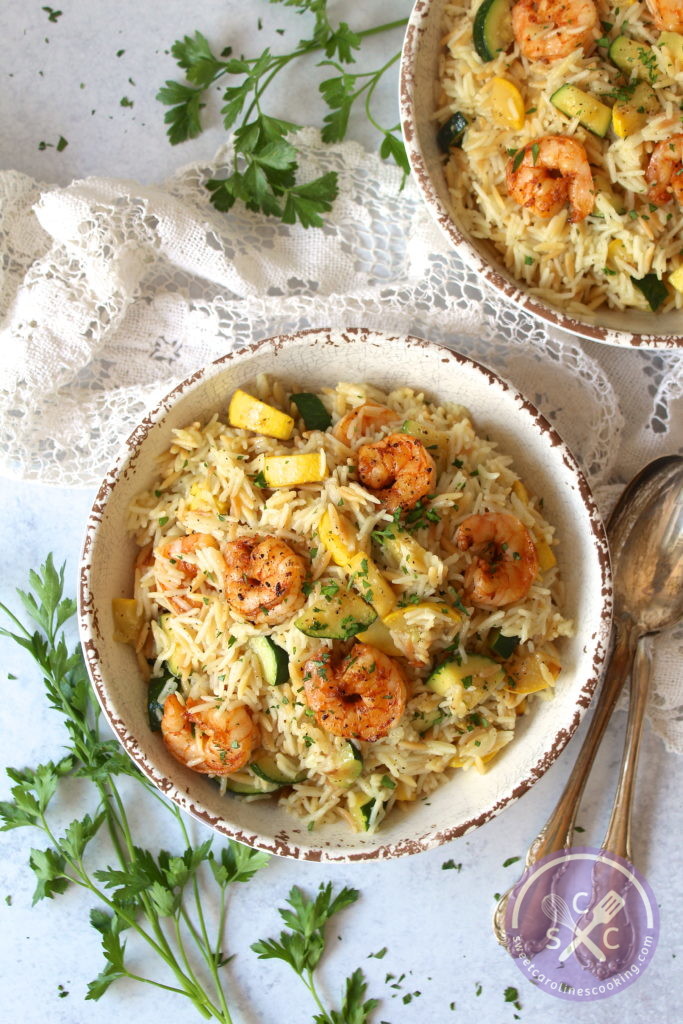 If you're in need of a quick and easy meal, I've got you covered with this shrimp and squash pilaf. All of the components are delicious on their own, but even better when combined. This post is particularly special because three beloved grandmas contributed in some way – from the pilaf portion of the recipe to the serving spoons to the lace runner. Thank you Pat, Mary Lou and Maxine for contributing to my post!
shrimp & squash pilaf
Prep time:
Cook time:
Total time:
Ingredients
Pilaf recipe:
4 Tbsp. (1/2 stick) salted butter
½ cup orzo
1 cup basmati rice
3 cups water
3 chicken bouillon cubes
Parsley, finely chopped, for garnish
Squash recipe:
2 Tbsp. olive oil
1 zucchini (2 cups), sliced into 1-inch pieces, then cut into quarters
1 yellow squash (2 cups), sliced into 1-inch pieces, then cut into quarters
1 tsp. garlic powder
1 tsp. salt
¼ tsp. black pepper
Shrimp recipe:
½ lb. or 18 shrimp (31-40 count), peeled, deveined and raw
1 Tbsp. olive oil
½ tsp. paprika
¼ tsp. garlic powder
½ tsp. salt
¼ tsp. black pepper
Instructions
For the pilaf:
Warm a medium pot over medium heat, then add butter. Once melted, add the orzo and sauté, stirring frequently, until toasted, 3-5 minutes.
Add the basmati rice and mix together with the orzo and butter.
Next, add 3 cups water and 3 chicken bouillon cubes. Bring mixture to a boil, then reduce to a simmer, uncovered. Cook until all liquid is absorbed, roughly 15-20 minutes.
For the squash:
While the pilaf is cooking, prepare the squash. Heat 2 Tbsp. olive oil over high heat in a cast iron skillet. Once hot, add the zucchini and yellow squash, then season evenly with garlic powder, salt and pepper. Sauté the squash 3-5 minutes, turning a few times, until slightly browned and fork tender but not mushy.
Transfer the squash to a bowl and set aside.
For the shrimp:
Thaw the shrimp, if frozen. Pat the shrimp dry.
In a small bowl, add the shrimp, 1 Tbsp. olive oil, paprika, garlic powder, salt and pepper and mix together, making sure all of the shrimp is coated.
In the same cast iron skillet as the squash, warm over high heat, leaving the seasoning from the squash in the pan. Add the olive oil-coated shrimp and sauté 1-2 minutes per side until slightly charred and just opaque and cooked through, turning the shrimp with tongs.
Remove from the heat and set aside on a plate.
To the pot with the pilaf, add the cooked squash and shrimp, mixing everything together.
Serve hot or at room temperature and garnish with finely chopped parsley.