let's get grillin'. [balsamic-marinated grilled artichokes]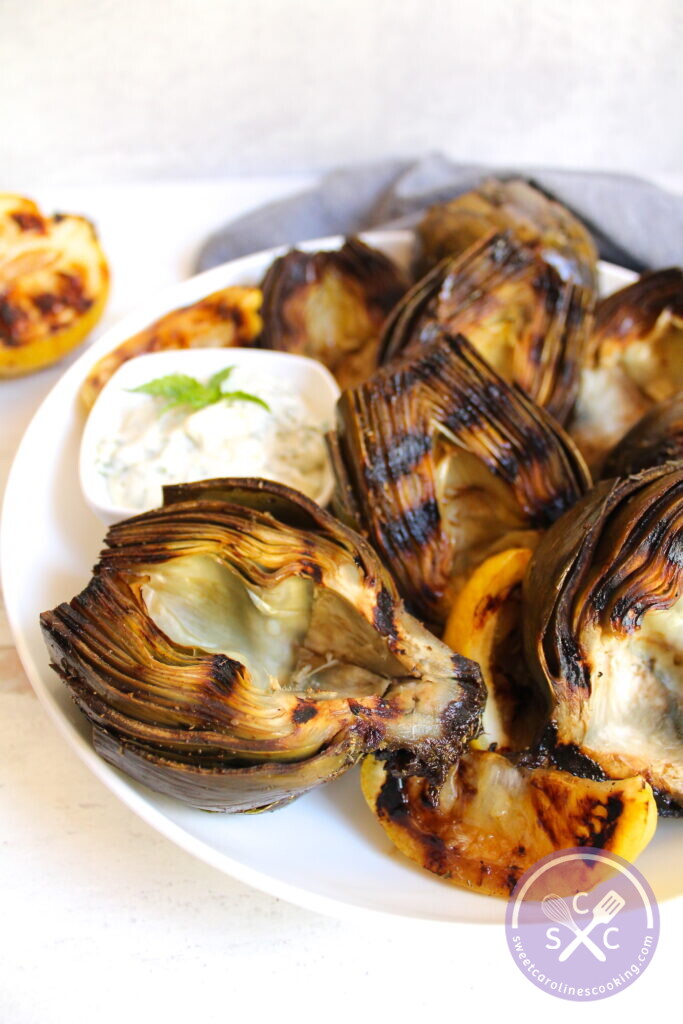 Grilling season officially kicks off this weekend, which means these balsamic-marinated grilled artichokes should definitely be on the menu. I'm at a loss for words trying to explain how delicious these artichokes are, so you'll just have to try them yourself. :) I highly recommend squeezing some charred lemon on top and dipping the leaves into pesto aioli – a winning combo!
balsamic-marinated grilled artichokes
Prep time:
Cook time:
Total time:
Ingredients
Artichoke and balsamic marinade recipe:
½ cup extra-virgin olive oil
½ cup balsamic vinegar
4 cloves garlic, crushed
2 Tbsp. Italian seasoning
2 tsp. salt
1 tsp. black pepper
4 small to medium artichokes
Lemon slices, charred, for garnish
Pesto aioli recipe:
1 cup (packed) fresh basil
2 Tbsp. pine nuts, toasted
1 small garlic clove
¼ tsp. salt, plus more to taste
⅛ tsp. black pepper, plus more to taste
⅓ cup extra-virgin olive oil
½ cup mayonnaise
Instructions
For the marinade:
In a medium bowl, whisk together the olive oil, vinegar, garlic, Italian seasoning, salt and pepper until well combined. Set aside.
For the pesto aioli:
In a blender, pulse together the basil, toasted pine nuts, garlic, salt and pepper until finely chopped. With the blender still running, gradually add enough oil to form a smooth and thick consistency. Transfer ¼ cup of the pesto to a medium bowl then whisk together with the mayonnaise. Season with additional salt and pepper, if needed. Chill in the refrigerator until ready to use. (You will have leftover pesto).
For the artichokes:
Fill a medium pot with 2 inches of water, then bring to a boil.
While the water is heating, prepare the artichokes. Use scissors to snip away the pointy tips of the artichoke leaves. Trim the stems to 1-2 inches from the base of the artichoke so it sits flat when standing up. Cut off and discard the top ½ inch of the artichokes.
Stand the artichokes cut-side up in the pot of boiling water then reduce heat to a simmer (make sure artichokes are standing upright and not on their side). Place the lid on the pot and steam artichokes 45 minutes to 1 hour, checking occasionally, until you're able to pull a off a leaf towards the inside of the artichoke. The artichokes can be a bit less cooked, as you will be cooking them further on the grill.
Once the artichokes are done, remove from the pot and set aside until cool enough to handle.
Pour the balsamic marinade into a large Ziploc bag, then add the full artichokes and marinade 4 hours or overnight, if time permits.
Once ready to grill, remove the artichokes from the marinade and cut each in half.
Spray a grill or indoor grill pan with oil, then heat over high heat. Once hot, place artichokes cut side down and cook until grill marks appear, roughly 2-3 minutes. Flip artichokes and char the other side another 1-2 minutes.
Remove artichokes from the grill then once cool enough to handle, use a spoon or pairing knife to gently scoop out the fuzzy chokes and the small inner artichoke leaves.
Quickly char the lemon slices on the grill or indoor grill pan, then set aside.
Serve the artichokes at room temperature with charred lemons and pesto aioli.