sweet & savory. [smashed blackberry & whipped goat cheese crostini]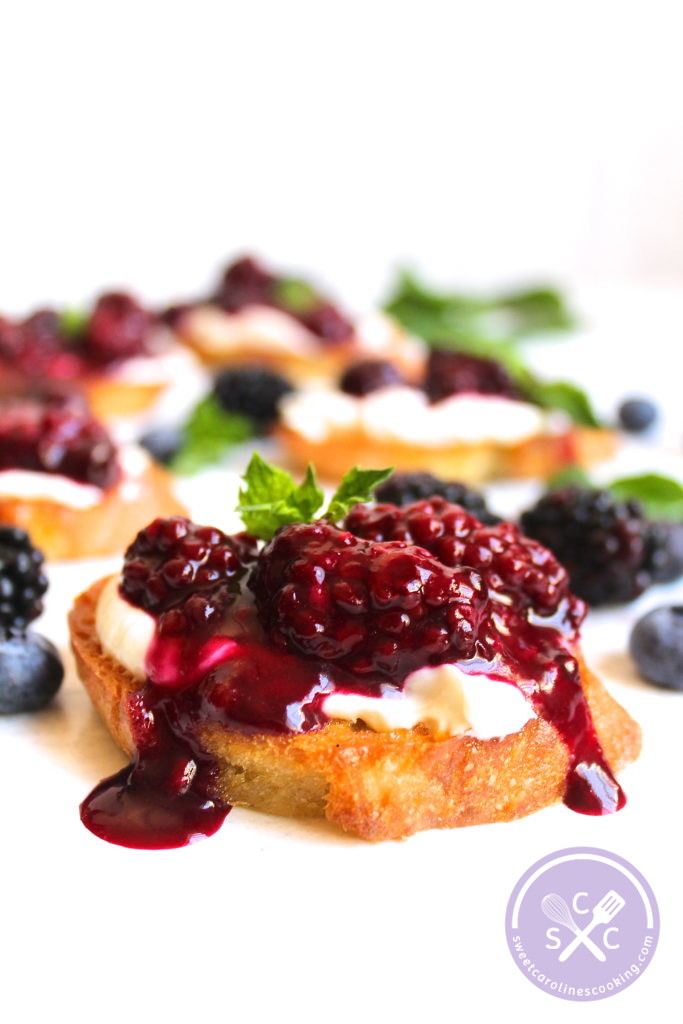 If you like fruit and cheese or if you like a sweet and savory combo, this one's for you! The first bite was delicious and all, but when I got to the bite with the mint…mind blown! I honestly wouldn't even consider myself a huge mint fan, but it worked perfectly with all the flavors on this crostini. These would make for a delicious and beautiful appetizer at any dinner party!
smashed blackberry & whipped goat cheese crostini
Prep time:
Cook time:
Total time:
Ingredients
Smashed blackberry sauce recipe:
¾ cup (heaping) fresh blackberries
¼ cup (heaping) fresh blueberries
½ tsp. vanilla extract
1 Tbsp. white sugar
1½ Tbsp. water
1 tsp. cornstarch
Whipped goat cheese recipe:
5 oz. goat cheese
1 oz. cream cheese
1 tsp. olive oil
Salt
Crostini recipe:
10 slices french baguette (approx. ½ of an 11.5 oz. baguette)
3 Tbsp. olive oil
1 large garlic clove, crushed
Salt
Black pepper
Fresh mint, for garnish
Honey, if desired, for garnish
Instructions
For the smashed blackberry sauce:
In a small saucepan, combine the blackberries, blueberries, vanilla, sugar and water. Heat over medium-low heat, then cover with a lid.
Once simmering and the fruit begins to burst, approximately 8-10 minutes, gently mash fruit with a fork (not completely mashing the fruit), then whisk in the cornstarch to mix everything together.
Remove the sauce from the heat, cover with a lid and set aside until ready to use. Let sauce cool a bit before topping the crostini.
For the whipped goat cheese:
Add goat cheese, cream cheese and salt to the bowl of a small food processor. Pulse several times to soften any chunks, then scrape down the sides of the bowl.
Gradually add olive oil and blend until cheese is creamy and smooth, about 30 seconds to 1 minute. Set aside.
For the crostini:
Preheat oven to 375 degrees.
Place baguette slices in a single layer on a cookie sheet.
In a small bowl, whisk together the olive oil and garlic. Brush garlic olive oil on each crostini (you won't use all of the oil). Sprinkle each crostini with a little salt and black pepper.
Bake the crostini for 7-9 minutes or until golden brown and toasted. Keep an eye on the crostini throughout the cooking process, as some ovens are hotter than others.
Once toasted, remove the crostini from the oven.
For assembly:
Top each crostini piece with a heaping spoonful of whipped goat cheese, then spoon over desired amount of the smashed blackberry sauce. Garnish with fresh mint. If desired, add a drizzle of honey on top. Serve.
Notes
Smashed blackberry sauce adapted from
Wry Toast
.