a little less guilt. [crispy air fryer chicken taquitos]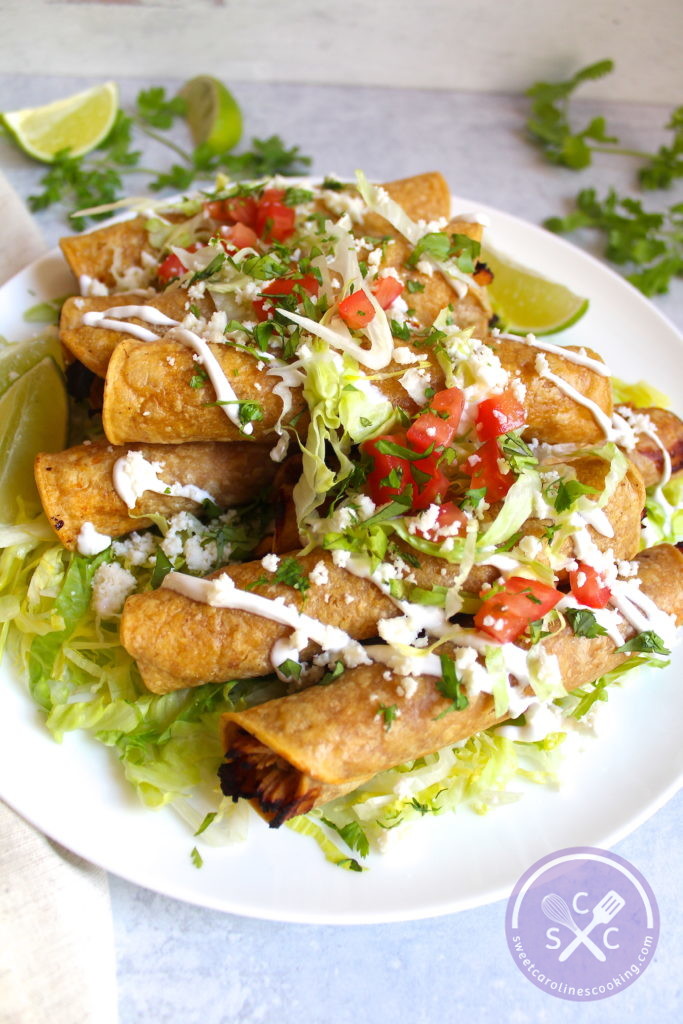 I don't know about you, but I could 100% eat taquitos every day. Obviously that would be a terrible idea for many health reasons, but at least these taquitos come with a little less guilt since they're not deep fried. The air fryer wins again! These taquitos were beyond crispy and out-of-this-world in the flavor department.
crispy air fryer chicken taquitos
Prep time:
Cook time:
Total time:
Ingredients
Mexican chicken recipe:
2 Tbsp. olive oil
½ cup red or yellow onion, finely diced
1 jalapeño, seeded and deveined (approx. ¼ cup)
3-4 garlic cloves, crushed (approx. 1 tsp.)
1 tsp. chili powder
1 tsp. cumin
1¼ tsp. salt, plus more or less to taste
¼ tsp. black pepper
6 cups chicken broth
½ cup diced tomatoes
2 large boneless, skinless chicken breasts (approx. 1½ lbs.)
1 Tbsp. fresh cilantro, finely chopped, plus additional for garnish
Taquito recipe:
Shredded Mexican chicken (recipe above)
Corn tortillas, approximately 14-16
Olive oil spray or avocado oil spray
Sour cream, for garnish
Shredded iceberg or romaine lettuce, for garnish
Crumbled cotija cheese, for garnish
Diced tomatoes, for garnish
Instructions
For the shredded Mexican chicken:
Heat a medium saucepan over medium heat, then add olive oil. Once hot, add onion and jalapeño and cook until onion is translucent and aromatic, roughly 3-5 minutes. Add crushed garlic and cook an additional 30 seconds to 1 minute, stirring everything together.
Next, add chili powder, cumin, salt and black pepper. Toast spices, stirring frequently, approximately 2-4 minutes. Add diced tomatoes and sauté another 2-3 minutes.
Pour in chicken broth then add chicken breasts and poach until cooked through or interior reaches 165 degrees, roughly 20-25 minutes. Once chicken is cooked through, remove from the broth and transfer to a cutting board.
While waiting for the chicken to cool down, bring the chicken broth mixture to a boil and reduce 10-15 minutes.
Once the chicken is cool enough to handle, shred and then place back into the pot with the broth mixture. Add cilantro then stir everything together.
Lower heat to medium low and cook until broth is reduced to about 1 cup, roughly another 15-20 minutes, stirring chicken occasionally. Remove from heat.
For the taquitos:
Working in batches, assemble the taquitos (I made 4 taquitos at a time since I have the Instant Pot air fryer lid, which is a bit smaller).
Place 4 corn tortillas on a plate covered with a damp paper towel and microwave 20-30 seconds, flipping halfway through, until soft and pliable. Transfer tortillas to a cutting board or flat surface.
Place 2-3 Tbsp. of the shredded chicken down the middle of each corn tortilla then gently and tightly roll into taquitos.
Preheat the air fryer to 400 degrees, then lightly coat the basket with a bit of olive oil or avocado oil spray. Gently place 4 taquitos seam side down in the air fryer basket, making sure they are not touching, then mist with olive oil or avocado oil.
Cook until golden brown and crispy, roughly 7-8 minutes, turning halfway through. If taquitos are not to your desired crispness, air fry another 2-3 minutes.
Remove taquitos from the air fryer and place on a paper towel-lined plate. Repeat with remaining tortillas until the chicken is gone.
For assembly:
Stack the taquitos on a platter, then garnish with sour cream, shredded lettuce, cotija cheese, diced tomatoes and chopped cilantro.