summer sips. [blackberry jalapeño margarita]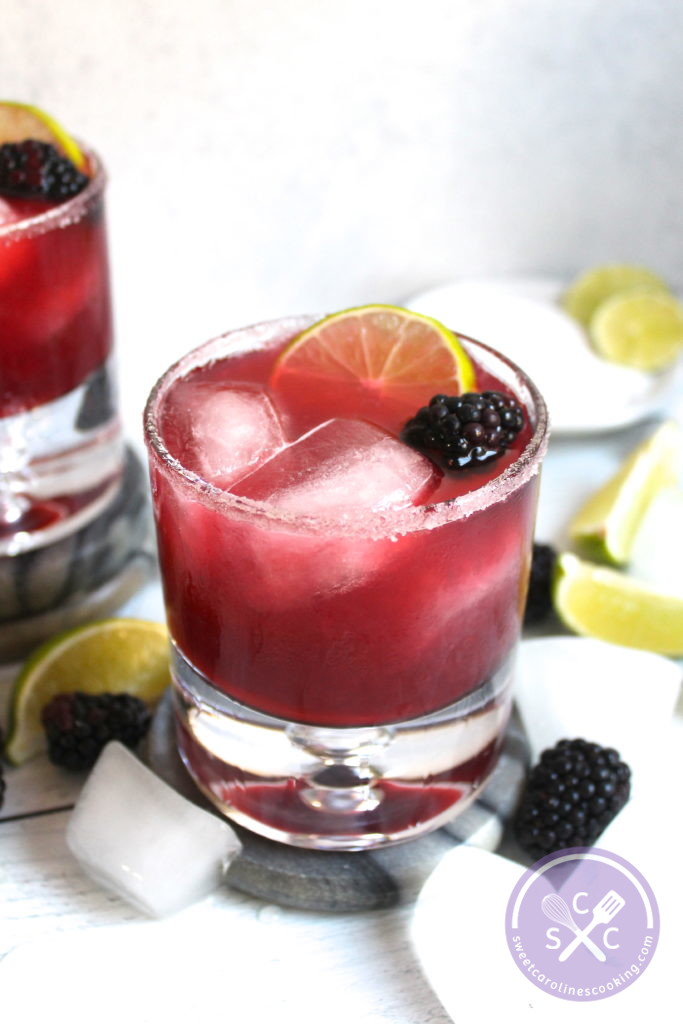 I don't know what it is, but I've been on a cocktail kick lately (I'm typically more of a wine gal). It's most likely because it's been sweltering hot and there's nothing a refreshing cocktail can't fix. This margarita definitely hit the spot the other night and was the perfect combination of sweet and spicy. These would be a great addition to your Taco Tuesday!
blackberry jalapeño margarita
Prep time:
Cook time:
Total time:
Ingredients
Blackberry jalapeño margarita recipe:
3 oz. tequila blanco
1 oz. Cointreau or Triple Sec
3 oz. fresh lime juice
½ cup blackberry jalapeño syrup (recipe below)
Fresh blackberries, for garnish
Lime slices, for garnish, plus additional to rim the glass
White sugar, for the rim of the glass
Ice
Blackberry jalapeño syrup recipe:
½ cup white sugar
½ cup water
½ cup fresh blackberries
1 jalapeño, seeded, deveined and diced (if you don't love spice, use half of a jalapeño)
Instructions
For the simple syrup:
Combine the sugar and water in a small saucepan over medium heat. Whisk together until sugar is dissolved, about 2-4 minutes.
Remove from heat then pour into a mason jar or glass jar with the lid off. Let cool, approximately 20-30 minutes.
For the blackberry jalapeño syrup:
Once cool enough, transfer the simple syrup to a small food processor or blender, then add the fresh blackberries and diced jalapeño. Pulse or blend until smooth.
Place a fine mesh sieve/strainer over a glass bowl, then pour the simple syrup mixture into the sieve. Using a spatula, press down until all of the liquid is removed.
For the margaritas:
When ready to prepare the margaritas, rim 2 short glasses with lime juice then dip both into a dish filled with white sugar. Add 4-5 ice cubes per glass.
Next, fill a cocktail shaker with the tequila, Cointreau, lime juice, approximately ½ cup of the blackberry jalapeño syrup and 6-8 ice cubes.
Shake vigorously then strain the margaritas into the prepared glasses.
Garnish with lime slice and fresh blackberries, then serve.