steal the show. [cranberry orange margarita w. sugared cranberries]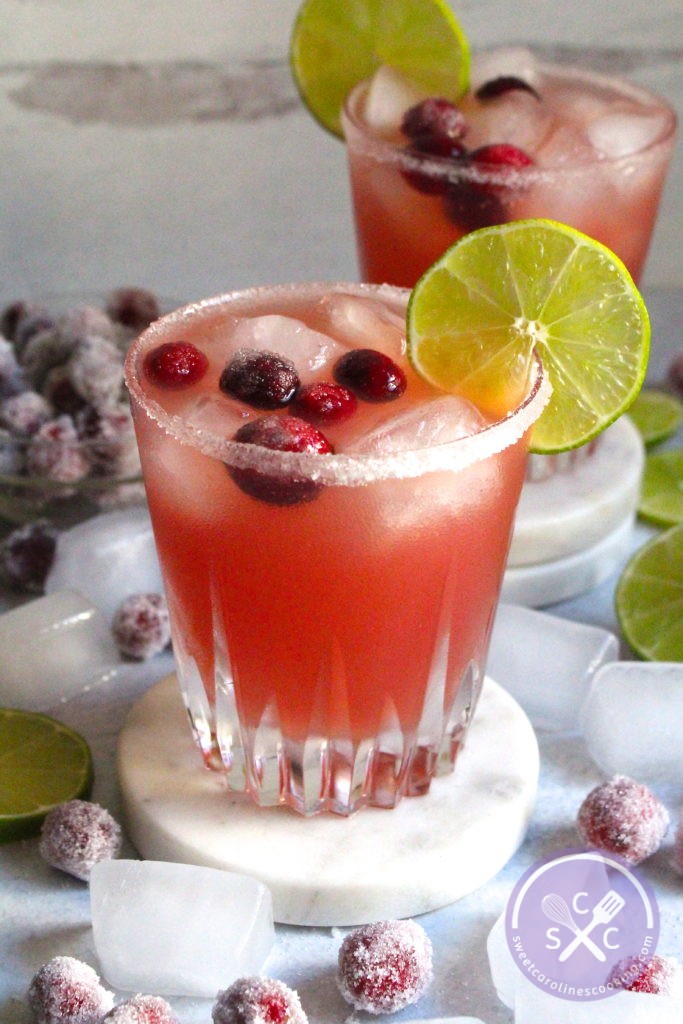 It's crazy to think Christmas is only two days away. Seriously – where did the year go?! Good thing we've got these festive and refreshing cranberry orange margaritas to lift our spirits. The cocktail is super easy to make and the sugared cranberries (which require a bit more effort) steal the show. I could honestly eat them by the handful. Cheers!
cranberry orange margarita w. sugared cranberries
Prep time:
Cook time:
Total time:
Makes 2 cocktails.
Ingredients
Sugared cranberries recipe:
2 cups sugar, divided
2 cups fresh cranberries
Cranberry orange margarita recipe:
4 oz. silver tequila
2 oz. orange juice
5 oz. cranberry juice (not cranberry cocktail)
2 oz. lime juice, plus additional to rim the glass
Lime sparkling water, to top the drink
Instructions
For the sugared cranberries:
Bring ½ cup water and ½ cup sugar to a boil until the sugar is dissolved, about 3-5 minutes. Remove from the heat and let cool a few minutes. Stir the cranberries into the syrup and let sit for 1-2 hours or preferably overnight. If you have the time, my suggestion would be to let them soak overnight!
Strain the cranberries, then pour onto a parchment-lined cookie sheet. Sprinkle the remaining 1½ cups sugar over the cranberries (it will seem like a lot, but use it all!), and gently toss until all the cranberries are coated in sugar. Allow the cranberries to dry in a single layer for at least 1 hour.
For the cranberry orange margaritas:
Dip the rim of each glass in lime juice, followed by sugar. To a cocktail shaker filled with ice, add tequila, orange juice, cranberry juice (not cranberry cocktail) and lime juice. Shake until combined then strain into the two glasses. Top off with lime sparkling water, a few sugared cranberries and a lime slice on the rim.