to the rescue. [arugula & couscous salad]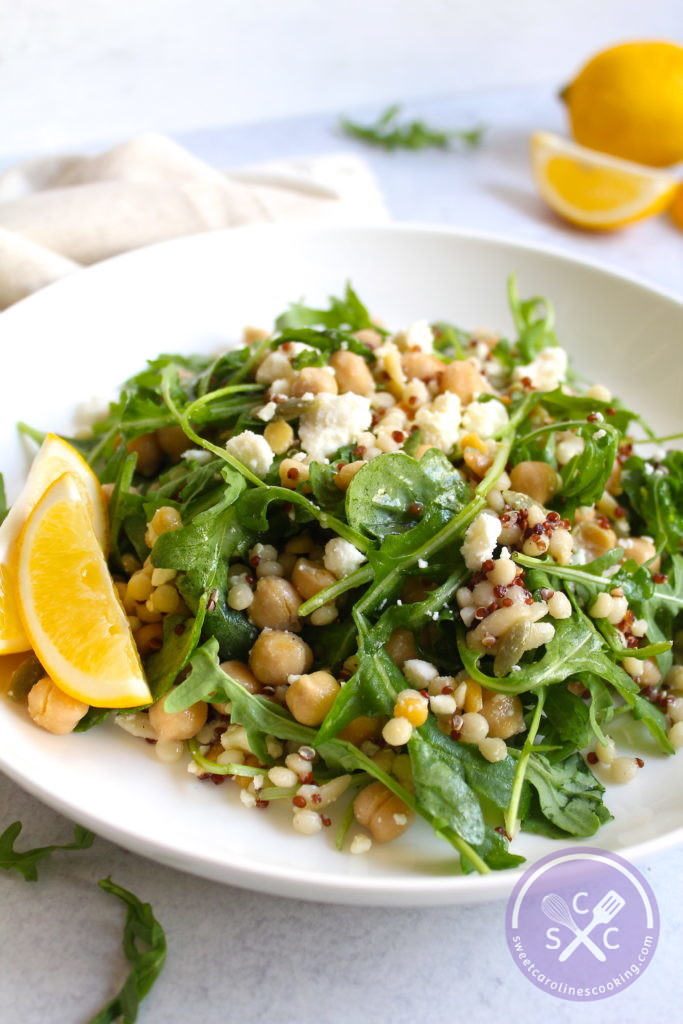 Since work has been so busy lately, I haven't been able to spend as much time in the kitchen. That's when easy recipes like this arugula and couscous salad come to the rescue. The salad is extremely simple, healthy and delicious. If you'd like to add some protein, grilled chicken or shrimp would be delicious on top!
arugula & couscous salad
Ingredients
Lemon vinaigrette recipe:
¼ cup olive oil
2 Tbsp. freshly squeezed lemon juice
½ tsp. honey
½ tsp. Dijon mustard
Salt and pepper, to taste
Arugula salad recipe:
1 cup Trader Joe's Harvest Grains Blend, or pearl couscous
2 heaping cups arugula
½ cup garbanzo beans
2 Tbsp. crumbled feta, plus more to taste
Instructions
For the lemon vinaigrette:
In a small bowl, whisk together the olive oil, lemon juice, honey and Dijon. Season with salt and pepper, then set aside.
For the arugula salad:
Cook Harvest Grains Blend or pearl couscous according to package instructions, then set aside and let cool to room temperature.
In a large bowl, mix together the couscous, arugula, garbanzo beans and feta. Drizzle desired amount of lemon vinaigrette on top (you'll have leftover dressing), then gently toss together. Garnish with additional crumbled feta and lemon wedges, if desired, then serve. If you're serving more than two people, you'll want to double the recipe.