gettin' figgy with it. [fig, prosciutto & whipped ricotta crostini]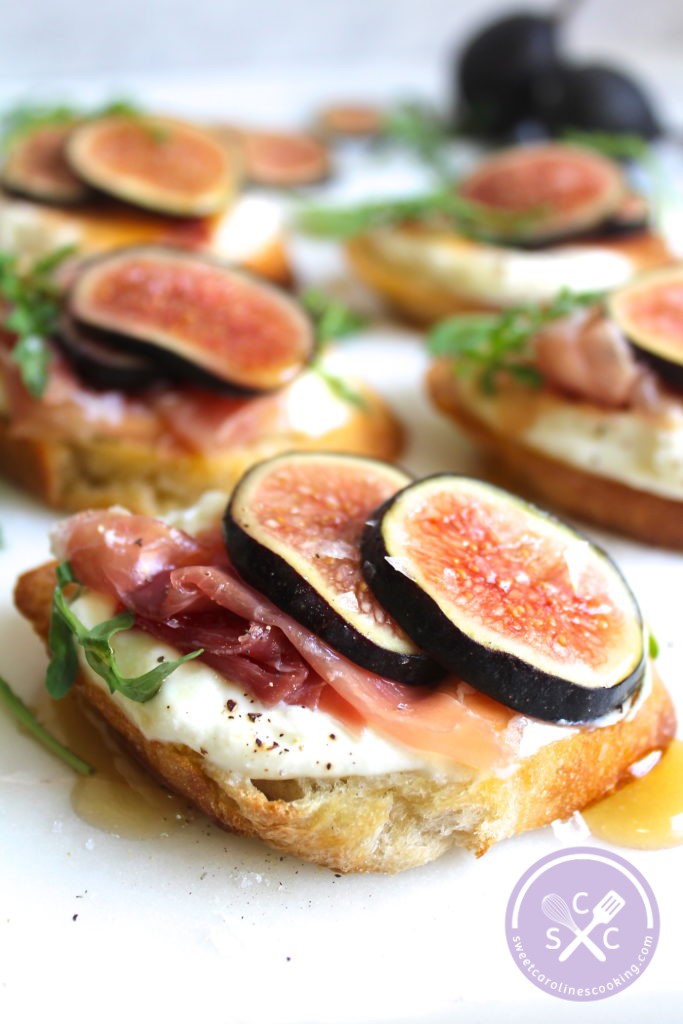 In my opinion, you can't go wrong with crostini – mainly because bread and cheese are typically involved. This crostini is not only easy on the eyes, but it's delicious, as well. The creamy ricotta paired with the buttery prosciutto and crispy garlic bread is a winning combo. This would make for a great appetizer or in my case, a delicious lunch. I couldn't let these go to waste after photographing them!
fig, prosciutto & whipped ricotta crostini
Prep time:
Cook time:
Total time:
Ingredients
Whipped ricotta recipe:
1 cup whole milk ricotta cheese
¼ tsp. kosher salt
1½ Tbsp. olive oil
Crostini recipe:
10 slices French baguette (approx. ½ of an 11.5 oz. baguette)
2 Tbsp. olive oil
1 garlic clove, crushed
Salt
Black pepper
3-4 figs, cut into slices, for garnish
4-5 pieces prosciutto, ripped in half, for garnish
Arugula, for garnish
Honey, drizzled, for garnish
Flaky sea salt, for garnish,
Black pepper, for garnish
Instructions
For the whipped ricotta:
Add ricotta and salt to the bowl of a small food processor. Pulse several times to soften, then scrape down the sides of the bowl.
Gradually add olive oil and blend until cheese is creamy and smooth, about 30 seconds to 1 minute. Set aside.
For the crostini:
Preheat oven to 375 degrees.
Place baguette slices in a single layer on a cookie sheet.
In a small bowl, whisk together the olive oil and garlic. Brush garlic olive oil on each crostini, then sprinkle with a little salt and black pepper.
Bake the crostini for 7-9 minutes or until golden brown and toasted. Keep an eye on the crostini throughout the cooking process, as some ovens are hotter than others.
Once toasted, remove the crostini from the oven.
For assembly:
Top each crostini piece with a heaping tablespoon of whipped ricotta, then top with ¼ - ½ slice prosciutto and two fig slices. Garnish with arugula and a drizzle of honey. Season with flaky sea salt and black pepper. Serve.