saying goodbye to summer. [tomato tarts w. herb-flavored goat cheese & basil]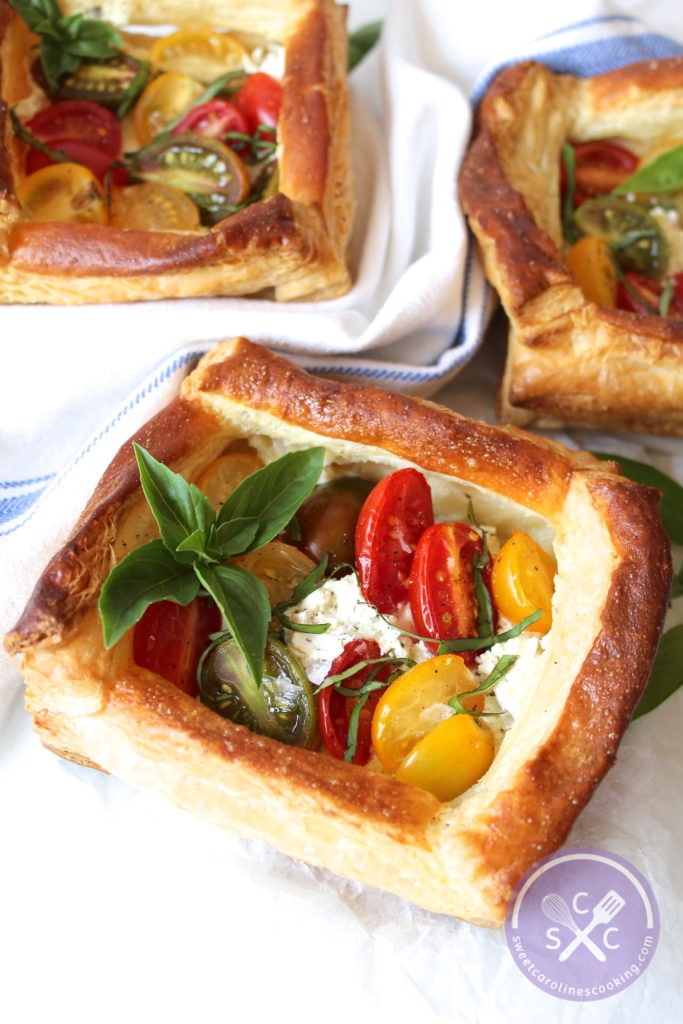 I can't get enough of the summer tomatoes! And as good as they are, they just make me miss the tomatoes we ate in Italy during our honeymoon a few years ago because those tomatoes were next level. I lost count of how many caprese salads we ate. Anyways, these tomato tarts with flaky puff pastry were SO easy to whip up and full of flavor. I made a few changes, but used Cuisine at Home's recipe for the most part. These would be great for a gathering with friends and family!
tomato tarts w. herb-flavored goat cheese & basil
Prep time:
Cook time:
Total time:
Ingredients
2 sheets frozen puff pastry (17.3 oz. box)
1 egg yolk, beaten with 1 Tbsp. water
4 oz. herb-flavored goat cheese, softened
¼ cup heavy cream
6 each red, yellow and green cherry tomatoes, halved lengthwise
2 Tbsp. fresh basil, chiffonade
Instructions
Thaw puff pastry according to package directions. Preheat oven to 400 degrees.
Cut one pastry sheet into 4 even squares. Place squares on a parchment-lined baking sheet.
Cut remaining sheet into 8 strips, each ¾-inch wide. (You will have approximately ⅓ of the sheet remaining after strips are cut).
Cut the 8 strips in half crosswise to make 16 strips, 4 to 5 inches each.
Place 4 strips around the edge of each pastry square, overlapping corners. Lightly brush pastry edges and corners with egg wash; bake until puffed and brown, 22-24 minutes.
Whisk together goat cheese and heavy cream. Divide cheese mixture among centers of baked tarts, spreading with a spatula and pressing lightly to gently deflate centers. Top cheese mixture with red, yellow and green tomatoes; season with flaky salt and pepper.
Bake tarts an additional 5 minutes. Remove from oven and garnish with chiffonade basil. Serve warm or at room temperature.