just something about it. [almond sheet cake]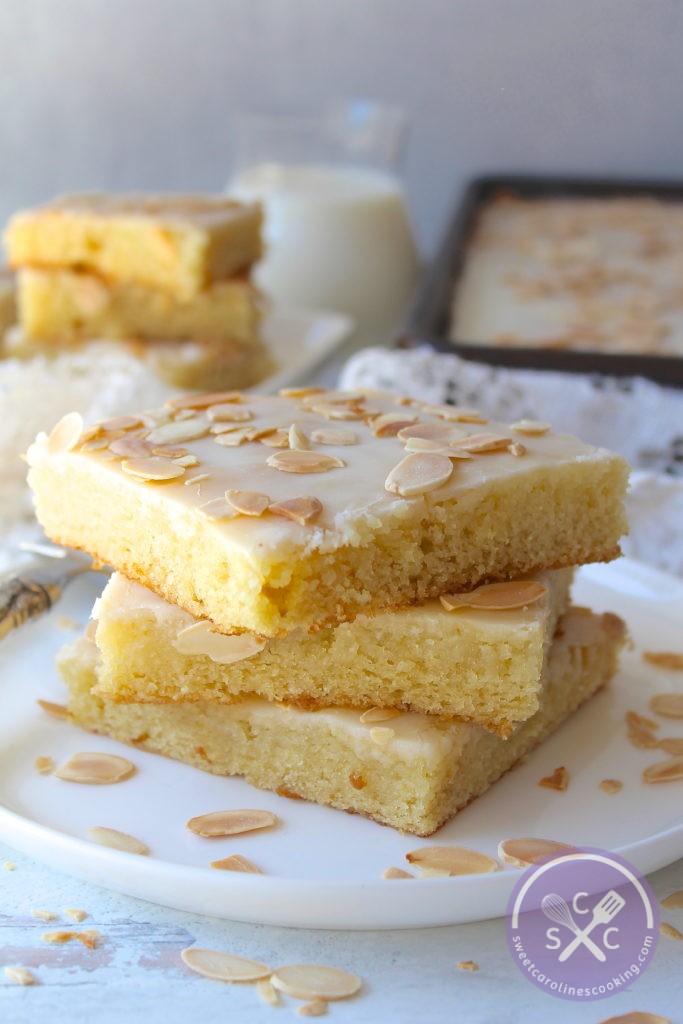 There's just something about almond desserts that I can't get enough of – particularly almond croissants. My mom made this almond sheet cake over Labor Day weekend while we were visiting home and WOW, was it good. It basically tasted just like the almond filling in a croissant AKA the best part. This cake is a must-make!
almond sheet cake
Prep time:
Cook time:
Total time:
Ingredients
Almond sheet cake recipe:
1 cup water
1 cup (2 sticks) salted butter
2 cups all-purpose flour
2 cups sugar
1 tsp. baking soda
½ tsp. salt
½ cup sour cream
2 large eggs
1½ tsp. almond extract
Frosting recipe:
6 Tbsp. heavy cream
½ cup (1 stick) salted butter
3¾ cups powdered sugar
1 tsp. almond extract
Toasted slivered almonds, for topping
Instructions
For the almond sheet cake:
Preheat oven to 350 degrees and grease a large cookie sheet (around 13x18'' or 15x11).
In a medium bowl, mix together the flour, sugar, baking soda and salt.
In another small bowl, mix together the sour cream, eggs and almond extract.
Add sour cream and egg mixture to the flour mixture and stir together just until combined.
Add water and butter to a medium saucepan over medium heat. Bring mixture to a boil.
Once the mixture is boiling, remove from heat and add to the batter, mixing to combine.
Pour batter into prepared pan and smooth with a spatula into an even layer.
Bake in preheated oven for 17-20 minutes or until a toothpick inserted comes out clean.
When the cake is about 5 minutes away from being done cooking, prepare the frosting.
For the frosting:
Add cream and butter to a saucepan. Bring mixture to a boil.
Once boiling, remove from heat and stir in powdered sugar and almond extract. Whisk mixture together with a whisk or hand mixer to get rid of any lumps.
Pour warm icing over warm cake. Use a spatula to gently spread it evenly over the cake.
Top with toasted slivered almonds. Allow cake to cool before serving.