IMHO. [creamy calabrian chili bolognese]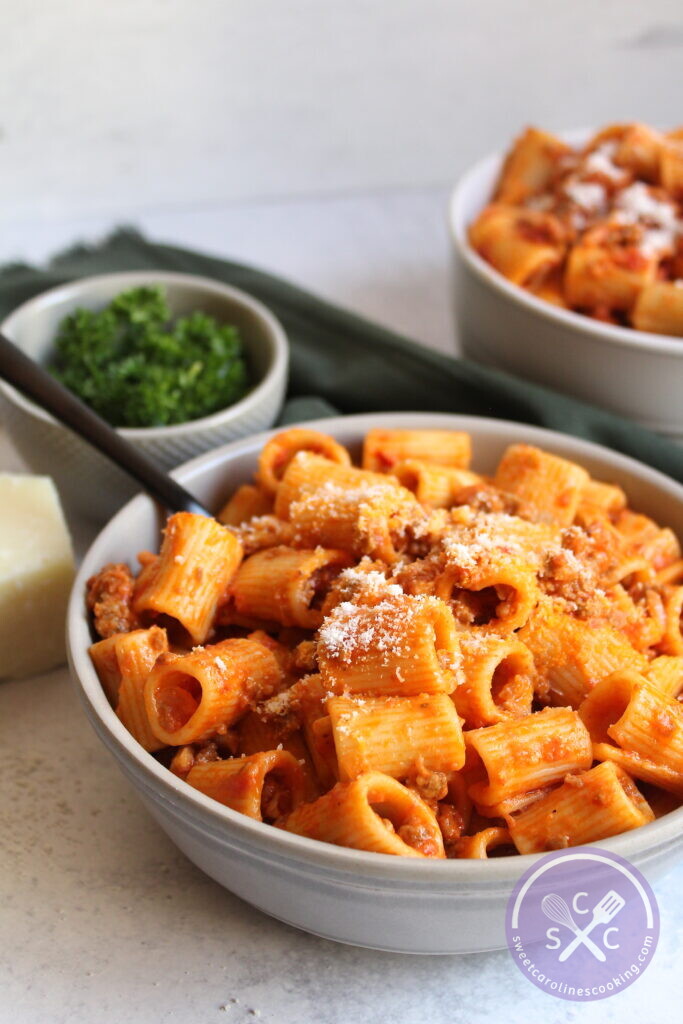 In my humble opinion (IMHO), there's nothing better than a big, comforting bowl of pasta. If you're feeling down or just really, really hungry, it's sure to cheer you up and fill you up. This creamy Calabrian chili bolognese is one of my favorite pastas I've made in a while. It's full of flavor with just the right amount of heat from the Calabrian chilis. Although I made way too much for two people, let's be honest, it was gone in just a couple days.
creamy calabrian chili bolognese
Prep time:
Cook time:
Total time:
Ingredients
1 cup yellow onion, finely diced
4 cloves garlic, crushed
3 Calabrian chili peppers, stems removed and roughly chopped
¼ cup tomato paste
1 can (28 oz.) crushed tomatoes
1 cup heavy whipping cream
Salt, to taste
1 lb. mezzi rigatoni, or desired pasta noodle
Pecorino Romano cheese, grated, for garnish
Instructions
Heat a large skillet over medium heat, then add Italian sausage. Cook, stirring frequently and breaking up into small pieces, approximately 8-10 minutes.
Add the onion, garlic and chopped Calabrian chilis to the pan and continue cooking until the onions become soft, roughly 5 minutes.
Add the tomato paste and cook another 5 minutes, stirring frequently. Add the crushed tomatoes.
Cover and simmer over low heat for 30-45 minutes, stirring often to avoid burning the bolognese. Cook until reduced and thickened to desired consistency.
While the bolognese is simmering, cook the pasta in a pot of boiling salted water. Drain and set aside.
Once the bolognese is finished simmering, stir in 1 cup heavy whipping cream, then season with salt.
Add the cooked pasta and stir everything together. Serve hot and top with grated Pecorino Romano cheese.