don't let it fool you. [roast beef sandwich]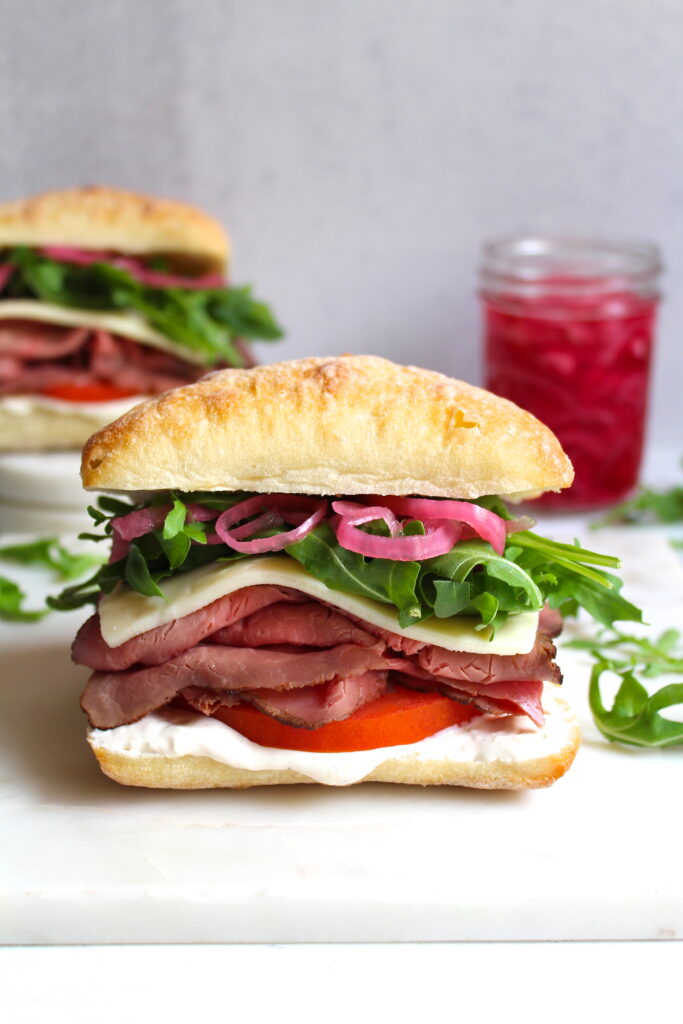 This roast beef sandwich may seem simple, but don't let that fool you – it's packed with flavor and beyond delicious. In my opinion, the pickled red onions are really what take this sandwich over the top. I could honestly eat them by the handful. As we head into summer, this would be the perfect sandwich to bring to a picnic, lunch by the beach or pool – you name it!
roast beef sandwich
Prep time:
Cook time:
Total time:
Ingredients
Pickled red onions recipe:
1 large red onion, peeled and very thinly sliced
1 Tbsp. salt
¾ cup apple cider vinegar
¼ cup water
1 tsp. salt
2 Tbsp. white sugar
Horseradish sauce recipe:
¾ cup mayonnaise
¾ cup sour cream
¼ cup plus 2 Tbsp. jarred grated horseradish (with liquid)
½ tsp. grated lemon zest
Freshly ground black pepper
Hot sauce
Sandwich recipe:
½ lb. Dietz & Watson London Broil Roast Beef
4 slices havarti cheese
4 slices tomato
Arugula
4 ciabatta rolls
Instructions
For the pickled red onions:
In a small bowl, mix together the onion and 1 tablespoon salt. Set aside for 20 minutes. Rinse the onions with cold running water. Drain and squeeze to remove excess liquid.
Add the apple cider vinegar, water, salt and sugar to a small saucepan and cook over medium-high heat until the mixture reaches a simmer.
Place the thinly-sliced onions in a mason jar, then pour the hot vinegar mixture over the onions. Using a spoon, push the onions down into the mason jar until they are submerged into the vinegar mixture and evenly coated.
Place the mason jar in the refrigerator and marinate the onions at least 30 minutes or up to 24 hours.
For the horseradish sauce:
In a small bowl, mix together the mayonnaise, sour cream, horseradish, zest, and 2 teaspoons salt. Season generously with pepper and hot sauce to taste. Refrigerate the horseradish sauce for at least 30 minutes.
For the sandwich:
Preheat the broiler. Slice the ciabatta rolls in half lengthwise, then transfer to a baking sheet cut side up. Toast the rolls under the broiler for about 1 minute.
On each of the roll bottoms, slather with the horseradish sauce, then top with 1 tomato slice and season with salt and pepper. Top the tomato slice with roast beef overlapped into "ruffles" and then season with salt and pepper. Top the meat with a slice of havarti cheese, followed by arugula and pickled red onions. Cover with the tops of the ciabatta roll. Serve immediately.
Notes
Recipe adapted from Food Network.