ready and waiting. [pepperoncini beef sandwiches]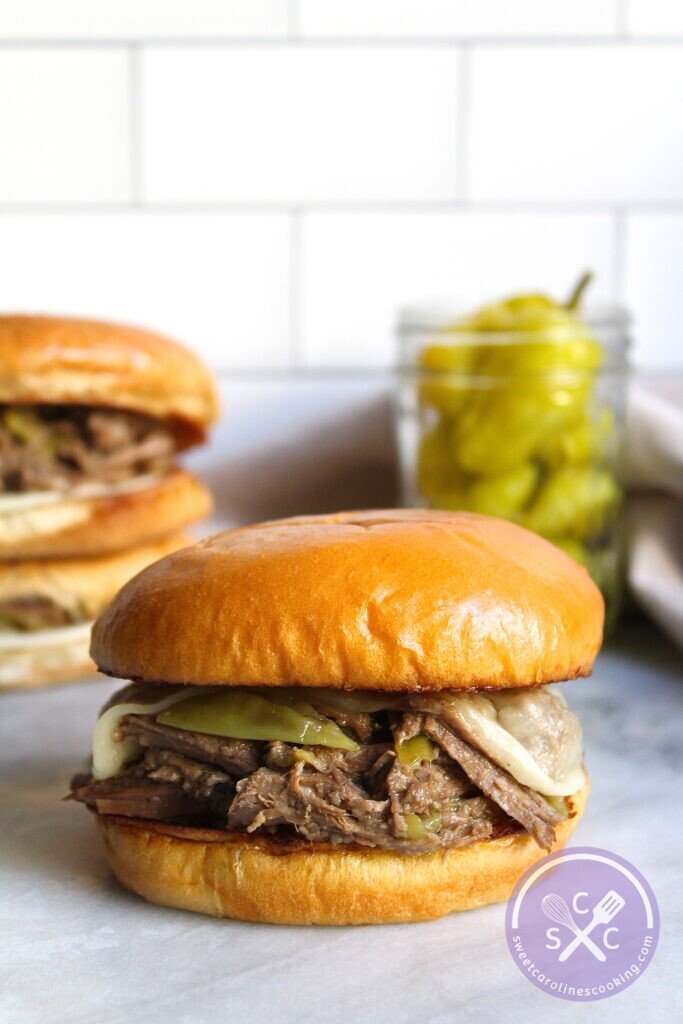 Crockpot recipes are ideal during hectic work weeks. This pepperoncini beef is one of my favorites, particularly because of its simplicity. Start the crockpot before you leave for work and the meat will be ready and waiting for you when you get home – and your kitchen will smell amazing!
pepperoncini beef sandwiches
Prep time:
Cook time:
Total time:
Ingredients
1 (3-4 lb.) tri-tip, seasoned with salt and pepper on both sides
2 tbsp. olive oil
1 jar (16 oz.) Mezzetta deli-sliced pepperoncini (juices included)
3-4 cloves garlic, minced
Sliced provolone cheese, for sandwich
Brioche sandwich buns
Yellow mustard, for sandwich, if desired
Instructions
Warm a large skillet over medium-high heat, then coat the bottom with 2 tablespoons of olive oil. Once oil is hot, add the seasoned tri-tip and sear on all sides until golden brown, about 1-2 minutes per side.
Place meat in the crockpot, then pour jarred pepperoncini and minced garlic on top. Flip meat a few times to coat.
Cook meat on low for 6 hours. Once done, shred meat with two forks.
To assemble sandwiches, place desired amount of shredded pepperoncini beef on bottom half of bun, then top with slice of provolone cheese and top of the bun. Add yellow mustard to the bottom or top bun, if desired.