simply the best. [crab cakes w. remoulade]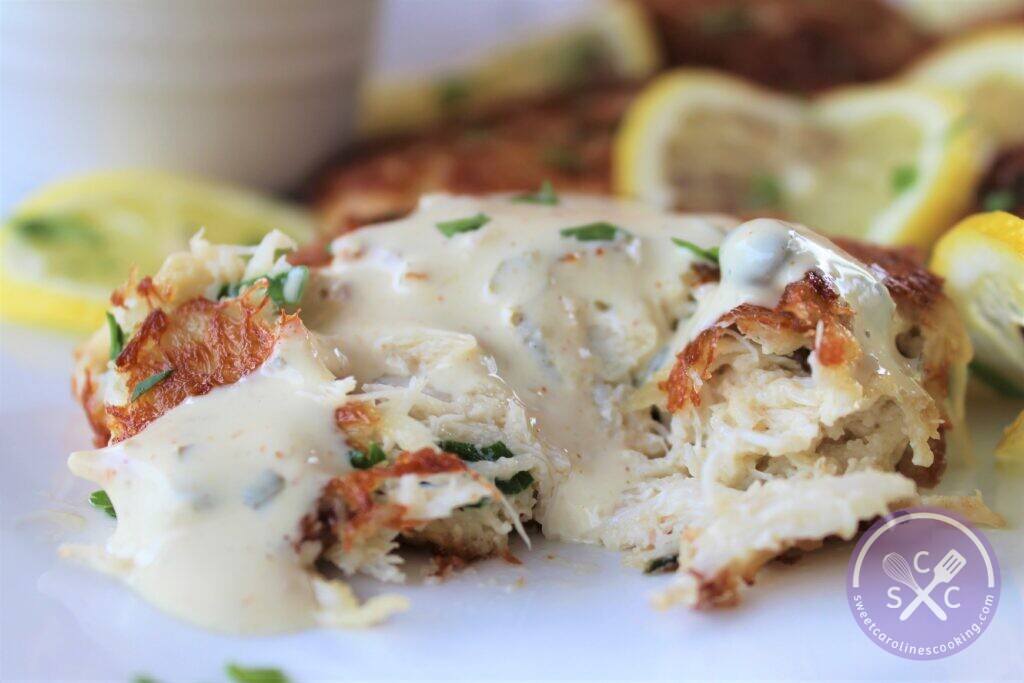 If you're a fan of crab cakes, you've come to the right place. Since my dad's office is based in Greenville, South Carolina, he travels to the city often – but of course not now, due to COVID-19. This recipe is just slightly altered from one of our family's favorite restaurants in Greenville called Soby's. And boy, do they know how to make a decadent crab cake! I can't wait for you to try this recipe and share it with your friends and family.
crab cakes w. remoulade
Prep time:
Cook time:
Total time:
If you're making the crab cakes for 2-4 people, I would recommend cutting the recipe in half!
Ingredients
Crab cakes recipe:
2 lbs. lump crab meat
1 tbsp. Italian parsley, chopped, plus more for garnish
½ tsp. fresh thyme leaves, chopped
Pinch of ground white pepper
1 tsp. Old Bay Seasoning
2 tsp. Worcestershire sauce
½ cup panko bread crumbs
¾ cup mayonnaise
1 egg, whole
2 egg whites
Olive oil
1 lemon, sliced, for garnish
Remoulade recipe:
2 tbsp. olive oil
2 tbsp. shallot, minced
2½ tbsp. capers, drained, chopped
1 lemon, juiced
½ cup white wine
¼ cup Italian parsley, minced
⅓ cup spicy brown mustard
2 tbsp. Worcestershire sauce
2 cups mayonnaise
Instructions
For the crab cakes:
Gently pick through the crab and remove any shells. Mix all the ingredients together in a large bowl until thoroughly combined, taking care not to break up the crab any more than necessary.
Heat a bit of olive oil in a large skillet. Scoop about ⅓ cup of the mix into the hot pan for each crab cake. Do not overcrowd the pan. Flatten with a spatula to approximately ¾ inch thick. Cook the crab cakes until they are brown on one side. Gently flip and cook on the other side until the cakes are heated through. Remove crab cakes from pan and set aside on a plate.
For the remoulade:
Cook the shallots and capers in the olive oil on medium heat for 1-2 minutes. Do not let the shallots brown. Add the lemon juice and white wine. Simmer until almost all the liquid is gone. Cool the shallot mixture. Transfer the mixture to a bowl and whisk in the parsley, mustard, Worcestershire sauce and mayonnaise. Keep the remoulade covered in the refrigerator until ready to serve.
Garnish the hot/warm crab cakes with chopped parsley and serve alongside the remoulade and lemon slices.
Notes
Recipe slightly adapted from Soby's New Southern Cuisine 2nd Edition Cookbook