wrap it up. [red chili oil pork wontons]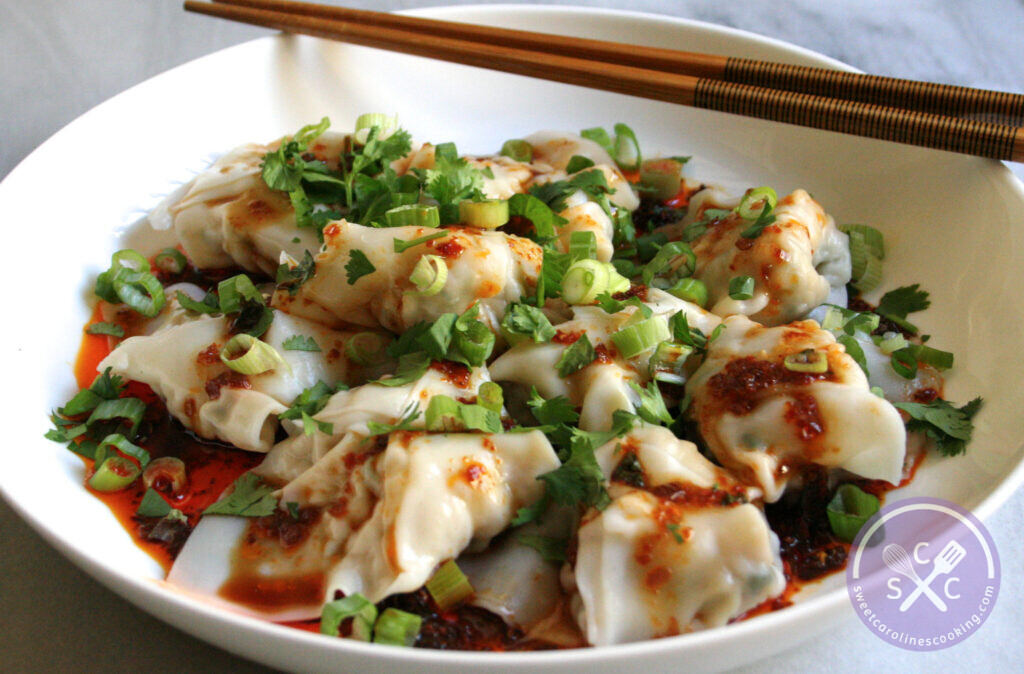 These red chili oil wontons are mouth watering packages of deliciousness. The savory and juicy pork filling pairs perfectly with the heat of the chili oil. Serve the wontons as an appetizer or as the main course for dinner alongside vegetable fried rice, garlic green beans, marinated bok choy, diced cucumber with your leftover chili oil – the options are endless!

red chili oil pork wontons
Prep time:
Cook time:
Total time:
Ingredients
Dumpling filling recipe:
2 cups Napa cabbage, very thinly sliced
1 tbsp. kosher salt
1 lb. ground pork
1 cup green onion, thinly sliced, plus more for garnish
¾ cup cilantro, finely chopped, plus more for garnish
3 tbsp. soy sauce
3 tbsp. fresh ginger, grated or finely minced
2 tbsp. sesame oil
2 large eggs, whisked
1 (12-ounce) package round dumpling, wonton, or gyoza wrappers
Chili oil recipe:
Recipe here: https://seonkyounglongest.com/chili-oil/
Sauce recipe:
⅓ cup soy sauce
2 tbsp. Chinese superior mature black vinegar
2 tbsp. Sichuan chili oil (recipe above) (use 1 tbsp. chili oil if you prefer less spice)
1 tsp. sesame oil
1 tsp. sugar
Fresh cilantro leaves, chopped
Instructions
For the dumpling filling:
Mix the thinly sliced cabbage with salt in a large bowl and set aside for 5 to 10 minutes (while it rests with the salt, the cabbage will start to release liquid). Once ready, grab handfuls of the cabbage and squeeze out the water with your hands or paper towels. Transfer the squeezed cabbage to another bowl.
Combine the cabbage with the rest of the filling ingredients, including the ground pork, sliced green onion, cilantro, soy sauce, ginger, sesame oil, and eggs. Work the mixture together with your hands until fully combined.
For the dumpling assembly:
Set a small bowl of water, the bowl of filling, and a parchment-lined baking sheet nearby. Open the package of dumpling wrappers and arrange a few on your work space.
Working one dumpling at a time, place 1 scant tablespoon of filling in the middle of each wrapper. Fold dumplings however you would like, but the simplest method is to dampen the edge of the dumpling wrapper with water, then dip your finger in the bowl of water and run it around the edge of the dumpling. Fold the dumpling in half and seal the edges closed (flat or crimped). Place sealed dumpling on the parchment-lined baking sheet. Repeat with remaining wrappers and filling.
For boiling the dumplings:
Bring a large pot of water to a boil then add 5-6 dumplings. Stir so they don't stick together. Add 1½ cups of cold water and bring to a boil again. Add another 1½ cups of cold water and bring to a boil a third time. Check one dumpling to make sure they are cooked through, then transfer to a strainer. Repeat with remaining dumplings.
For the chili oil sauce:
Mix all sauce ingredients together then set aside.
For serving:
Once all dumplings are cooked and ready to serve, garnish with fresh cilantro, green onion and drizzle sauce on top. Serve additional sauce on the side.
Notes
Sauce recipe adapted from Rasa Malaysia.