sign me up. [gochujang-ranch crispy chicken bowl]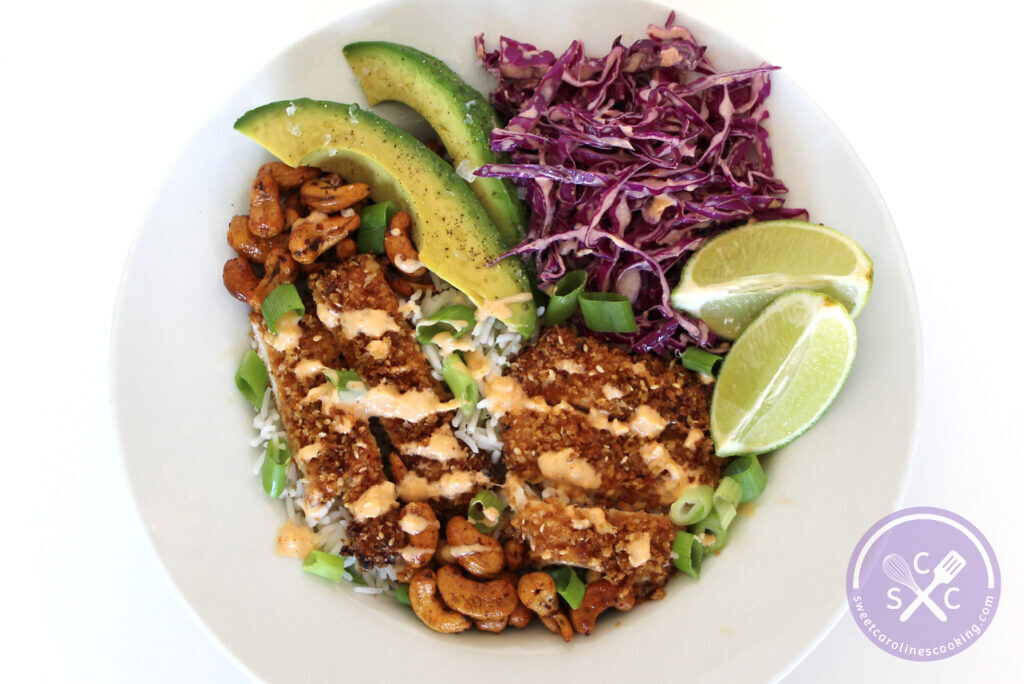 Happy Friday! A few weeks ago, my husband and I visited my parents (socially distant, of course), and my mom whipped up this incredibly delicious recipe from Bon Appétit. Honestly, I still have dreams about this bowl. It was SO good with punches of flavor from every component in the dish, complimented by various textures. In two words – delicious and filling. Sign me up!
gochujang-ranch crispy chicken bowl
Prep time:
Cook time:
Total time:
Ingredients
Gochujang-ranch crispy chicken bowl recipe:
¾ cup mayonnaise
½ cup buttermilk
2 tbsp. gochujang
2 tbsp. seasoned rice vinegar
2 tsp. finely grated peeled ginger
1½ tsp. onion powder
1 tsp. toasted sesame oil
2 garlic cloves, finely grated
2¼ tsp. kosher salt, divided, plus more
¼ small head of red cabbage, thinly sliced
Freshly ground black pepper
½ cup (1 stick) unsalted butter
2 cups panko bread crumbs
¼ cup raw sesame seeds
4-6 boneless, skinless chicken breasts
1 large egg, lightly beaten
1 tbsp. honey
2 cups cooked Basmati rice
Sliced green onion, for garnish
Avocado, cut into slices, for garnish
Lime wedges, for garnish
Flaky sea salt, for garnish
Sambal cashews (recipe below), for garnish
Sambal cashew recipe:
2 tbsp. unsalted butter
1 cup salted, roasted cashews
2 tsp. sambal oelek
Flaky sea salt
Instructions
Place a rack in middle of oven; preheat to 450°.
Whisk mayonnaise, buttermilk, gochujang, vinegar, ginger, onion powder, oil, garlic, and ½ tsp. salt in a medium measuring glass. Taste and season dressing with more salt, if needed. Transfer ½ cup dressing to a medium bowl. Add cabbage and toss to coat. Season slaw with salt and pepper. Set aside until ready to serve.
Heat butter in a large skillet over medium-high heat. As soon as butter begins to foam, add panko, sesame seeds, and ¼ tsp. salt and toss to coat. Cook, tossing often, until golden brown, 5–7 minutes (or longer if still not golden brown). Let mixture cool in pan approx. 10 minutes.
Meanwhile, place a wire rack inside a rimmed baking sheet. Set chicken on rack and pat dry with paper towels. Whisk egg, honey, ¼ cup dressing, and 1½ tsp. salt in a medium bowl.
Toss chicken in egg mixture to coat. Lift chicken from bowl, letting excess drip back into bowl. Coat in panko mixture, pressing to adhere, then return to rack, spacing evenly apart.
Bake chicken until cooked through and panko mixture is slightly darkened in color, 15–20 minutes. Let chicken cool 10 minutes.
While chicken is cooling, make the sambal cashews. Melt butter in a large pot over medium heat. Cook cashews and sambal oelek, stirring occasionally, until nuts begin to toast, 3–5 minutes (or longer until they are golden). Scrape into a small bowl; season with salt.
Once chicken is cool, slice into ½" thick pieces.
Divide chicken, slaw, and rice among bowls. Top with scallions, avocado, cashews and flaky sea salt. Drizzle with remaining dressing. Serve with lime wedges for squeezing over.
Notes
Recipe from Bon Appetit.