fire up the griddle. [classic smash burger]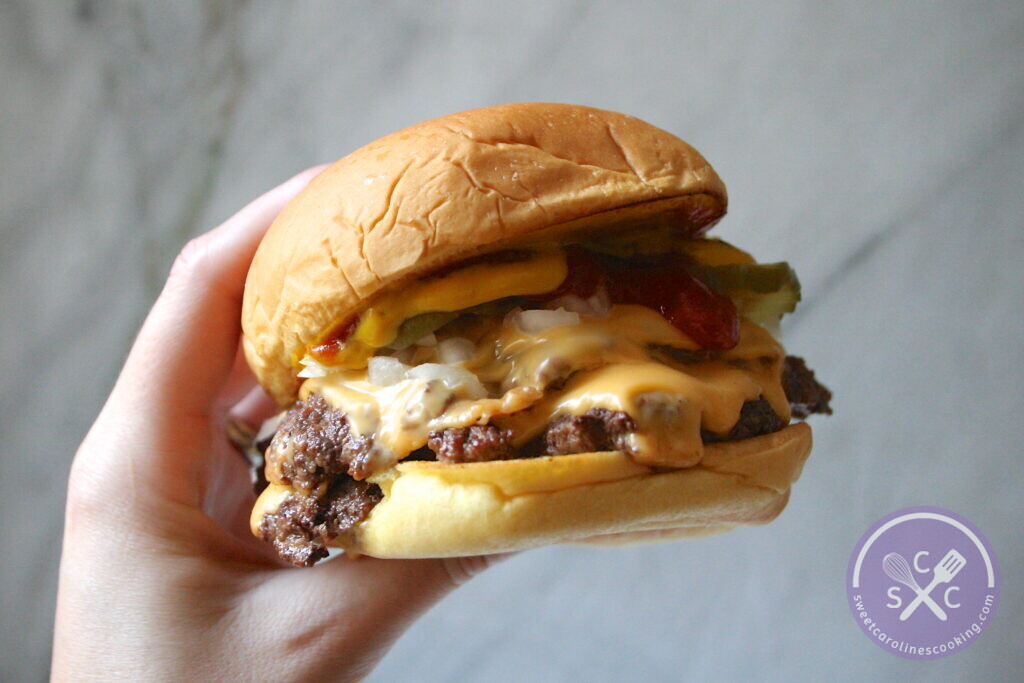 To celebrate National Burger Day yesterday AKA my favorite day of the year, I decided to try my hand at the classic smash burger. Gathering inspiration from the delicious cheeseburger at Burgers Never Say Die in Los Angeles, this burger is classic and simple yet packed with flavor. The sharpness of the diced raw onion pairs perfectly with the ketchup, yellow mustard and vinegary pickles. If you are able to locate Martin's Potato Rolls sandwich rolls, they really take this burger (and any burger/sandwich, really) over the top!
classic smash burger
Prep time:
Cook time:
Total time:
Ingredients
1 lb. ground beef (80% lean; 20% fat)
Salt and pepper
Olive oil spray
6 slices Kraft American singles
¼ cup yellow onion, finely diced
Ketchup, for topping
Yellow mustard, for topping
Sliced pickles, for topping
6 Martin's Potato Rolls sandwich rolls, lightly toasted
Instructions
Divide 1 lb. of ground beef into six equal parts and roll into balls. Set aside.
Heat a flat double burner griddle over medium-high heat then spray with olive oil spray. Once hot, add balls of ground beef and season generously with salt and pepper. Using a large metal spatula, smash all of the burger patties as thin as possible, smashing the edges the patties the thinnest to create a crispy edge. Cook approximately 2 minutes then flip. After 1 minute, add one slice of American cheese per burger patty and let melt until gooey and oozing over the edges of the burger patties, roughly 30-45 seconds. Remove patties from the griddle and set aside to rest.
On the same griddle (wiped off) or a separate pan, toast buns on medium heat until lightly browned and toasted. Once toasted, remove buns and set aside.
Stack two burger patties on top of the bottom bun, then top with desired amount of diced onion and sliced pickles. Spread the top bun with yellow mustard and ketchup, then place on top of the other half. Serve hot.