luscious. [homemade spinach & ricotta ravioli w. sage brown butter sauce]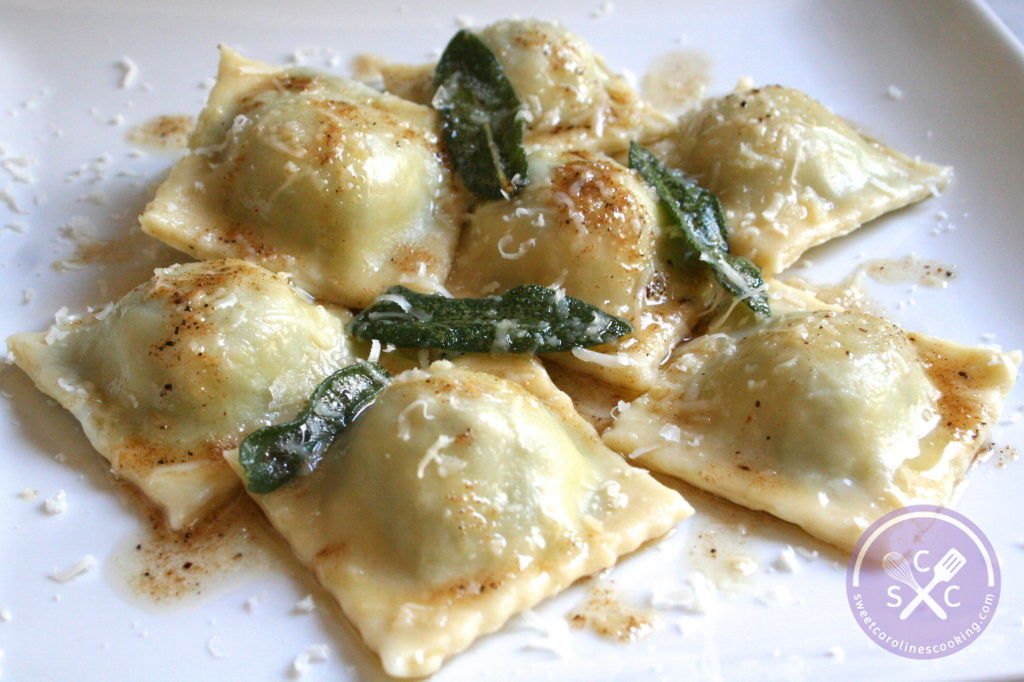 Ever since my husband and I took a cooking class at Montese Cooking Experience in San Gimignano, Italy for our honeymoon in 2018, I have been itching to make homemade ravioli. This recipe is loosely based off of the ravioli we made in the class, which was in-cred-ible. If you ever have the chance to make it to San Gimignano, I highly recommend taking this cooking class – the instructor, Mauro was so sweet and incredibly knowledgeable.
homemade spinach & ricotta ravioli w. sage brown butter sauce
Ingredients
Pasta recipe:
3 large eggs
2½ cups all-purpose flour, plus extra for dusting and rolling out
1 tbsp. olive oil
1 tsp. salt
1 tbsp. water, plus more as needed
Filling recipe:
1 cup whole milk ricotta cheese
1¼ cup frozen spinach, liquid thoroughly drained with a paper towel
¼ cup grated Parmesan cheese
Salt and pepper, to taste
Sage brown butter sauce recipe:
1 stick unsalted butter
1-2 tbsp. water
15-20 sage leaves
Salt and pepper, to taste
Romano or Parmesan cheese, grated, for serving
Maldon sea salt, for serving, if desired
Instructions
For the pasta dough:
In the bowl of your stand mixer with the paddle attachment, add the eggs, flour, olive oil, salt and water. Mix on low speed for 2-3 minutes, or until the dough starts to come together. Switch to the dough hook attachment and knead the dough for 2-4 minutes or until soft to the touch and pliable. If the dough is too sticky, add flour in small increments. If the dough cracks or seems too dry, add water in small increments until you reach the right consistency.
Once your dough reaches the right consistency, form it into a disk or ball and wrap tightly in a piece of plastic wrap. Set aside for at least 30 minutes or up to 2 hours.
Unwrap your dough and place on a generously floured surface. Cut the dough into 4 equal size pieces. Flatten them out with your finger tips prior to running through the pasta roller.
With the roller attachment fixed to your stand mixer and set to the lowest setting (1 for KitchenAid), insert the dough through the top. Once it goes through, fold the dough in half. Flour your dough and run it through a second time. Repeat this step, if necessary, flouring when needed, until the sheet is smooth and elastic. Increasing the setting by one step (2 for KitchenAid), insert the sheet again, but don't fold it over this time. Increasing the setting another step (go to 4 for KitchenAid), insert the sheet once again. Increasing the setting again (6 for KitchenAid), insert the sheet once again. If you'd prefer thinner pasta, increase the setting once more (7 for KitchenAid) and insert the sheet - making sure to be very careful and gentle with the dough, as it will be very thing and delicate at this point. The pasta sheet should be roughly 1/16" thick. Repeat the above steps for the remaining dough, laying out each sheet on a generously floured surface. Cut pasta sheets lengthwise into two sheets (one half will serve as the top layer).
For the filling:
In a medium bowl, mix together the ricotta, spinach, grated Parmesan cheese, salt and pepper.
For assembly:
Using two spoons, create little balls of filling and place them on one of the halves of the pasta sheet, approximately two inches apart.
In a small bowl, whisk one egg. Brush the pasta sheet with the egg, avoiding the filling (make sure to brush all four edges, as well as in between each dollop of filling).
Take the other half of the pasta sheet and place it on top of the other like a blanket, gently pushing down on all sides with your fingers to remove any air pockets around each mound of filling. Cut each individual ravioli, trying not to leave too much dough on all four sides. To finish, gently press down on the four sides of each ravioli with a fork (or use a fluted pastry cutter like I did to get the ribbed edges). Place the ravioli on a cookie sheet covered with parchment paper and dusted with flour. Dust a bit more flour on top of the completed ravioli. Repeat the above steps with the remaining pasta dough and filling.
For cooking:
Bring a large pot of water to a boil, then add 6-8 ravioli and cook for approximately 5 minutes, stirring throughout the cooking process to avoid the ravioli sticking together. Repeat this process with the remaining ravioli, transferring the ravioli to a strainer once cooked to set aside.
While the raviolis are cooking, melt butter in a skillet over medium heat. Brown the butter 3-4 minutes until it starts to lightly brown, stirring frequently. Next add the sage leaves, 1-2 tbsp. of water (to prevent the sage from over frying) and season with salt and pepper. Once the butter is golden brown and giving off a nutty smell, remove from the heat.
If desired, once all of the ravioli are cooked, transfer to the skillet with the sage brown butter sauce and stir fry for a few minutes to heat them back up. Serve hot and top with grated Romano or Parmesan cheese and Maldon sea salt, if desired.