sweet summer. [fresh corn salad]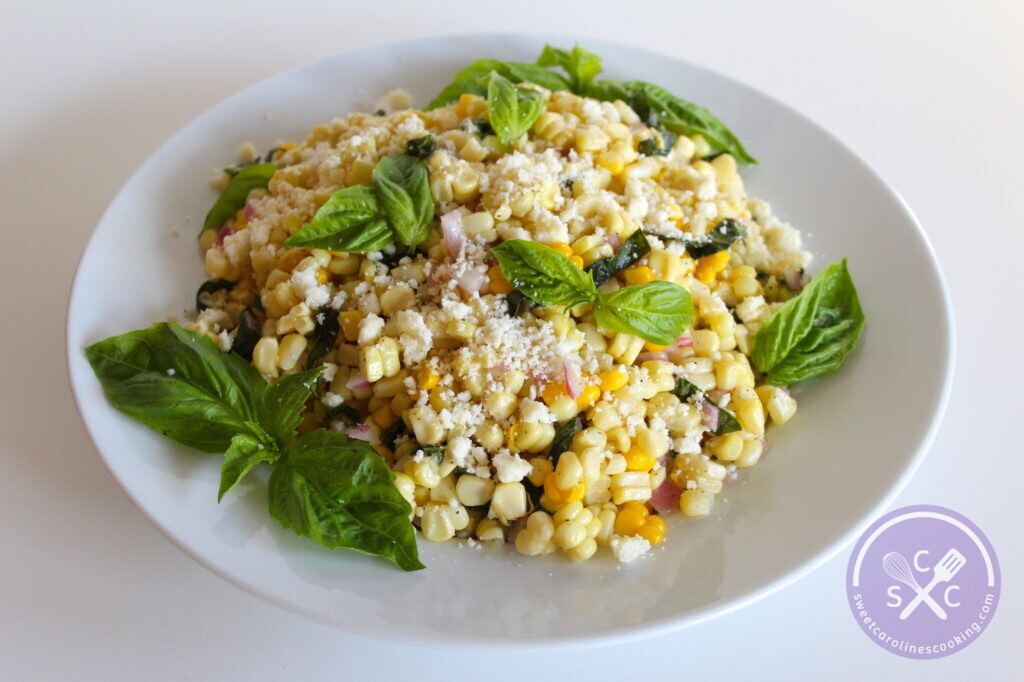 I can't seem to get enough of fresh corn this summer. It's on sale almost every time I go to the grocery, so I continue to buy it and work it into our meals each week. This particular corn salad is one of my favorite dishes we've made. There's minimal ingredients and prep work, but it's bursting with fresh flavors and crisp textures. Highly recommend making it while corn is still in season!
fresh corn salad
Prep time:
Cook time:
Total time:
Ingredients
5 ears of corn, shucked
½ cup red onion, finely diced
3 tbsp. apple cider vinegar
3 tbsp. olive oil
½ tsp. kosher salt, plus more to taste
½ tsp. freshly ground black pepper, plus more to taste
½ cup julienned fresh basil leaves, plus additional whole leaves for garnish
Crumbled cotija cheese, for garnish
Instructions
Bring a large pot of salted water to a boil, then add the corn. Cook for 3 minutes until the starchiness is just gone. Drain the corn and immerse the cobs in ice water to stop the cooking and to set the color.
When the corn is cool, cut the kernels off the cob, cutting close to the cob.
Toss the kernels in a large bowl with the red onions, vinegar, olive oil, salt, and pepper. Just before serving, toss in the fresh basil. Taste for seasonings then garnish with crumbled cotija cheese and fresh basil leaves. Serve cold or at room temperature.
Notes
Recipe adapted from Ina Garten.