stars & stripes. [italian pasta salad]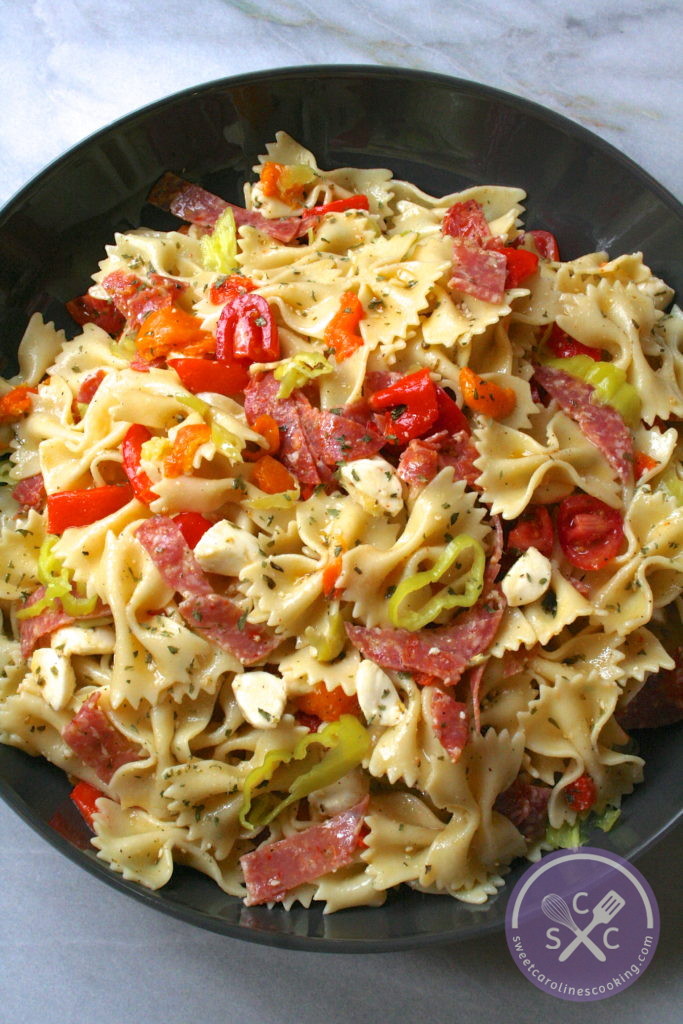 If you're still searching for recipe ideas for your 4th of July get together, I've got you covered! I recently made this Italian pasta salad for a picnic with friends before a Hollywood Bowl concert and not a noodle was left in sight. The dish is simple, yet packed with flavor and texture. I will be making this again for my parent's 4th of July party – per my mother's request!
italian pasta salad
Prep time:
Cook time:
Total time:
Ingredients
For the pasta salad:
1 lb. (1 box) farfalle
1 jar (8 oz.) whole milk fresh mozzarella balls, quartered
¼ cup (or less) deli-sliced golden Greek pepperoncini, drained
1 red bell pepper, roasted, peeled, seeded and chopped
1 orange bell pepper, roasted, peeled, seeded and chopped
¼ cup cherry tomatoes, quartered
¼ cup (or more) gourmet pepperoni, sliced into strips
¼ cup (or more) calabrese salami, sliced into strips
Salt and pepper, to taste
For the dressing:
½ cup extra-virgin olive oil
¼ cup distilled white vinegar
2 tbsp. Parmesan cheese, grated
1 tbsp. dried parsley, plus additional for garnish (can also use fresh parsley for garnish)
½ tsp. onion powder
1 tsp. dried basil
1 tsp. dried oregano
2 cloves fresh garlic, minced
2 tsp. freshly squeezed lemon juice
1 tsp. white sugar
Salt and pepper, to taste
Instructions
Preheat oven to 400 degrees Fahrenheit. Line a cookie sheet with foil.
Bring a medium pot of salted water to a boil, then add farfalle and cook according to package instructions. Drain the cooked pasta in a colander and let cool. Drizzle pasta with 1-2 tbsp. olive oil and gently toss, to avoid pasta sticking together.
Once the oven is preheated, place the bell peppers on the foil-lined cookie sheet and roast in the oven until blackened and skin begins to peel, roughly 15-20 minutes, rotating the peppers a couple times during the process.
Remove peppers from oven and transfer to a glass bowl. Top bowl with a piece of plastic wrap and sweat peppers about 10 minutes. Remove the plastic wrap and let the peppers cool slightly; remove the skin from the bell peppers. Next, remove the stem and seeds and dice the roasted bell peppers into medium chunks.
In a small bowl, whisk together all of the dressing ingredients.
Transfer the cooled farfalle to a large bowl, then add mozzarella, pepperoncini, roasted bell peppers, cherry tomatoes, sliced pepperoni and sliced salami. Add the dressing to the mixture and toss gently with a spatula. Once dressing is fully incorporated and pasta is coated, transfer to an air-tight container and place in the refrigerator to chill until ready to serve.
When ready to serve, place chilled pasta salad in a serving dish and garnish with additional dried or fresh parsley.