gourmet twist. [crispy pork tenderloin sandwich w. red onion, pickles & apricot mustard spread]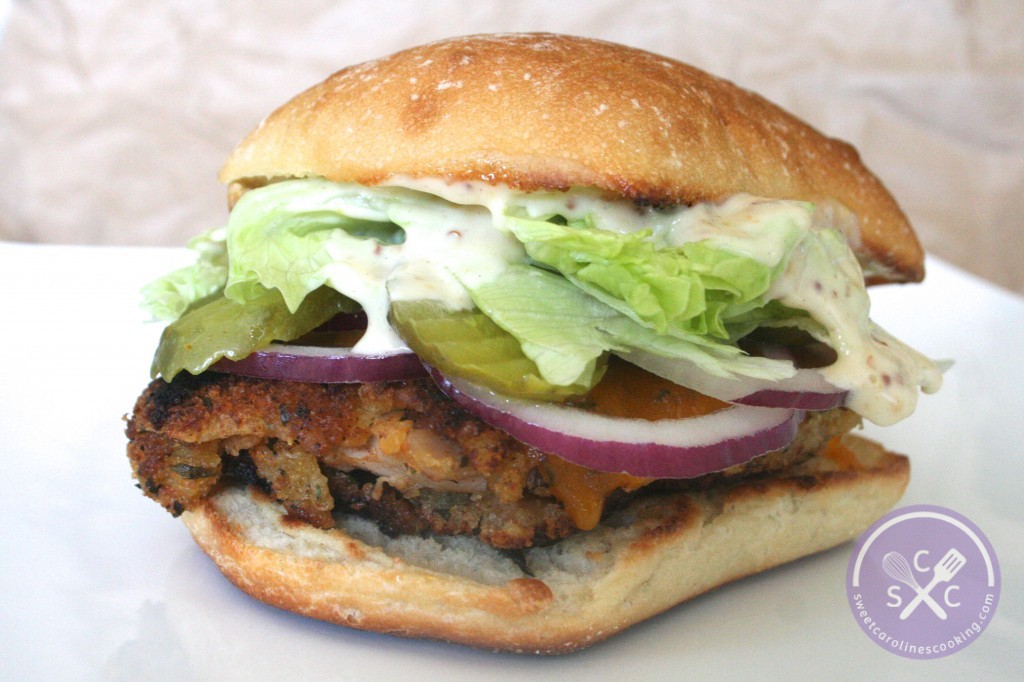 This decadent pork tenderloin sandwich is simple, with a gourmet twist. The crispy, breaded pork tenderloin is complimented by the sweet, apricot mustard spread. Everyone at the dinner table gave the sandwich two thumbs up!
crispy pork tenderloin sandwich w. red onion, pickles & apricot mustard spread
Prep time:
Cook time:
Total time:
Ingredients
Pork tenderloin recipe:
One 1½-lb. pork tenderloin, silver skin removed
1 cup buttermilk
1 tbsp. honey
1 tbsp. granulated garlic
2 tsp. kosher salt
1 tsp. onion powder
1 tsp. paprika
Peanut oil, enough to fill your cast-iron skillet 1 to 2 inches high
1 cup flour
3 large eggs, beaten
2 cups breadcrumbs
Apricot mustard spread recipe:
1 cup mayonnaise
2 tbsp. whole grain mustard
1 tbsp. apricot preserves
1 tsp. honey
1 tsp. horseradish
Salt and pepper, to taste
Sandwich recipe:
4 ciabatta rolls, split in half lengthwise, buttered and lightly toasted
8 slices cheddar cheese
½ small red onion, thinly sliced
Sliced dill pickles
4 to 8 iceberg lettuce leaves
Instructions
For the pork tenderloin: Cut the tenderloin in 4 medallions. Butterfly each medallion crosswise, and then place each medallion between 2 pieces of plastic wrap. Using a meat mallet, pound until each patty is ⅛-inch thick and 6 to 8 inches wide.
Mix together the buttermilk, honey, granulated garlic, salt, onion powder and paprika in a bowl to make the marinade. Place the pork into a 9- by 13-inch dish and cover in the marinade. Marinate in the fridge for 1 to 2 hours.
In a large cast-iron skillet, heat oil over medium heat to 350 degrees. Preheat the oven to 200 degrees.
Set up a three-stage breading station, with the flour, eggs and breadcrumbs in three separate baking dishes. Place the marinated tenderloins first in the flour, shake off any excess, and then in the eggs, and let any excess drip off, and then in the breadcrumbs. Press the patties into the breadcrumbs until total coverage is achieved.
One at a time, fry each patty until golden brown, about 3 minutes, flipping if necessary. The pork is so thin, that by the time it is golden brown, it is done. Once the pork is finished, place it onto a wire-rack-lined baking sheet and place in the oven to keep warm.
For the apricot mustard spread: Mix the mayonnaise, mustard, apricot preserves, honey and horseradish in a bowl. Season with salt and pepper, to taste.
For sandwich assembly: On each bottom bun, place 2 slices American cheese and then top with the warm pork tenderloin. Top the pork with red onions, pickles and lettuce. Spread the apricot mustard spread onto the top bun and then top the sandwich.