aloha. [Hawaiian bowl w. garlic lemon butter shrimp & pineapple]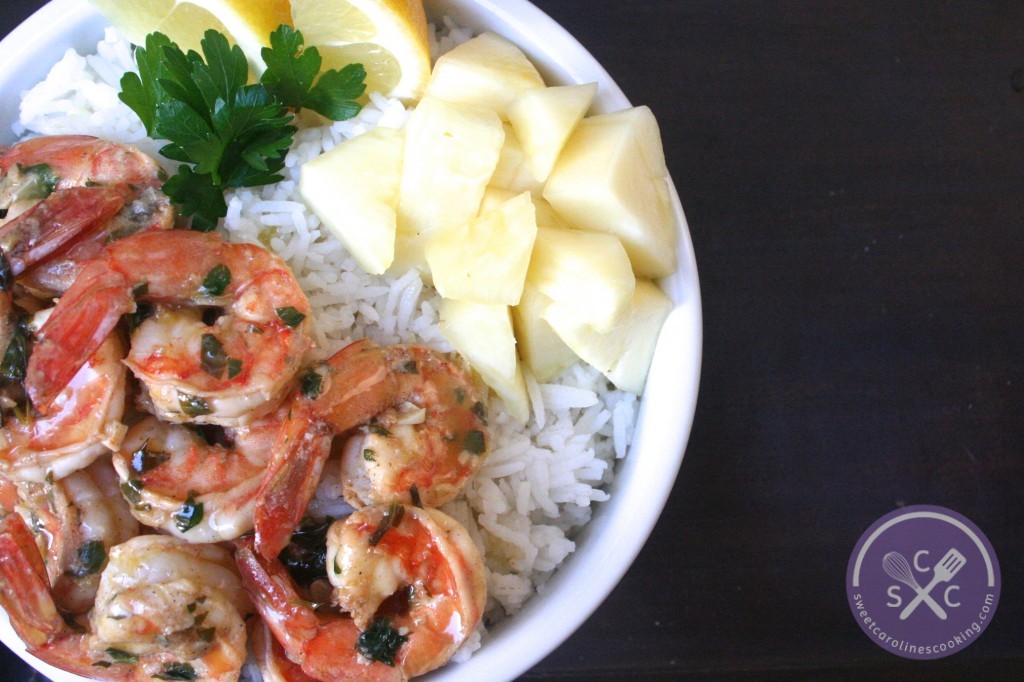 TGIAF aka thank God it's almost Friday! This fresh, healthy and delicious Hawaiian shrimp bowl has been getting me through the week. The dish is super easy to make and full of flavor!
Hawaiian bowl w. garlic lemon butter shrimp & pineapple
Prep time:
Cook time:
Total time:
Ingredients
Shrimp recipe:
½ - ¾ lb. raw tail-on shrimp, shelled and de-veined
¼ cup olive oil
2 lemons, juiced, divided
5-6 cloves garlic, minced
2 tbsp. fresh parsley, chopped, plus more for garnish
1 tbsp. flour
½ tsp. cayenne
½ tsp. ground black pepper
7 tbsp. unsalted butter
1 tsp. pepper
½ tsp. lemon zest
Hawaiian bowl recipe:
White basmati rice, cooked according to package instructions
Fresh pineapple, sliced
Lemon wedges, for garnish
Instructions
Add the shrimp to a gallon size Ziplock bag or medium size bowl. Add the olive oil, juice of 1 lemon, chopped garlic, 1 tbsp. fresh parsley, flour, cayenne pepper and pepper. Toss well to combine, then seal the bag or cover the bowl and place in the fridge for 1 hour, up to 24 hours.
Heat a large skillet over medium heat. Once hot, use a slotted spoon to scoop the shrimp out of the marinade and into the hot skillet; season with salt and pepper. Make sure to scoop up all the garlic. Saute the shrimp until pink, about 2-3 minutes per side.
Remove the shrimp from the pan leaving the garlic in the skillet. Add the salted butter and 1 tsp. pepper to the skillet. Cook the garlic in the butter until it begins to caramelize and turn golden brown.
Remove from the heat and stir in 1 tbsp. chopped parsley, the juice of ½ a lemon and zest.
Drizzle with the warm garlic butter over the shrimp and serve alongside rice, fresh pineapple and lemon wedges. Garnish with fresh chopped parsley.