shredding for the wedding. [pesto brown rice bowl]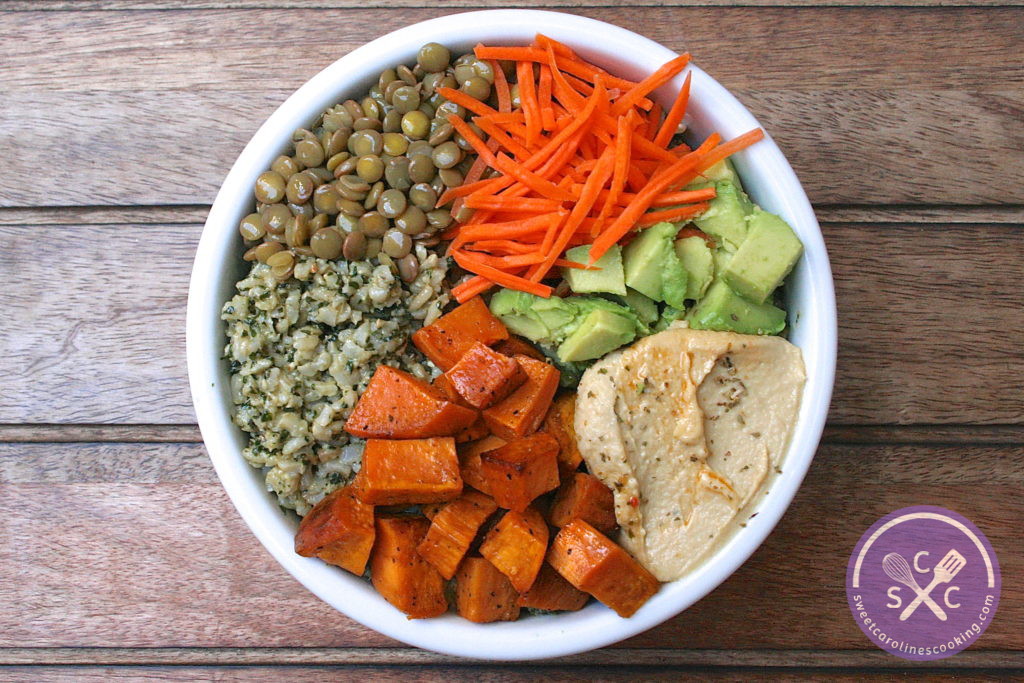 With our wedding quickly approaching (February is going to be here before we know it!), we've begun 'shredding for the wedding,' as they say. We definitely still have our cheat days, but have been lightening it up during the week. This pesto brown rice bowl is inspired by one of my favorite dishes at Roni's Diner in Beverly Hills. The bowl is incredibly delicious and I'm so glad I can now make my own version!
pesto brown rice bowl
Prep time:
Cook time:
Total time:
Ingredients
1 cup brown rice
1 cup lentils
2 sweet potatoes, cut into small cubes
Olive oil
Salt and pepper
2 cups fresh basil leaves
2 cloves garlic, crushed
¼ cup pine nuts, toasted
¼ - ½ cup extra-virgin olive oil
Salt and pepper, to taste
3-4 tbsp. parmesan cheese, grated
Garlic hummus, homemade or store-bought (I used Sabra roasted pine nut hummus)
2 avocados, diced
¾ cup shredded carrots
Grilled chicken, if desired
Instructions
Preheat oven to 425 degrees fahrenheit.
Bring two medium pots of water to a boil, then add brown rice and lentils and cook according to package instructions. Once rice is cooked, remove from heat and transfer to a medium bowl. Once lentils are down, drain in a colander and transfer to a medium bowl.
Line a cookie sheet with foil, then place cubed sweet potato on top. Drizzle with olive oil and season with salt and pepper. Toss to coat all of the cubes.
Warm a small skillet over medium heat, then add pine nuts. Cook until lightly toasted then remove from the heat.
Into the bowl of a food processor, add the garlic, basil leaves and toasted pine nuts. Pulse until finely chopped. With the blender still running, slowly pour in the olive oil. Check for a thick, yet smooth consistency, adding more oil if necessary. Transfer to a bowl and stir in Parmesan. Season with salt and pepper.
Add the pesto the the bowl of brown rice and mix together, making sure all of the rice is coated.
In a separate bowl, build your bowl. Place a layer of pesto brawl rice on the bottom, then add the remaining ingredients on top - lentils, shredded carrots, diced avocado, sweet potatoes and hummus. Top the bowl with warm, grilled chicken, if desired.