look no further. [hatch chile sausage queso]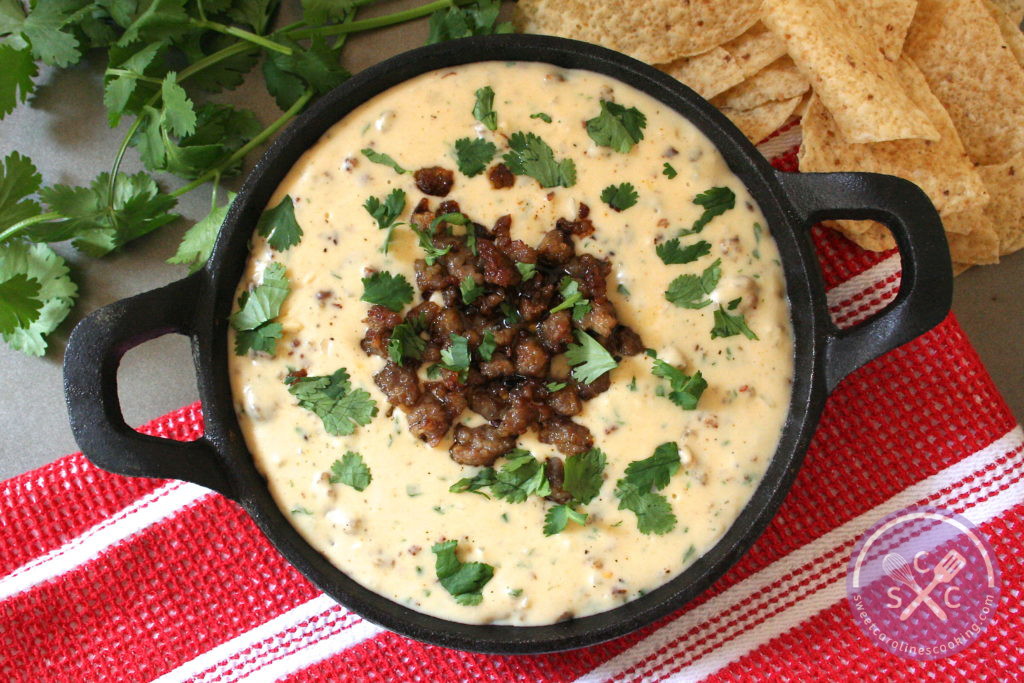 On the hunt for the perfect addition to your Taco Tuesday, football Sunday or get together with friends? Look no further! This hatch chile sausage queso is silky smooth and delicious. I guarantee it will be gobbled down in no time and leave you wanting more.
hatch chile sausage queso
Ingredients
1½ cups shredded cheddar cheese
1 cup Monterrey Jack cheese
1 tbsp. cornstarch
1 tbsp. unsalted butter
2 cloves garlic, minced
¼ yellow onion, finely diced
1 (12 oz.) can evaporated milk (not low fat)
¼ tsp. onion powder
¼ tsp. garlic powder
½ tsp. cumin
¼ cup fresh cilantro, chopped, plus more for garnish
A few dashes of cayenne
3 Johnsonville Hatch Green Chile seasoned sausages, removed from casing
2 - 3 tbsp. milk or water, if needed to thin the queso
Salt and pepper, to taste
Instructions
Heat a medium skillet over medium-high heat, then add Hatch Green Chile sausages. Cook sausage until done, breaking meat up into crumbled pieces as it cooks. Set aside.
In a medium bowl, mix shredded cheese and cornstarch; toss to coat.
Melt butter over medium heat in a large skillet. Add garlic and onion and saute for a few minutes, until onion is translucent and aromatic. Do not brown the onion. Next, add evaporated milk, cheese and spices. Whisk together until cheese melts and the texture becomes smooth and silky. Add crumbled sausage (setting some aside for garnish), then season queso with salt and pepper.
Add 1 - 2 tbsp. milk or water to the queso to adjust consistency if too thick. Garnish with remaining sausage and chopped cilantro.
Remove from heat and serve hot or warm with tortilla chips.
If the queso thickens too much while sitting out, return to the stove and whisk 1 tbsp. of milk or water into the dip to thin it out. Warm the cheese back up and serve.