game changer. [deconstructed french onion soup]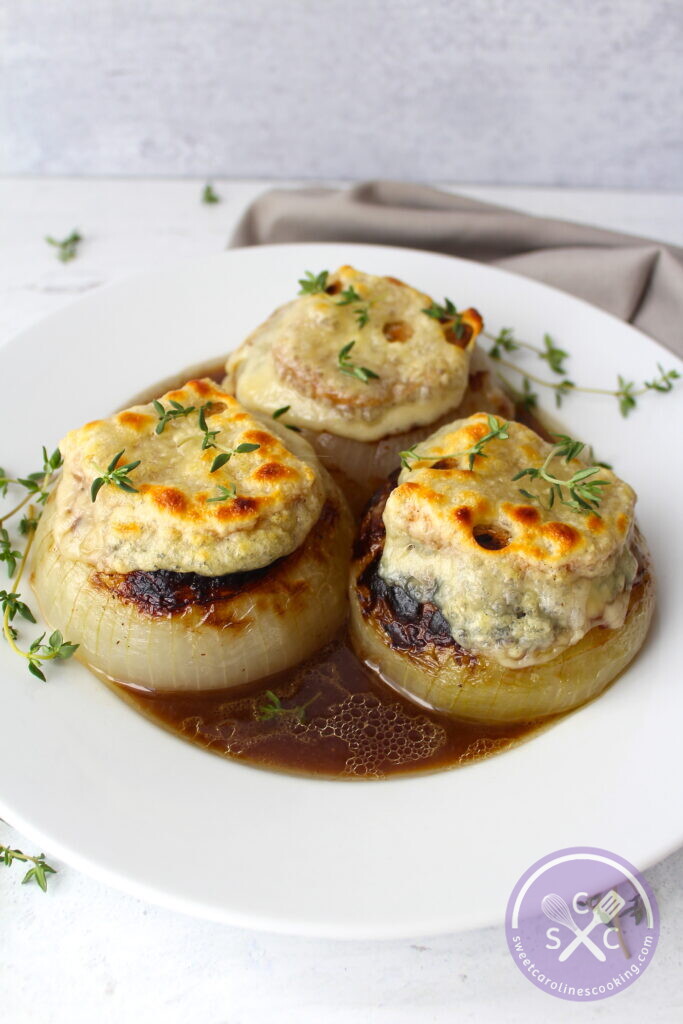 How cool is this deconstructed French onion soup?! The onions are packed with flavor and are so easy to make. My parents recently visited family in Ohio and during their trip, they had dinner at one of my aunt and uncle's friend's houses. Their friend made smoked and roasted Vidalia onions that everyone absolutely loved. Over Mother's Day weekend, my mom and I decided to recreate the onions but instead, turn them into deconstructed French onion soup – because you really can't go wrong when bread and cheese are involved. I gotta tell you, these onions were a game changer. Drop everything you're doing and go make them!
deconstructed french onion soup
Prep time:
Cook time:
Total time:
Ingredients
6 Vidalia onions (or other sweet white onion)
6 heaping tsp. Better Than Bouillon Roasted Beef Base
6 Tbsp. salted butter, softened
Salt and pepper
6 toasted crostini, plus additional for dipping in the broth, if desired
6 slices Swiss or Gruyère cheese
Fresh thyme, for garnish
Instructions
Preheat oven to 350 degrees.
Peel the onions, leaving the root intact. If your onions sit level, you can leave it alone; if not, cut a thin slice off the root to create a flat bottom.
Use a pairing knife to cut a 1-inch deep cone into the top of the onions.
Add 1 heaping teaspoon Better Than Bouillon Roasted Beef Base into the hole of each onion, then top with 1 Tablespoon butter. Lightly season the tops of all 6 onions with salt and pepper.
Place each onion on a separate sheet of foil large enough to encase it. Wrap the onion in foil, bringing the edges up in the center. Twist the foil together to seal the onion in (make sure it's tightly sealed to avoid the broth from seeping out). Place the foil-wrapped onions on a baking sheet.
Bake onions for 45-60 minutes, until the onion is tender.
Remove the onions from the oven and once cool enough to handle, gently unwrap the foil. Working one foil packet at a time, carefully remove the onion (making sure not to spill the broth inside) and place back on the baking sheet. Transfer the beef broth inside the foil to a bowl. Repeat with remaining onions. Once all 6 onions are back on the baking sheet, broil in the oven until slightly charred, about 3-5 minutes. Make sure to keep an eye on the onions so they do not burn.
Remove the onions from the oven then top with a piece of toasted crostini followed by a slice of Swiss cheese. Place onions back in the oven and broil 3-5 minutes or until the cheese is melted and golden. Remove from the oven.
To serve, spoon some of the beef broth into a shallow bowl, then place the baked onion on top. Garnish with fresh thyme. Repeat with the remaining onions. Serve hot alongside additional crostini for dipping, if desired.