pack a punch. [mini potato, pepper & chorizo empanadas]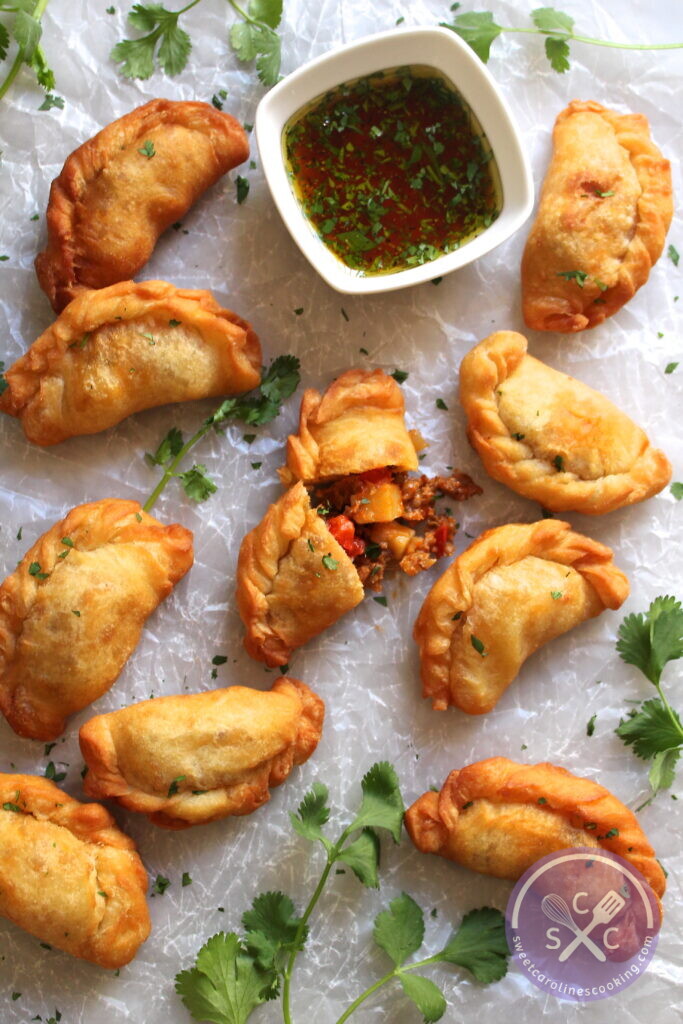 These mini empanadas are addicting. And since they're so small, you can eat as many as you want…right? The filling packs a punch with the kick of the United Harvest chorizo and is delicious inside the crispy, yet pillowy fried dough. These make for a perfect appetizer, side dish, or entrée. Serve alongside your sauce of choice, but I prefer and recommend a vinegar-based dipping sauce!
mini potato, pepper & chorizo empanadas
Prep time:
Cook time:
Total time:
Ingredients
Dough recipe:
2 large eggs, lightly beaten
1 tsp. white vinegar
1 tsp. salt
1 stick (8 Tbsp.) unsalted butter, cut into small pieces and chilled
2 cups all-purpose flour
¼ cup dry white wine (such as chardonnay)
1 Tbsp. white sugar
Vegetable oil, for frying the empanadas
Filling recipe:
1 lb. United Harvest chorizo
2 cups yellow onion, finely diced
3 cloves garlic, crushed
1 red bell pepper (roughly 1¼ cups), seeded and finely diced
½ tsp. salt, plus more to taste
½ tsp. dried oregano
1 bay leaf
3 small red potatoes (roughly 2 cups), peeled and diced into ½-inch cubes
*Note: You will have a decent amount of filling leftover, which can be repurposed and added to breakfast burritos or eaten plain. If you don't want leftover filling, halve the filling recipe or double the dough recipe to make additional empanadas.
Instructions
For the dough:
In a food processor, pulse the flour with the sugar and salt. Add the butter pieces and pulse until the mixture resembles coarse meal.
Beat the eggs with the wine and vinegar and drizzle over the flour mixture. Pulse until the dough just comes together.
On a lightly floured surface, gently knead the dough until smooth. If the dough is too sticky, gradually add very small amounts of flour to the dough until smooth and no longer sticky.
Wrap the dough in plastic and refrigerate until firm, about 1 hour.
For the filling:
While the dough is chilling, make the empanada filling.
Heat a large skillet over medium heat, then add chorizo. Cook the chorizo, breaking up into small pieces as it cooks, until fully done. Using a slotted spoon, transfer the crumbled chorizo to a paper towel-lined plate and set aside.
In the same skillet with the oil from the chorizo, add the diced onion and cook, stirring frequently, until golden and soft, approximately 10 minutes. Add the garlic, bell pepper, salt, oregano and bay leaf and cook, stirring frequently, until peppers are soft, about 10 minutes.
Reduce heat to medium low, then add the diced potatoes to the onion mixture and cook covered, stirring frequently, until potatoes are just barely tender, about 10-12 minutes.
Add the chorizo to the skillet and stir to combine.
Cool filling to room temperature and discard bay leaf.
For assembly and frying:
On a generously floured work surface, roll out the dough ⅛ inch thick. With a 3-inch round biscuit cutter, stamp out as many rounds as possible (you should have about 24). Reroll the dough scraps and stamp out additional rounds if possible. Brush the excess flour off the rounds. Working with 1 round at a time and keeping the rest covered with plastic wrap, form the empanadas.
Spoon 1½ - 2 teaspoons of the filling on one side of the dough round. Fold the dough over to enclose the filling and crimp the edges with a fork (or braid) to seal. Cover with plastic wrap while you form the remaining empanadas.
Preheat oven to 350°. In a deep skillet, heat ½ inch of vegetable oil to 350°.
Fry 4 empanadas at a time, turning once, until browned and crisp, roughly 2 minutes.
Drain on paper towels and transfer to a baking sheet. When all of the empanadas have been fried, reheat them in the oven and serve.
Notes
Dough recipe from Food & Wine