can't get better than this. [white chicken chili]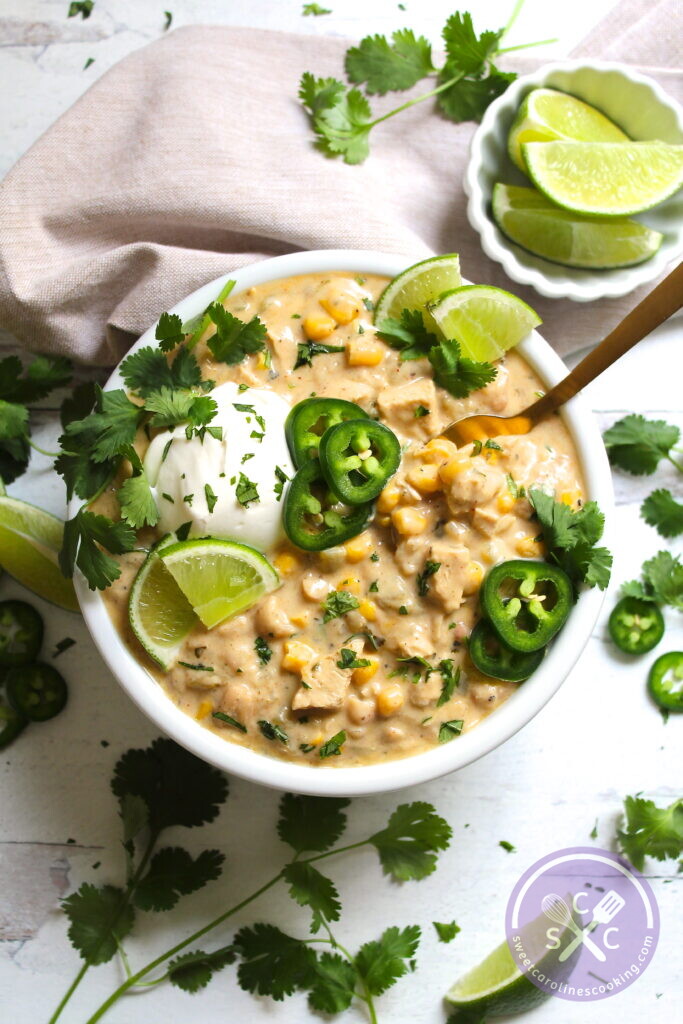 YOU GUYS. I've gotta be honest, this is one of my favorite dishes I've made in a while – and that's saying a lot coming from someone who doesn't love soup! This white chicken chili is decadent, creamy, flavorful, the list goes on. It doesn't hurt that there's a brick of cream cheese in the recipe, but you definitely can't skimp on that ingredient. Highly recommend making this ASAP!
white chicken chili
Prep time:
Cook time:
Total time:
Ingredients
2 Tbsp. olive oil
1 small yellow onion (1 cup), finely diced
2 cloves garlic, crushed
32 oz. chicken broth
2 (4 oz.) cans diced green chiles
1½ tsp. cumin
½ tsp. chili powder
½ tsp. paprika
½ tsp. dried oregano
¼ tsp. cayenne pepper
1½ tsp. salt
½ tsp. black pepper
2 (15.5 oz.) cans great Northern beans, drained and rinsed
1 brick (8 oz.) cream cheese, at room temperature, cut into small cubes
1½ cups frozen corn
2 boneless, skinless chicken breasts (2 cups), poached then diced into cubes
2 - 2½ Tbsp. fresh lime juice, or to taste
2 Tbsp. fresh cilantro, finely chopped, plus more for garnish
Sour cream, for garnish
Fresh jalapeno, for garnish
Avocado, sliced, for garnish
Instructions
Heat a large Dutch oven over medium-high heat, then add olive oil. Next, add diced onion and sauté 3-4 minutes, until aromatic and translucent. Add garlic and cook another 30 seconds.
Add chicken broth, green chiles, cumin, chili powder, paprika, dried oregano, cayenne, salt and pepper to the Dutch oven. Bring mixture to a boil, then reduce to a simmer and cook 15-20 minutes. (If you'd rather not poach the chicken separately, add chicken to the broth and spice mixture at this point and poach until cooked through. Remove once cooked, then cut into cubes and set aside).
Place 1 cup of the great Northern beans in a food processor, then add ¼ cup of the broth mixture in the Dutch oven. Puree until nearly smooth, then set aside.
Increase heat on Dutch oven to medium, then add cubed cream cheese (at room temperature) and cook until completely melted, whisking often, approximately 15 minutes.
Next, add frozen corn, whole beans and pureed beans, and stir well. Add cubed chicken, fresh lime juice and cilantro, then reduce heat to a simmer and cook an additional 15-20 minutes.
Serve chili hot and garnish with cilantro, sour cream, jalapeno and avocado, or desired toppings.