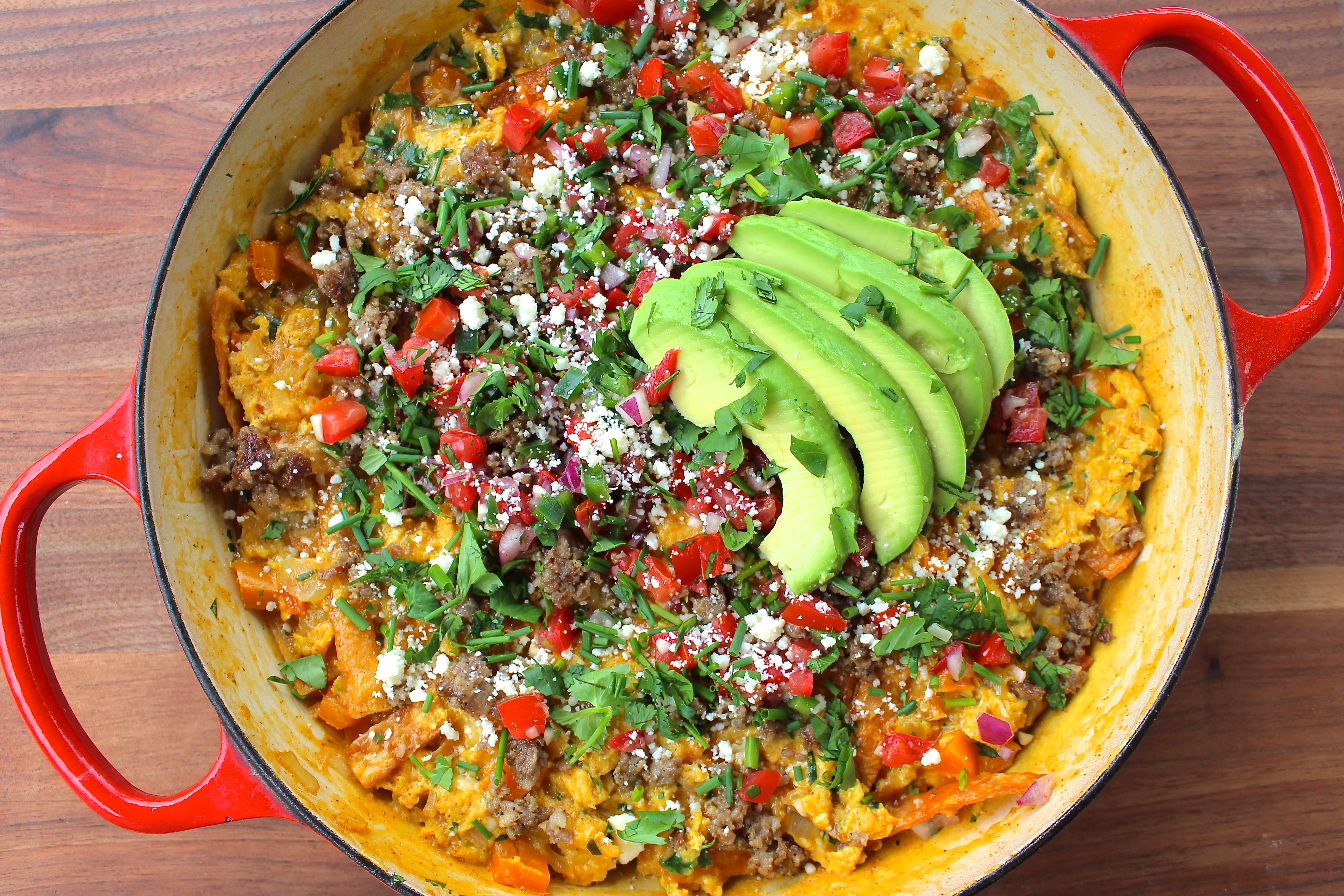 Searching for a dish to spruce up your weekend brunch? Look no further! This migas is full of flavor, hearty, healthy-ish, and easy on the eyes – making it the perfect breakfast to serve a table full of friends or family. I can't wait to make this again soon. 
migas
Ingredients
Migas Recipe:
1 lb. Jimmy Dean hot sausage
2 tbsp. canola oil
4 corn tortillas, cut into ½-inch strips
1 small yellow onion, diced
1 orange bell pepper, diced
3 cloves garlic, minced
12 eggs, scrambled
2 tsp. chili powder
1 tsp. salt
1 cup Monterey jack cheese
¼ cup cilantro, chopped, plus more for garnish
Pico de gallo, for garnish (recipe below)
Cotija cheese, crumbled, for garnish
1 avocado, for garnish
Chives, for garnish
Pico de Gallo Recipe:
3 Roma tomatoes, seeded and diced
2 cloves garlic, minced
1 jalapeno, diced
¼ cup red onion, diced
2 tbsp. cilantro, chopped
3-4 tsp. fresh lime juice
Salt and pepper, to taste
Instructions
Heat a small pan over medium heat and cook sausage until cooked through, breaking the meat up into pieces as it cooks. Once done, remove from heat and set aside.
In a separate large skillet, heat canola oil over medium-high heat. When the oil is hot, add the tortilla strips and fry until crispy, stirring regularly, about 5 minutes.
Add the onions and bell pepper to the pan. Saute until softened. Add the garlic and saute for another minute.
Reduce heat to medium Beat the eggs with the chili powder and salt. Add additional oil to pan if needed, then add eggs to the pan.
Stir frequently while the eggs cook. When the eggs are halfway cooked, add in the cilantro, Monterey jack cheese and tortilla strips. Cook until eggs are fully cooked then remove the pan from the heat.
While the eggs are cooking, make the pico de gallo. Once ready, let sit for 30 minutes.
Garnish the migas with crumbled sausage, cotjia, pico, avocado, cilantro.and chives.