no need for take out. [beef & broccoli]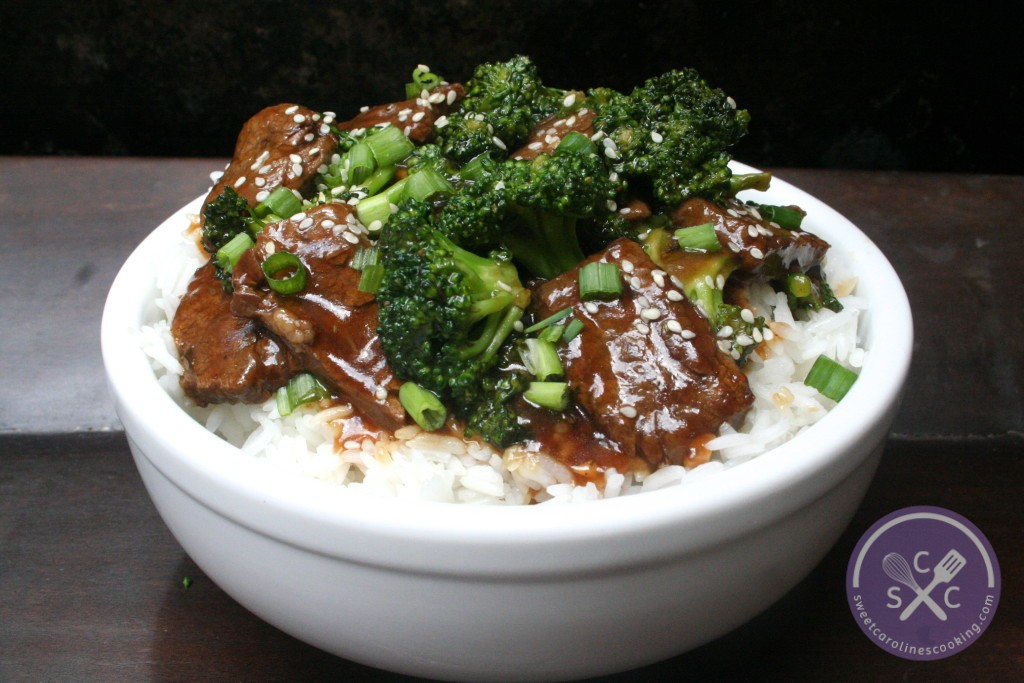 Considering the deliciousness and simplicity of this beef and broccoli recipe, there's really no reason to spend the money on take out. This is the perfect dinner to whip up during a stressful week.
beef & broccoli
Prep time:
Cook time:
Total time:
Ingredients
2 lbs. flank steak
½ cup low-sodium soy sauce
½ cup dry sherry
4 tsp. corn starch
Slightly less than ½ cup fish sauce
⅔ cup beef broth
2 tbsp. sugar
2 tsp. sesame oil
4 green onions, sliced, plus additional for garnish
Sesame seeds, for garnish
3-4 cloves garlic, minced
1 tbsp. minced fresh ginger
3-4 tbsp. vegetable oil
2 broccoli crowns, cut into florets
⅓ cup water
White rice, for serving
Instructions
In a glass baking dish, combine the flank steak with 1 tablespoon of the soy sauce and 1 tablespoon of the dry sherry; toss to coat. Let the steak marinate for 30-45 minutes.
While the meat is marinating, combine the remainder of the soy sauce with the corn starch and stir with a fork until the corn starch is dissolved. Add the remaining dry sherry, fish sauce, beef broth, sugar and sesame oil. Stir the sauce and set aside.
In a small bowl, combine the green onion, garlic and ginger.
Heat 1 tablespoon of oil in a large sauté pan over high heat. Add the broccoli and stir-fry for 30 seconds, then add the water. Cover the pan with a lid and lower the heat to medium; steam the broccoli until tender, but crisp, about 2 minutes. Transfer broccoli to a paper towel-lined plate.
Wipe any excess water out of the pan, then increase the heat to high and heat an additional 1 tablespoon of oil in the pan. Add a single layer of meat to the pan and cook on one side until the meat is well seared, about 1 minute. Flip the meat and sear the other side, cooking until still slightly pink inside, about 30 seconds to 1 minute. Transfer the cooked steak to a plate. Add another tablespoon of oil to the pan, then repeat cooking process with the remaining meat. Return all of the steak to the pan, then add the scallions, garlic and ginger and cook, stirring constantly, about 30 seconds. Add the broccoli to the pan and mix everything together. Reduce heat to medium-low.
In a separate small saucepan, add the reserved sauce and cook over medium-high heat, stirring constantly, until the sauce is slightly thickened, about 1-2 minutes. Remove from heat, then pour the sauce into the pan with the beef in broccoli, stirring to coat all of the meat and vegetables.
Transfer the beef and broccoli to a bowl and serve on top of white rice. Garnish with green onions and sesame seeds.
Notes
Recipe adapted from Once Upon a Chef.