eat your greens. [broccoli pesto pasta]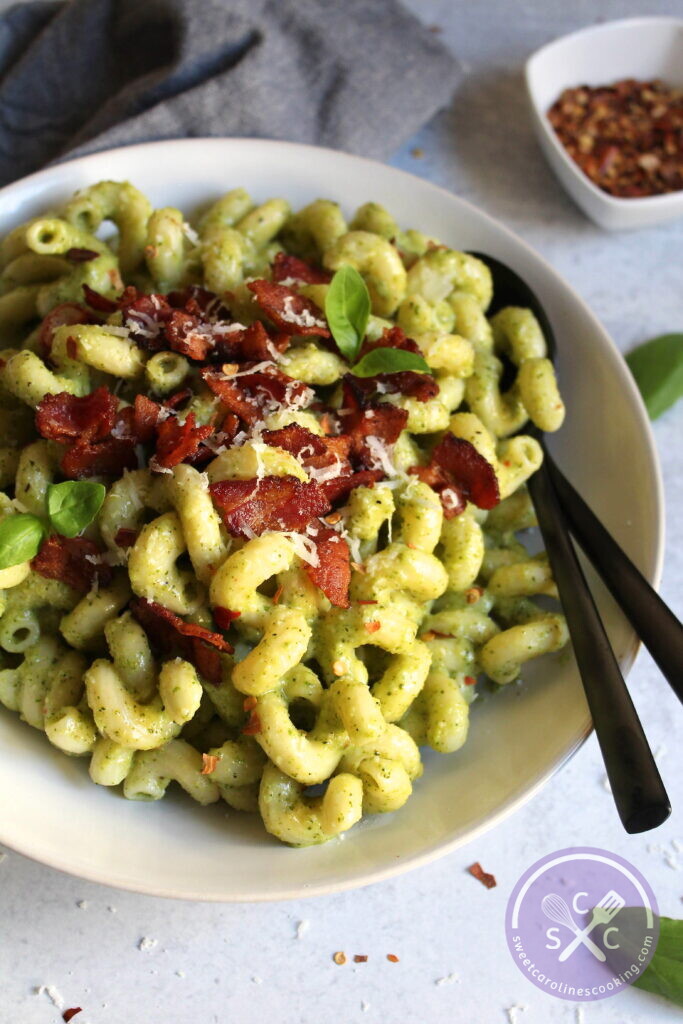 Although I don't have kids yet, I feel like this would be a great dish to try and get your kids to eat vegetables. Sure, it's pasta, but there is a lot of broccoli in here AKA lots of fiber and protein! The broccoli pesto sauce is full of flavor and perfectly coats the cavatappi noodles. You don't have to top the pasta with crumbled bacon, but I highly recommend it!
broccoli pesto pasta
Prep time:
Cook time:
Total time:
Ingredients
4 cups broccoli florets
2 cups fresh basil, loosely packed
2 cloves garlic, minced
⅓ cup pine nuts, lightly toasted
2 Tbsp. lemon juice
1 cup grated Pecorino Romano, plus additional for garnish
1 tsp. salt
½ tsp. black pepper
½ tsp. crushed red pepper flakes
¾ cup olive oil
1 lb. cavatappi pasta, or pasta of choice
1 cup pasta water
Freshly crumbled bacon, for garnish, if desired
Instructions
Bring a large pot of water to a boil.
Add the broccoli florets, then bring the water back up to a boil for 2 minutes. Leave the water in the pot, but immediately transfer the broccoli with a slotted spoon to a colander. Run cold water over the broccoli for 30 seconds to stop further cooking.
Generously season the water in the pot with salt, then bring back to a boil. Add cavatappi pasta and cook according to package instructions. Right before pasta is finished cooking, reserve 1 cup pasta water and set aside; drain pasta.
Heat a small skillet over medium heat, then add pine nuts. Toast until golden brown, then remove from heat.
In the bowl of a large food processor, blend together the broccoli, basil, garlic, toasted pine nuts, lemon juice, Pecorino Romano, salt, pepper and crushed red pepper flakes. Pulse a few times, then gradually add olive oil and blend until smooth.
Next, slowly pour in 1 cup of the reserved pasta water and blend until a smooth sauce is formed.
Transfer cooked pasta to a large pot, then pour broccoli pesto over the noodles and toss together until completely coated.
Serve pasta hot and garnish with additional grated Pecorino Romano and freshly crumbled bacon, if desired.