hit the spot. [lemon, asparagus & bacon pasta]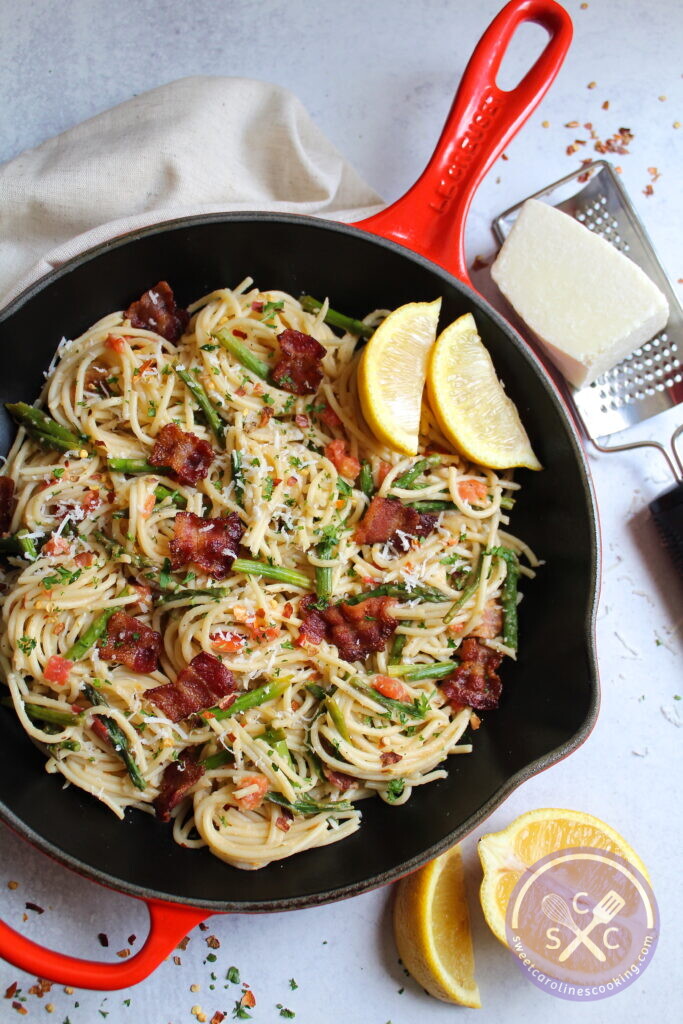 I was stumped on what to make for dinner the other night, but knowing I had leftover asparagus in the fridge that needed to be used, I at least had a starting point. Since we also had frozen bacon, dried pasta and citrus, I decided to toss everything together and turn it into a delicious pasta. The dish was light, flavorful and definitely hit the spot. Pretty sure it has become a new favorite in our house!
lemon, asparagus & bacon pasta
Prep time:
Cook time:
Total time:
Ingredients
1 lb. thin spaghetti or angel hair pasta, plus 1 cup pasta water reserved
½ lb. (7-8 slices) uncooked bacon, cut into 2-inch pieces
½ lb. asparagus, trimmed and cut into 2-inch pieces
1 cup chicken broth
½ cup white wine (such as a chardonnay)
Juice of 1 lemon
3 cloves garlic, crushed
1 tsp. crushed red pepper flakes
Salt and pepper, to taste
2 Roma tomatoes, diced
¼ cup Pecorino Romano, grated, plus additional for garnish
Instructions
Bring a medium pot of salted water to a boil, then add spaghetti and cook according to package instructions.
While the pasta is cooking, heat a large skillet or cast iron pan over medium heat. Working in batches to avoid crowding the pan, add diced bacon and cook until crisp on both sides. Transfer crispy bacon pieces to a paper towel-lined plate. Once all of the bacon is cooked, set aside.
Using a paper towel, carefully wipe some of the bacon grease out of the pan, leaving roughly 1-2 tbsp.
Next, add asparagus to the skillet and saute in the bacon grease for 3-4 minutes. Remove asparagus from the pan and transfer to a plate; set aside.
Add the chicken broth, white wine, lemon juice, garlic and crushed red pepper flakes to the skillet to deglaze the pan. Season broth with salt and pepper.
Bring mixture to a boil, scraping the bottom of the pan to remove the brown bits, and cook until reduced by about half; 5-7 minutes.
Add the diced tomato and cook an addition 1-2 minutes. Next, add the thin spaghetti, crispy bacon and asparagus, gently tossing together. Add the grated Pecorino Romano, then add the pasta water as needed, until desired consistency is reached (I used the entire cup).
Season pasta with additional salt and pepper, if needed. Serve hot and garnish with additional Pecorino Romano, if desired.