mamma mia. [meatballs in marinara sauce]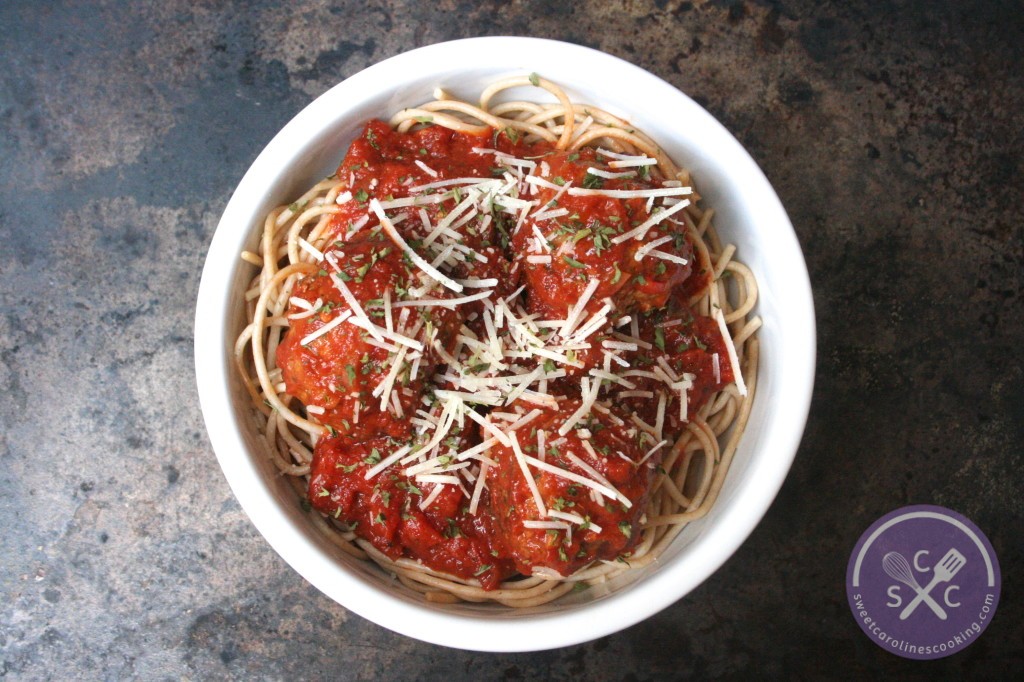 These hearty meatballs are incredibly tender and full of flavor. The recipe makes a lot, so unless you're serving a family, I'd suggest cutting the recipe in half or freezing the leftovers to enjoy at a later date!
meatballs in marinara sauce
Prep time:
Cook time:
Total time:
Ingredients
Meatball recipe:
2 lbs. grass fed beef
1 lb. Jimmy Dean pork sausage
1 lb. mild Italian sausage
2 cups croissant bread crumbs
½ cup Panko bread crumbs, seasoned with Italian seasoning
4 tbsp. dried parsley
1 cup Parmesan cheese
1 tbsp. salt
Ground pepper, to taste
2 eggs
Vegetable oil
Olive oil
Marinara sauce recipe:
Olive oil
1 yellow onion, finely diced
5-6 cloves garlic, minced
2 cans (56 oz.) crushed tomatoes
1 can (28 oz.) chopped tomatoes
1 can (6 oz.) tomato paste
3-4 tbsp. dried basil, plus more, to taste
4 tbsp. dried parsley, plus more, to taste
3-4 tbsp. dried oregano, plus more, to taste
Salt and pepper, to taste
Instructions
For the meatballs: Place the beef and sausages in a large bowl and combine. In a separate bowl, mix the croissant and Panko bread crumbs, Italian seasoning, parsley, Parmesan, salt and pepper. Season to taste.
Transfer bread crumb mixture to the bowl with the meat, then add eggs and approximately ¾ cup lukewarm water. Gently mix everything together using your hands or a spatula. Using your hands, lightly form the mixture into 2-inch meatballs.
Heat a large skillet over medium heat, then add equal parts vegetable oil and olive oil. Working in batches, place the meatballs in the hot oil and brown on all sides, turning carefully with a spatula or fork. Once browned, remove meatballs and place on a paper towel-lined plate.
For the sauce: In a large pot, heat 2-3 tbsp. olive oil over medium heat. Add the onion and garlic and saute until translucent and aromatic; 5-7 minutes. Stir in the tomatoes, tomato paste, basil, parsley, oregano, salt, and pepper. Cook sauce over medium low heat for 10-15 minutes.
Place the browned meatballs in the pot with the sauce, cover, and simmer on low heat for 45 minutes to 1 hour, until the meatballs are cooked through and flavors combined. Serve hot on cooked spaghetti.