feelin' fresh. [chickpea, avocado & feta salad w. basil dressing]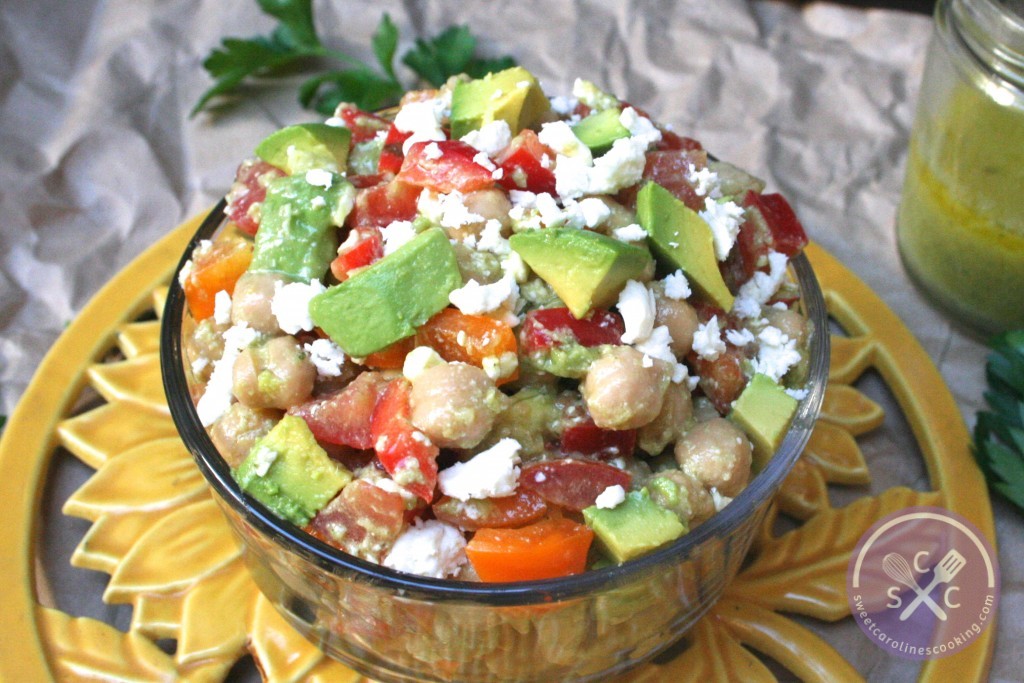 This chickpea salad is fresh, full of flavor, and healthy! Well, except for the feta cheese. The basil dressing pulls the salad together, and is even delicious brushed atop grilled chicken!
chickpea, avocado & feta salad w. basil dressing
Ingredients
Salad recipe:
1 can (15 oz.) chickpeas, rinsed and drained
1 Roma tomato, diced
½ orange bell pepper, diced
½ red bell pepper, diced
1 avocado, diced
Feta cheese, crumbled
Basil dressing recipe:
½ cup olive oil
¼ cup lemon juice
1 tsp. Dijon mustard
2 Trader Joe's frozen garlic cubes (or 2 cloves garlic, minced)
2 Trader Joe's frozen basil cubes (or 1 tbsp. chopped fresh basil)
Salt and pepper, to taste
Instructions
In a large bowl, mix together chickpeas, tomato, red and orange bell peppers, and avocado. Crumble feta cheese on top. Refrigerate until ready to serve.
For the dressing: In a small bowl, whisk together the olive oil, lemon juice, mustard, garlic and basil. Season with salt and pepper. Transfer dressing to a container and refrigerate for 1-2 hours.
Drizzle dressing on chickpea salad right before serving; mix.