fiesta friday. [layered taco salad]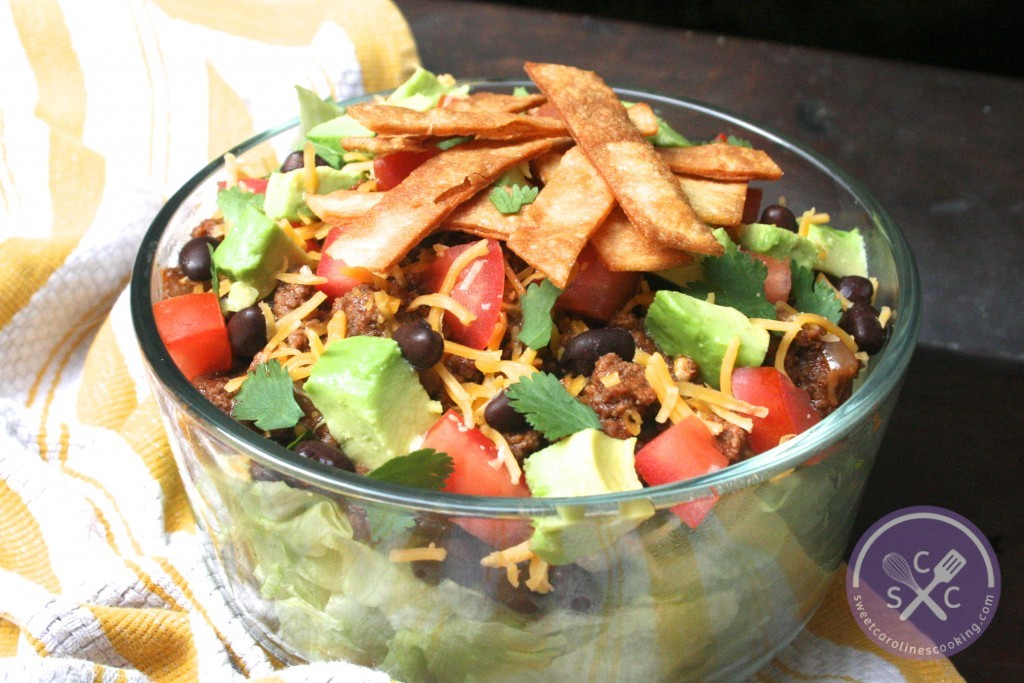 Cheers to Friday! I highly suggest making this delicious taco salad over the weekend. :-)
layered taco salad
Prep time:
Cook time:
Total time:
Ingredients
Ground beef recipe:
1 medium onion, finely diced
3 cloves garlic, minced
3 serrano chiles (with or without seeds), finely chopped
1½ tbsp. chili powder, plus more to taste
1 tbsp. ground cumin, plus more to taste
2 tbsp. olive oil
1-2 lbs. ground sirloin
1 (8 oz.) can tomato sauce
Salt and pepper, to taste
Tortilla strips recipe:
Vegetable oil
6 corn tortillas, cut into ½-inch strips
Salt
Taco salad recipe:
1-2 avocados, diced
1 head iceberg lettuce, thinly sliced
1-2 tomatoes, diced
1 (15 oz.) can black beans, drained and rinsed
½ cup frozen corn
Shredded cheddar cheese
Sour cream, for garnish, if desired
Fresh cilantro, for garnish
Instructions
For the beef: Heat a large skillet over medium heat, then add olive oil. Once hot, add onion, garlic, and serrano chiles, stirring occasionally, and cook until softened, about 5-6 minutes. Add chili powder and cumin about halfway through cooking. Add ground sirloin and cook, stirring occasionally and breaking up lumps, until meat is no longer pink, about 5 minutes, then spoon off any excess fat from skillet.
Add tomato sauce, salt, and pepper to beef and cook, stirring, until slightly thickened. Simmer about 10-15 minutes (or more) to blend flavors. Remove from heat.
For the crispy tortilla strips: Stack corn tortillas and cut the pile into six strips. Heat vegetable oil in small skillet (fill oil about ¼ way up the side of the skillet); once hot, add 5-6 tortilla strips at a time and cook until golden on both sides, about 20-30 seconds total. Remove from pan and place crispy strips on paper towel-lined plate. Season tortilla strips with salt.
For assembly: Spread lettuce over bottom of a bowl. Spoon beef mixture evenly over lettuce and continue making layers with tomatoes, cheese, beans, corn, avocado, and sour cream, if desired. Garnish with fresh cilantro.
Notes
Recipe adapted from Epicurious.