time for tacos. [pork tenderloin carnitas street tacos]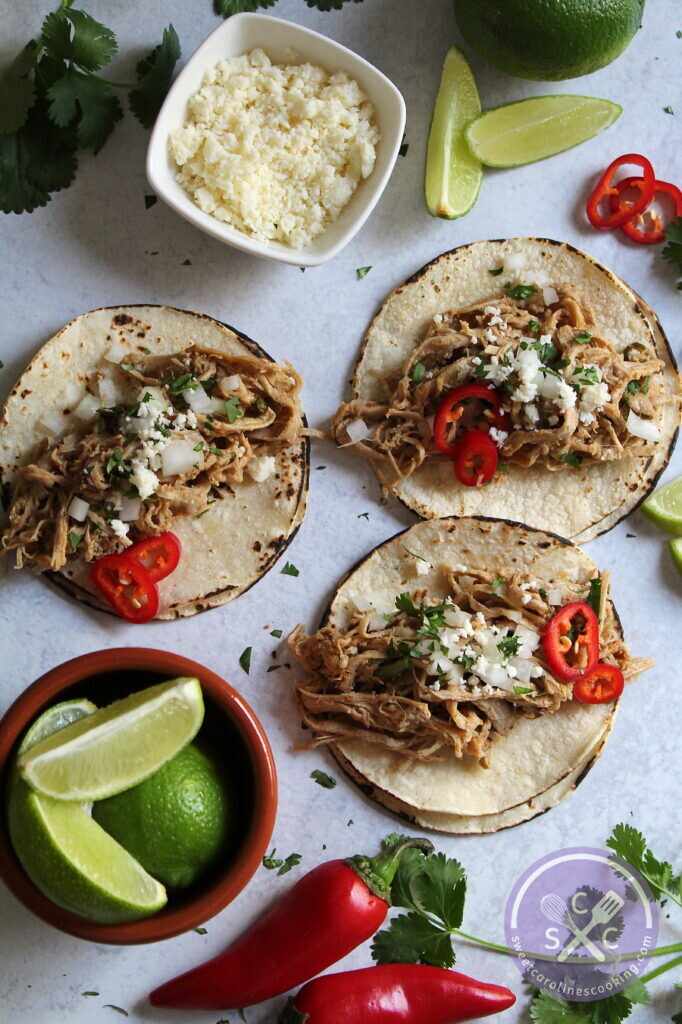 Is there anything better than tacos? If I were answering, I'd say no. Tacos – and Mexican food in general – are my absolute favorite. These pork tenderloin carnitas are incredibly flavorful with a kick from the chipotle peppers in adobo sauce, and don't require a ton of toppings – a sprinkling of onions, cilantro, cotija cheese and lime juice will do the trick!
pork tenderloin carnitas street tacos
Prep time:
Cook time:
Total time:
Ingredients
2 - 2.5 lbs. pork tenderloin
1½ tsp. salt, plus more to taste
½ tsp. black pepper
2 tsp. cumin
1 tsp. oregano
½ tsp. chili powder
½ tsp. onion powder
½ tsp. garlic powder
3 chipotle peppers in adobo sauce, finely chopped
1 Tbsp. lime juice
½ cup orange juice, freshly squeezed
3-4 Tbsp. fresh cilantro, chopped, plus more for garnish
Finely diced yellow onion, for garnish
Cotija cheese, for garnish
Lime wedges, for garnish
White corn street taco tortillas, or flour tortillas
Instructions
Place pork tenderloins on a cutting board and pat dry. Rub all sides of the tenderloins with salt, pepper, cumin, oregano, chili powder, onion powder and garlic powder.
Add pork tenderloins to the bowl of the crockpot, then add chipotle peppers in adobo sauce, lime juice and orange juice.
Cook on high heat for approximately 3-4 hours. Pork should be tender and easily shred when done.
Use two forks to shred pork and adjust seasoning if desired. Add 3-4 Tbsp. freshly chopped cilantro, then simmer meat another 30 minutes.
Preheat broiler and transfer shredded pork to a baking sheet, spreading out in an even layer, leaving any juices in the crockpot.
Broil on low for roughly 5 minutes, or until the pork starts to crisp but is not burnt or dried out. Remove pork from the oven and return to the crockpot to toss with reserved cooking liquid.
Serve carnitas on corn or flour tortillas and top with freshly diced onion, cilantro, cotija cheese and lime juice, if desired.
Notes
Recipe adapted from Feasting Not Fasting.