must-make. [barbacoa tacos w. pickled red onions & cilantro]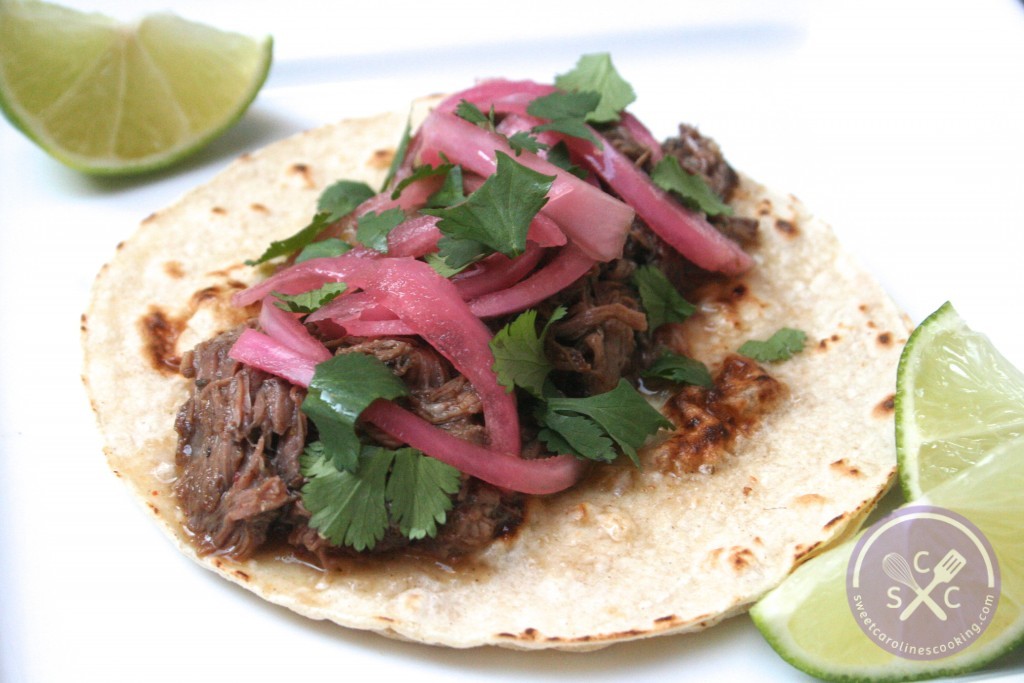 These barbacoa tacos are a must-make. I think I ate the leftovers for a week straight. The tender and juicy meat paired ridiculously well with the crisp and sweet pickled red onions. This recipe makes enough for an army, so be prepared to have a ton of leftovers, or plan on serving the tacos at a dinner party!
barbacoa tacos w. pickled red onions & cilantro
Prep time:
Cook time:
Total time:
Ingredients
Barbacoa recipe:
4 - 4.5 lbs chuck roast (fat trimmed), cut into 2-inch chunks
5 cloves garlic, minced
2 chiptoles in adobo sauce, chopped
1 medium white onion, finely chopped
¼ cup fresh lime juice, or juice of 2 limes
2 tbsp. apple cider vinegar
3 bay leaves
2½ tbsp. ground cumin
1 tbsp. dried oregano
2 tsp. salt
1 tsp. black pepper
2 cups beef broth
Corn tortillas, for serving
Fresh cilantro, for serving
Lime wedges, for garnish
Pickled red onions recipe:
2 large red onions
1½ cups red wine vinegar
¾ cup sugar
Instructions
For the barbacoa: Combine all ingredients in the bowl of a slow cooker. Toss gently to combine. Cover and cook on low for 5-6 hours, or until the beef is tender and falls apart easily when shredded with a fork.
Using two forks, shred the beef into bite-sized pieces inside of the slow cooker. Toss the beef with the juices, then cover and let the barbacoa beef soak up the juices for an extra 10 minutes. Remove cover and use a pair of tongs or a slotted spoon to serve the barbacoa beef.
For the pickled onions: Cut off the top and bottom of each onion and cut lengthwise in half. Remove and discard the outer layer. Cut a V-shaped wedge from the bottom of each half to remove the roots and the very center pieces of onion. Put the onions cut side down on a cutting board and slice lengthwise into ⅛-inch-thick slices, following the natural lines on the outside of the onion; cutting with the lines, or grain, rather than across them will help the onions soften more quickly in the pickling liquid. Pack the onions into a canning jar; reserve any slices that don't fit.
Combine the vinegar and sugar in a small saucepan and bring to a boil, stirring to dissolve the sugar. Pour the hot vinegar mixture over the onions. Once the onions begin to wilt, you can add any remaining onion slices to the jar, gently pushing them down into the liquid to submerge them. Let cool to room temperature, then cover and refrigerate for at least 24 hours, or for up to 1 month.
For the tacos: Brown two corn tortillas in a skillet, then place on top of one another. Place desired amount of barbacoa in the middle, then garnish with pickled red onions and cilantro. Serve.
Notes
Barbacoa recipe adapted from
Gimme Some Oven
.
Pickling recipe from Thomas Keller's Ad Hoc at Home.