sunnier days. [chinese chicken pasta salad]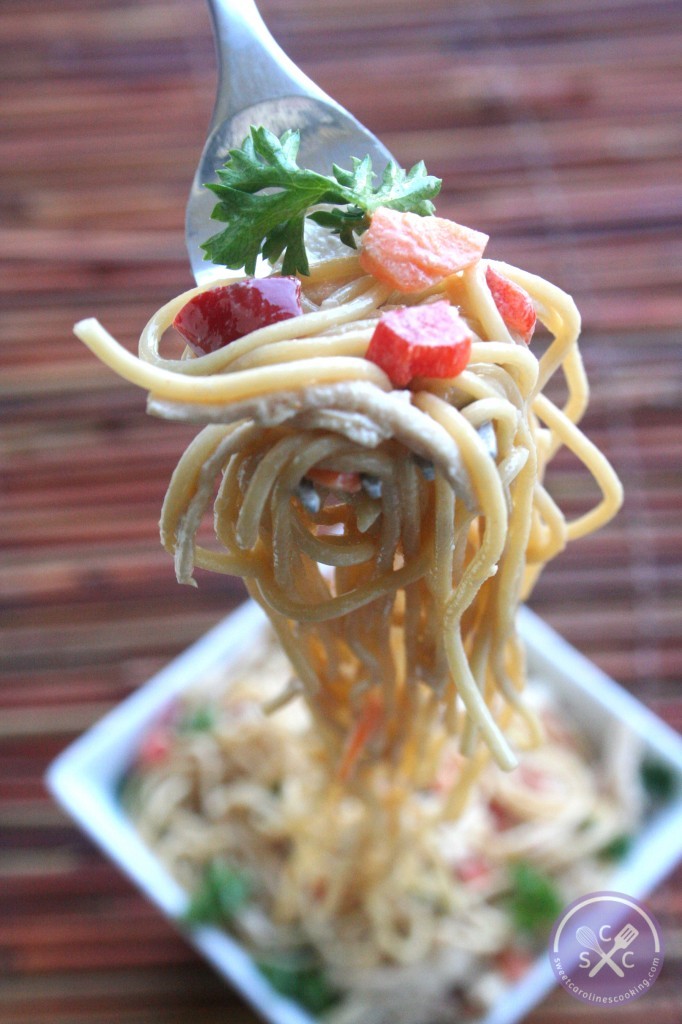 Thank you everyone for your kind words last week. I can't express how much that meant. Though I'm sure it'll be tough for a while, my family is doing much better.
It's finally starting to warm up in LA again, so I decided to make my mom's Chinese chicken pasta salad. Growing up, I remember my family and I eating this cold pasta by our pool on warm summer days. But since I'm limited to eating the pasta at my work desk now, I'll just have to pretend that I'm on a comfortable pool chair, clad in my bikini, soaking up the sun. A girl can dream, right?
chinese chicken pasta salad
Prep time:
Cook time:
Total time:
Ingredients
1 lb. thin spaghetti or spaghetti
¾ cup low-sodium soy sauce
¼ cup peanut oil
¾ cup good quality mayonnaise
1 Tbsp. Dijon mustard
3 tsp. sesame oil
⅛ - ¼ tsp. chili oil or sambal, depending on desired spice level
4 boneless, skinless chicken breasts, poached then shredded
2 carrots, peeled then finely diced
1 red bell pepper, finely diced
1 can (8 oz.) sliced water chestnuts, drained
1 Tbsp. parsley, finely chopped
2-3 green onions, diced
Instructions
Bring a large pot of water to a boil, then add pasta. Cook about 4 minutes, until slightly softer than al dente. Strain and let cool, about 10 minutes.
Move pasta to a large bowl and toss with ½ cup low-sodium soy sauce. Next add ¼ cup peanut oil. Always add soy then oil. Chill noodles in refrigerator 20-30 minutes.
In a small bowl, combine the mayonnaise with mustard, sesame oil, chili oil and ¼ cup soy sauce. Refrigerate sauce for 20-30 minutes.
Bring another large pot of water to a boil, then add chicken. Poach until cooked through, about 20 minutes. Remove chicken and place in bowl. Once cooled, shred chicken.
Remove chilled sauce from the fridge, then add chicken, green onion, carrots, bell pepper and water chestnuts. Mix ingredients together.
Next, pour mixture into the chilled bowl of noodles and gently incorporate.
If pasta salad seems too dry, add a bit of extra soy sauce, peanut oil or mayonnaise, to taste. Serve cold.