ham it up. [hearty ham & 15 bean soup]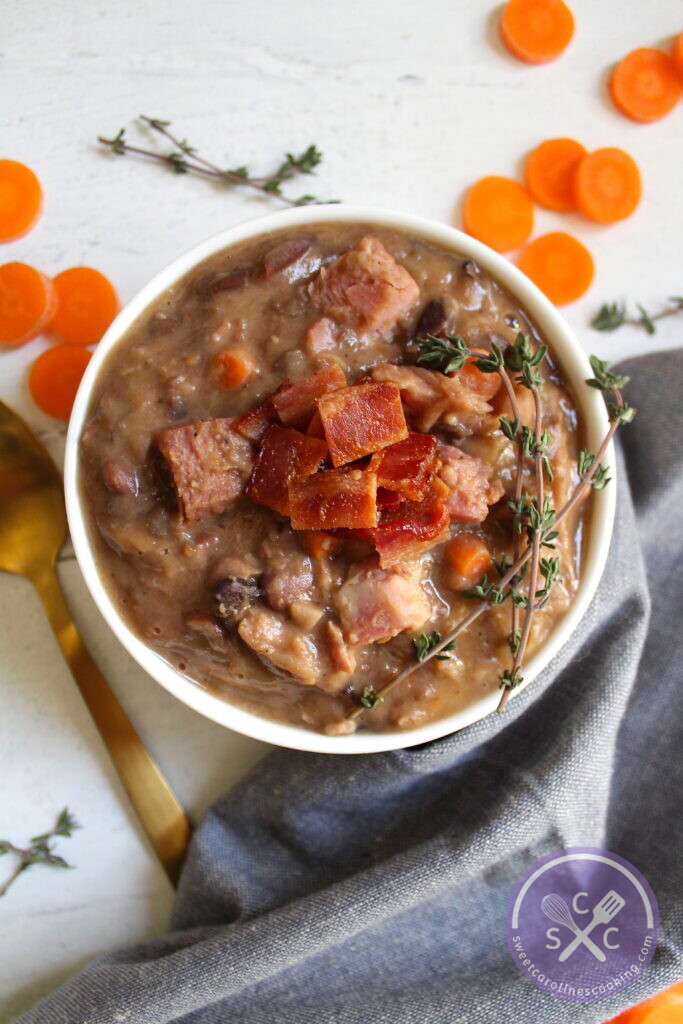 Although this ham and bean soup recipe has been in my family for years, I've never made it before – I've always left that part up to my mom or grandma. While visiting home, my mom pulled a gorgeous honey baked ham out of the fridge. Almost immediately, I decided that I wanted to make use of the ham bone, and what better way to do that than make this extremely simple, yet hearty, healthy and delicious soup. I would even call it a stoop.
I'm always tricked into thinking this soup is unhealthy, because of its thickness and heartiness; however, there's not one ingredient in this recipe that's unhealthy – beans, ham carrots, onions.
Even though this isn't the ideal summer dish, it's made for the perfect meal this week with the start of California's June gloom.
hearty ham & 15 bean soup
Prep time:
Cook time:
Total time:
Ingredients
½ spiral sliced Honey Baked Ham (8-10 lbs.), bone-in, plus seasoning packet
1 bag (16 oz.) 15 bean mix
1 medium sweet onion, finely diced
3-4 carrots, peeled and finely chopped
Salt and pepper, to taste
Diced bacon for garnish, if desired
Instructions
Rinse beans in colander. Place beans in large pot and cover completely with water, then place over high heat on stove. Bring beans to a boil, then remove from heat. Let rest for one hour.
Strain beans through colander and rinse with cold water.
Place ham bone (majority of meat removed) in large pot, then add rinsed beans and seasoning packet. Cover completely with water; pot should be about ¾ full of water. Add diced carrots and onion.
Cook mixture on medium to medium-high heat for 3-4 hours, stirring frequently so beans on the bottom do not burn.
Once mixture begins to thicken, approximately after 2 hours into cooking, add sliced ham.
Season with salt and pepper. Cook until soup reaches desired thickness.