gone fishin'. [macadamia nut-crusted halibut w. mango-lime butter sauce]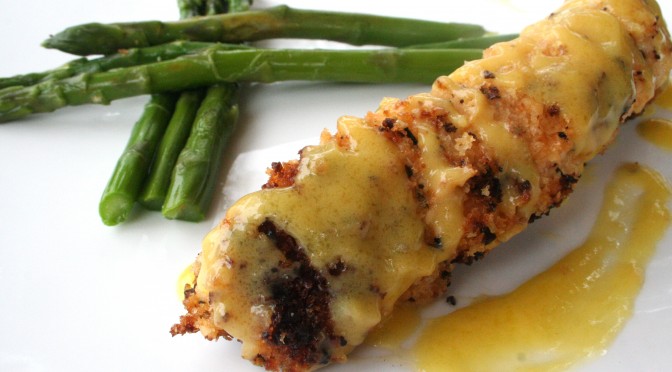 This marks my 100th post on Sweet Caroline's Cooking. Can't believe it!
Ever since my family and I dined at The Hali'imaile General Store in 2000, located in Maui, we've been making recipes from its Hawaiian-style cookbook.
This is by far our favorite and most visited recipe in the book. The moist and flaky halibut coated with the chile mayonnaise and sweet, mango-lime butter sauce is absolutely divine. Conveniently, for the non-fish eaters in our family, the ingredients also work wonderfully with chicken.
I guarantee your guests will be impressed and eternally grateful if you serve them this dish at a dinner party.
Mango-lime butter recipe:
1/2 cup chopped fresh mango
1/2 cup dry white wine
2 tbsp. sugar
1 tsp. peeled and minced fresh ginger, or 1/2 tsp. dried ginger
Juice of 2 limes
1/4 cup heavy whipping cream
1/2 cup (1 stick) unsalted butter, cut into small pieces
Salt and pepper to taste
Directions:
In a medium saucepan, combine the mango, wine, sugar, ginger, and lime juice and simmer over medium heat for about 5 minutes, until thick and syrupy. Add the cream, mix well, and remove from the heat. Pour into a blender and blend until smooth.
Return to the saucepan and simmer over low heat for about 8 minutes, until the mixture thickens slightly. Add the butter, a piece at a time, and stir until incorporated before adding the next piece. Be careful not to boil the sauce, or it will separate. Season with salt and pepper and keep warm.
Halibut recipe:
1/2 cup macadamia nuts, whole or pieces
2 cups panko (Japanese bread crumbs)
1/2 cup fresh basil
1/2 cup good-quality mayonnaise
2 tsp. Sriacha (Thai garlic-chile paste)
4 halibut pieces, center cut
Salt and pepper
Olive oil, for sauteing
Directions:
Preheat oven to 450 degrees.
Place the nuts, panko and basil in a food processor and process until fine. Spread on a plate, or place in a bowl. In a bowl, combine the mayonnaise and chile paste and mix well. Lightly season the fish with salt and pepper. Evenly coat the chile mayonnaise on one side of each fish fillet. Coat the same side evenly with the panko coating.
In an ovenproof saute pan or skillet, pour in just enough oil to coat the bottom and heat over medium heat. (Be careful not to heat the pan too hot or the macadamia nuts will burn). Add the fish, crust side down, and saute for 3 minutes, until golden brown. Spread chile mayonnaise then panko mixture on bare side of fish. Turn the fish and lightly brown opposite side.
Transfer skillet to the oven for about 5 minutes, until cooked through and firm to the touch.
Place the fillets on individual plates and drizzle mango-lime butter on top. Serve with asparagus, or your side dish of choice.
*Recipe from The Hali'imaile General Store Cookbook