never go back. [homemade lasagna bolognese]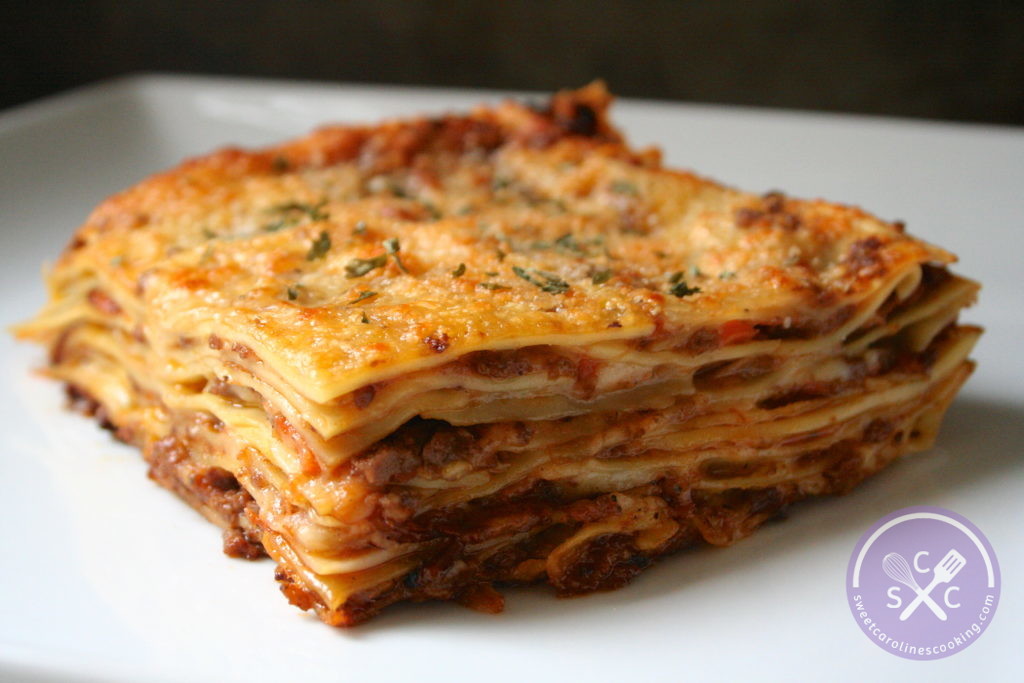 Now that I've made lasagna entirely from scratch, I can honestly say I never want to go back to store-bought noodles – which is somewhat unfortunate, because this recipe will take hours of your time. But if you enjoy cooking (and lasagna) as much as I do, it won't matter because it is SO worth it in the end! The homemade noodles make all of the difference and take this lasagna to another planet. The ingredient list and instructions may appear a bit daunting, but please don't let that deter you from making this delicious dish!
homemade lasagna bolognese
Prep time:
Cook time:
Total time:
Ingredients
Ragu recipe:
¼ cup extra-virgin olive oil
1 medium yellow onion, very finely diced (about 1½ cups)
1-2 celery ribs/sticks, very finely diced (about 1 cup)
2 carrots, peeled and very finely diced (about ¾ cup)
½ - ¾ lb. ground beef
¼ lb. ground pork
½ cup red wine
1 Tbsp. tomato paste
2 cups tomato puree (Mutti brand puree is preferred, if you can find it!)
Salt and pepper, to taste
Béchamel recipe:
1 stick (8 tbsp.) unsalted butter
8 Tbsp. all-purpose flour
2 cups 2% milk
2 cups heavy whipping cream
¼ tsp. ground nutmeg, plus more to taste
Salt and pepper, to taste
Pasta recipe:
3 large eggs
2½ cups all-purpose flour, plus extra for dusting and rolling out
1 Tbsp. olive oil
1 tsp. salt
1 Tbsp. water, plus more as needed
Instructions
For the béchamel:
Melt the butter in a heavy-bottomed saucepan. Once melted (but not browned), add the flour and cook, whisking constantly, until the paste cooks and bubbles a bit.
Slowly add the milk and heavy whipping cream, continuing to stir. Season with salt, pepper and ground nutmeg. Once the sauce begins to slightly boil and thicken, it is ready. Set the béchamel aside. If you decide to make this early, let cool and and cover with plastic wrap to prevent a skin from forming.
For the ragu:
Heat a large pot over medium heat, then add olive oil - this might seem like a lot of olive oil, but you want the vegetables to soak it all up! Plus, this is how they taught us in Florence :).
Add diced onion, celery and carrot and cook until softened and onions are translucent, around 5-7 minutes, stirring frequently. Add the ground beef and ground pork, breaking up the meat as it cooks for a few minutes. Add the red wine, then increase the heat to high to allow the alcohol to vaporize, around 3-4 minutes.
Next, add the tomato puree and the tomato paste and stir everything together. Season with salt and pepper.
Cover the pot, reduce the heat to low and simmer for 2½ - 3 hours, until ragu is thick, flavorful and most of the liquid has evaporated.
For the pasta dough:
In the bowl of your stand mixer with the paddle attachment, add the eggs, flour, olive oil, salt and water. Mix on low speed for 2-3 minutes, or until the dough starts to come together. Switch to the dough hook attachment and knead the dough for 2-4 minutes or until soft to the touch and pliable. If the dough is too sticky, add flour in small increments. If the dough cracks or seems too dry, add water in small increments until you reach the right consistency.
Once your dough reaches the right consistency, form it into a disk or ball and wrap tightly in a piece of plastic wrap. Set aside for at least 30 minutes or up to 2 hours.
Unwrap your dough and place on a generously floured surface. Cut the dough into 4 equal size pieces. Flatten them out with your finger tips prior to running through the pasta roller.
With the roller attachment fixed to your stand mixer and set to the lowest setting (1 for KitchenAid), insert the dough through the top. Once it goes through, fold the dough in half. Flour your dough and run it through a second time. Repeat this step, if necessary, flouring when needed, until the sheet is smooth and elastic. Increasing the setting by one step (2 for KitchenAid), insert the sheet again, but don't fold it over this time. Increasing the setting another step (go to 4 for KitchenAid), insert the sheet once again. Increasing the setting again (6 for KitchenAid), insert the sheet once again. For the last time, increasing the setting (7 for KitchenAid), insert the sheet once again - making sure to be very careful and gentle with the dough, as it will be very thin and delicate at this point. The pasta sheet should be roughly 1/16" thick. Repeat the above steps for the remaining dough, laying out each sheet on a generously floured surface. Cut pasta sheets lengthwise into three sheets, then cut in half (or the length of your lasagna pan.
Working in batches, cook fresh lasagna noodles in a large pot of boiling salted water until just softened, about 10 seconds. Remove carefully with tongs and transfer to a large bowl of ice water; let cool. Drain noodles and stack on a baking sheet, with paper towels between each layer, making sure noodles don't touch, as they will stick together.
For the lasagna:
Preheat oven to 350 degrees. Coat a 13x9" baking dish with olive oil spay or butter.
Spread ¼ cup béchamel in the prepared baking dish. Top with a layer of noodles (three noodles across), spread over ½ cup Bolognese sauce and ¼ cup béchamel (spread Bolognese and béchamel with a spatula to coat the surface of the noodles - it's fine if they mix together), and sprinkle with grated Parmesan. Repeat process 7-9 more times, starting with noodles and ending with Parmesan, for as many layers as you can get out of your noodles. Place baking dish on a rimmed baking sheet and bake lasagna until bubbling and beginning to brown on top, 50–60 minutes. Remove from oven and serve.
Notes
For step-by-step instructions on how to make the pasta dough, visit
Cooking and Beer
.