oh boy. [fettuccine alfredo w. broccoli]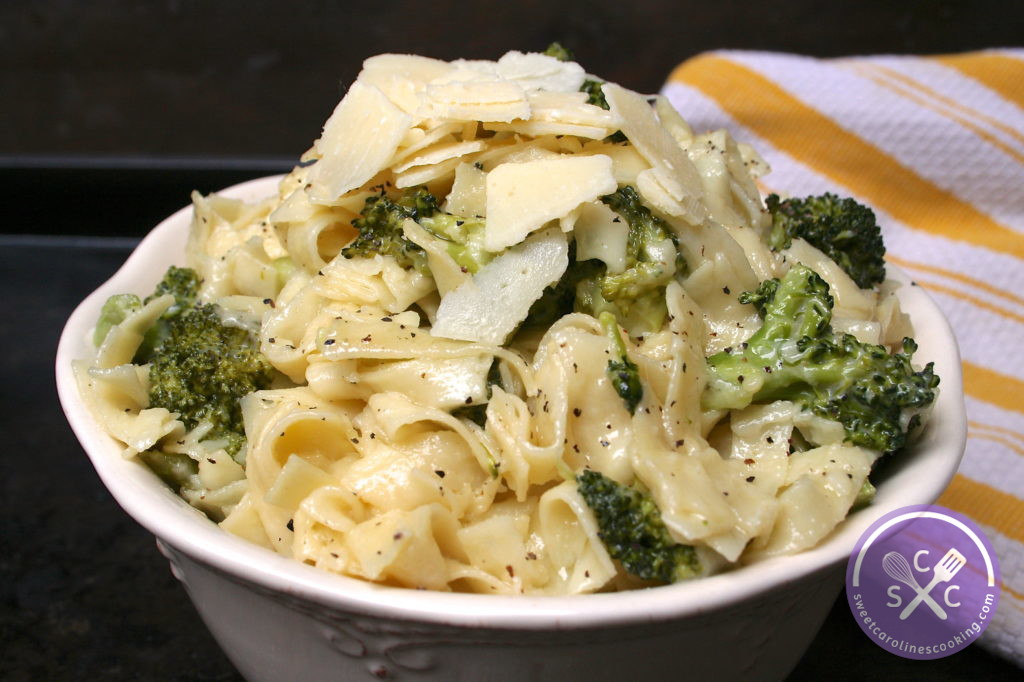 I love pasta, especially with a cream sauce. Sure, cream sauce is loaded with calories but boy, is it delicious! This simple fettuccine alfredo with broccoli is unbelievably easy to make and not lacking in flavor – it's delicious with a perfectly creamy sauce.
fettuccine alfredo w. broccoli
Prep time:
Cook time:
Total time:
Ingredients
½ cup (1 stick) unsalted butter
1 cup heavy whipping cream
1½ - 2 cups grated Parmesan
1½ - 2 crowns broccoli, broken up into small pieces
12 oz. fresh egg fettuccine
Salt and pepper, to taste
½ cup reserved pasta water (might not use)
Grilled chicken, if desired
Instructions
Warm a large skillet over medium heat. Once warm, add butter and cook until melted, Add heavy whipping cream and stir together. Incorporate grated Parmesan into mixture and stir until cheese is melted. Season alfredo with salt and pepper.
Bring a large pot of water to a simmer over medium-high heat, then add broccoli. Cover pot with a lid and steam broccoli about 4-5 minutes, or until tender. Remove pot from heat. Using a slotted spoon, remove broccoli from the water and transfer to a medium bowl.
Return pot of water to the stove and bring back to a boil. Add fresh fettuccine to the water and cook until al dente, about 3-4 minutes. Once done, strain pasta, reserving ½ cup of the pasta water.
Add broccoli and fettuccine to the pan with the alfredo sauce and mix together, making sure to coat the broccoli and noodles with the sauce. Season with additional salt and pepper, if necessary. If sauce is too thick, add reserved pasta water, a couple tablespoons at a time.