spooky sweets. [pumpkin, chocolate & oreo trifle]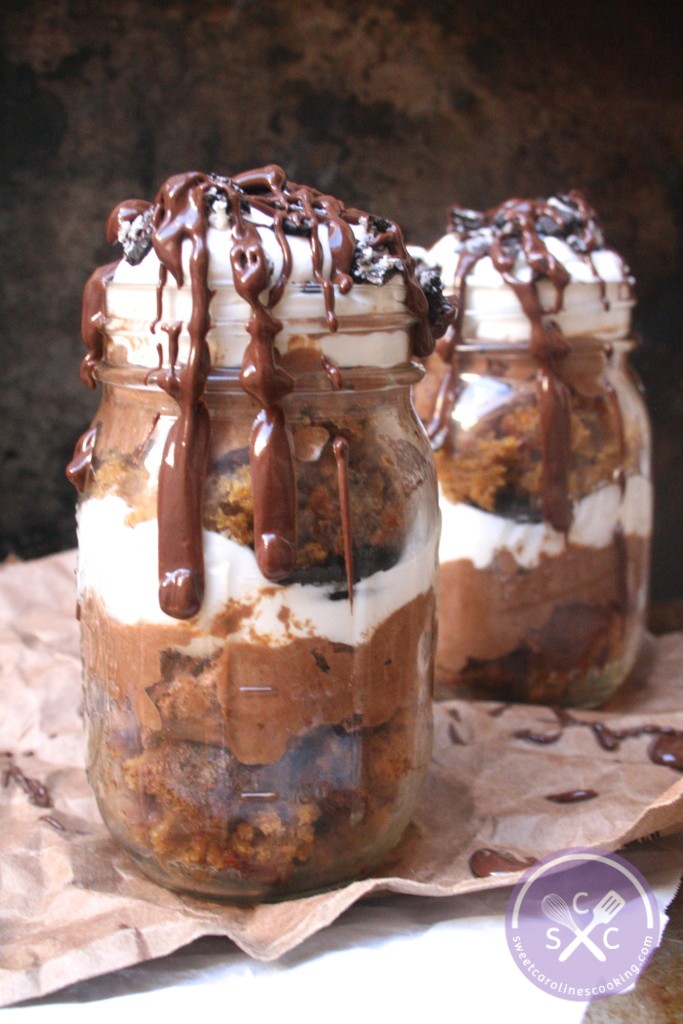 Halloween is right around the corner, so why not get in the holiday spirit with this decadent pumpkin-chocolate trifle?! The dessert is made even better with Chocoley's rich dark chocolate–trust me!
pumpkin, chocolate & oreo trifle
Prep time:
Cook time:
Total time:
Ingredients
Chocolate mousse recipe:
2 cups chilled heavy whipping cream
4 large egg yolks
3-4 tbsp. sugar
1½ tsp. vanilla
7 oz. Chocoley Semi Sweet Dark Chocolate Chips
Pumpkin cake recipe:
2 cups white sugar
½ cup vegetable oil
¾ cup unsweetened applesauce
2 cups Libby's canned pumpkin puree
4 eggs
2 cups all-purpose flour
3 tsp. baking powder
2 tsp. baking soda
¼ tsp. salt
2 tsp. ground cinnamon
½ tsp. nutmeg
¼ tsp. all spice
Whipped cream recipe:
2 cups heavy whipping cream
4 tbsp. confectioner's sugar
½ tsp. vanilla extract
Trifle recipe:
Pumpkin cake, crumbled
Chocolate mousse
Homemade whipped cream
Oreo Thins
Chocoley Semi Sweet Dark Chocolate Chips, melted, for drizzling
Instructions
For the chocolate mousse: Heat ¾ cup cream in a saucepan until hot. In a metal bowl, whisk together egg yolks, sugar, and a pinch of salt until well combined. Slowly add hot cream to egg mixture, quickly whisking until combined.
Transfer mixture to a saucepan and cook over low heat, stirring constantly, until it registers 160°F. Pour custard through a fine-mesh sieve into a bowl; stir in vanilla.
Melt chocolate in a metal bowl set over a pan of simmering water, stirring frequently. Whisk custard into chocolate until smooth, then cool.
In the bowl of a stand mixer using the whisk attachment, beat remaining 1¼ cups cream until stiff peaks form. Whisk one fourth of the cream into chocolate custard to lighten, then fold in remaining cream gently.
Transfer mousse to a separate bowl and cover with Saran wrap; chill until ready for use. Let chill at least 2-4 hours.
For the pumpkin cake: Preheat oven to 350 degrees. Grease a 12x18 inch pan, then cut a piece of parchment paper to fit on the bottom. Using butter, grease the top of the parchment paper and sides of the pan, then sprinkle with flour. Tap the sides of the pan to remove excess flour.
Sift together the flour, baking powder, baking soda, salt, cinnamon, nutmeg and all spice. Set aside.
In a large bowl combine sugar, oil and applesauce. Blend in vanilla and pumpkin, then beat in eggs one at a time. Gradually beat in flour mixture.
Spread batter into prepared pan.
Bake cake for 30-35 minutes, or until a toothpick inserted into the center of the cake comes out clean. Allow to cool.
For the whipped cream: Pour cream, confectioner's sugar and vanilla extract into the bowl of a stand mixer with the whisk attachment. Beat cream until soft peaks form. Do not overbeat.
For assembly: Place crumbled pumpkin pie pieces at the bottom of a mason jar. Top crumbled cake with about 1-inch of chocolate mousse, followed by 1-inch of whipped cream. Place three Oreo Thins on top of whipped cream. Repeat process. Place a generous dollop of whipped cream on top of trifle, then add crumbled Oreo Thins on top. Drizzle with melted Chocoley chocolate.
Notes
Chocolate mousse recipe adapted from Epicurious.
Pumpkin cake recipe adapted from AllRecipes.